Welcome to Episode 13 of HubShots!
Recorded: Tuesday 29 December 2015
Welcome
We're halfway to being credible: http://contentmarketinginstitute.com/2015/11/podcasting-trend-tips-tools/
"About 50% of podcasters who start will quit when they hit episode seven," he says. "Then 50% of those remaining will quit by the time they hit episode 23. If they make it beyond the 25-episode show mark, they have a pretty good chance of lasting two years."
Our next goal: get to episode 26!
Action item: ship it!
Shot 1: Inbound Thought of the Week
45 weeks to go until Inbound 2016
8-11 November 2016: http://www.inbound.com/
Action item: start planning your learning activities for 2016
Shot 2: HubSpot feature/tip of the Week
Action item: Ensure workflows are a key part of your marketing process. Review your existing workflows, and use them to improve the quality of your database.
Shot 3: Challenge of the Week
Challenge your hunches
From June 2015:
https://www.distilled.net/resources/your-hunch-is-probably-wrong-the-importance-of-testing/
Sam Nemzer - Hierarchy of evidence for digital: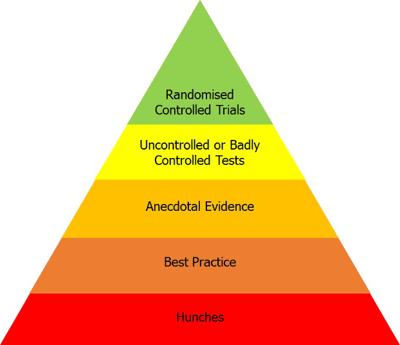 Action item: review the assumptions you've made previously and consider re-testing them e.g. Facebook Advertising, Content Strategy, Persona definitions
Shot 4: Opinion of the Week
http://mashable.com/2015/12/18/content-marketing-predictions/
From the list:
#9. Focus will shift from engagement to goal-based outcomes
"Over the last twelve months, we've seen marketers start to focus away from traditional publisher-centric metrics (page views, uniques, likes) to engagement metrics (attention minutes!). But next year we will see another significant shift to goal-based metrics. For most marketers, this means measuring conversions. Whether it's a lead capture or signing up for sweepstakes/emails/coupons, conversion-based content marketing will get us closer to the holy grail of real marketing ROI; the ones that can measure multi-touch attribution will win."
Action item: for 2016 review your KPIs and make them based on conversions
Shot 5: General Tip of the Week
From Jan 2014: https://raventools.com/blog/meta-descriptions-how-to-guide/
Action item: the start of the year is a good time to review all the page Titles and meta descriptions for your site pages
Shot 6: State of Inbound Item of the Week
Action item: review the reports
Shot 7: Motivation of the Week
https://moz.com/rand/my-complicated-relationship-with-no-longer-being-ceo/
Action item: be honest about your strengths and weaknesses, get help where you need it, excel where you don't
Shot 8: Resource of the Week
Action item: choose the 2 or 3 social channels you are going to focus on (based on data), and do them well
Shot 9: Podcast of the Week
Shout out to Chris Mottram - http://www.mottrammediagroup.com/
Get your sticker - we have a few left - leave your address, or don't (allows us to get to know you better): https://hubshots.com/contact/