The HubShots Framework
A 5-Stage Plan for Getting the Most Out of Your HubSpot Portal
Download Your 5-Stage Plan
The HubShots Framework A3 PDF can be used digitally or printed out.
On this page we'll guide you through the HubShots Framework and how it can help you get the most out of HubSpot.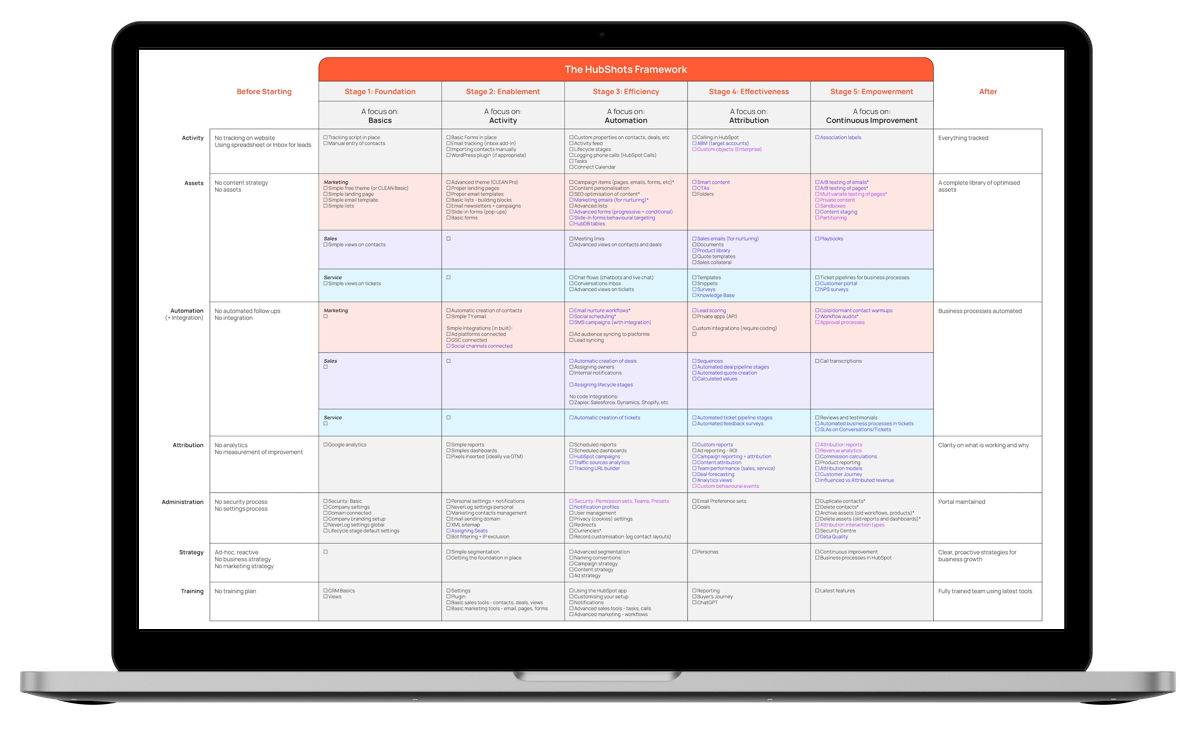 The 5-Stage Plan
Overview
The five stages take you from basic survival to an approach of continuous improvement in HubSpot

Stage 1: Foundation
A focus on:
Basics
Setup your portal and make sure the basics are in place and everyone as access.

Stage 2: Enablement
A focus on:
Activity
Track all the key interactions including page views, email opens, ad clicks, social media engagements, sales activities and support conversations.

Stage 3: Efficiency
A focus on:
Automation
Get all your key marketing, sales and service processes automated, with the right people notified and your contacts nurtured.

Stage 4: Effectiveness
A focus on:
Attribution
Be able to confidently identify what is working and why.

Stage 5: Empowerment
A focus on:
Continuous Improvement
You are freed up to proactively use the latest tools and grow your business results.
The Problem
We find most businesses lack the time and expertise to get real value out of their HubSpot investment
What this means is
They're only using a subset of the features of HubSpot
They're not using them particularly well
They tend to spend a lot of time recreating assets from scratch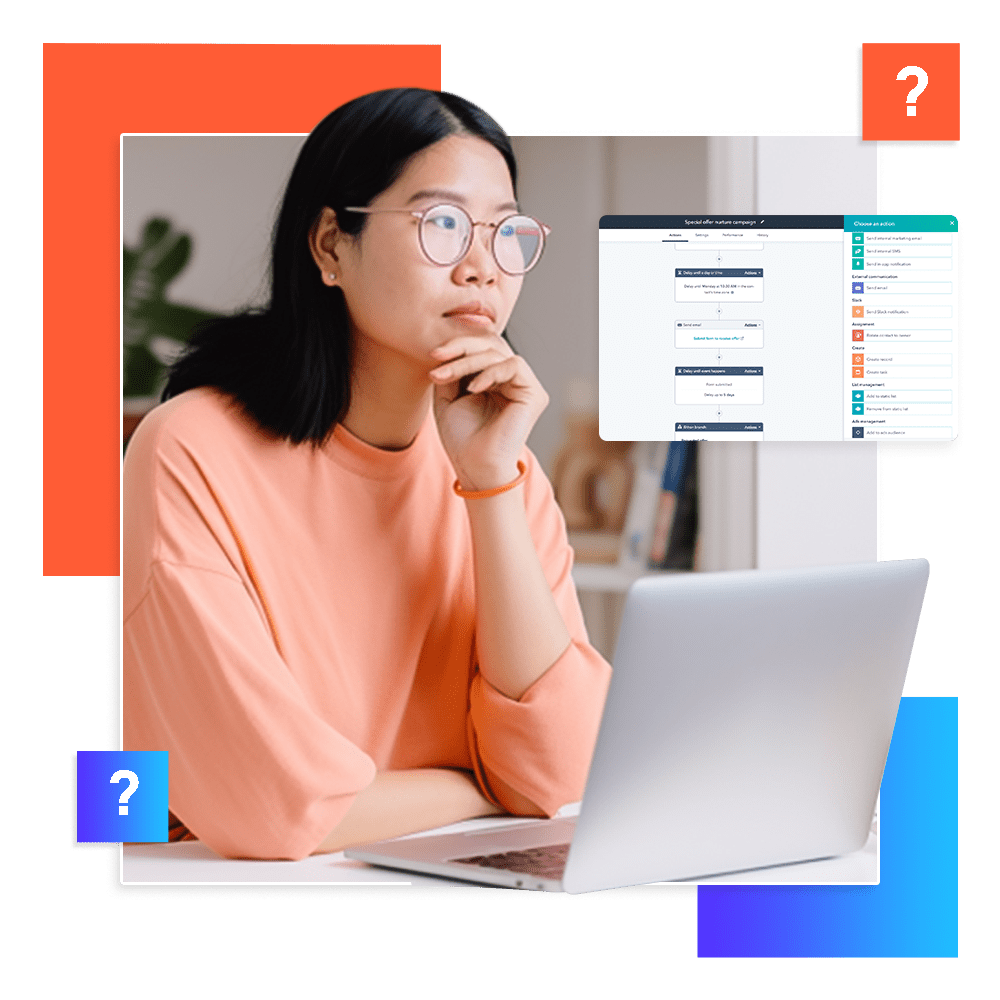 The Solution
The HubShots Framework
The Framework enables you to
Get value out of all of the tools in HubSpot
With best practices in place
And an approach of reuse (ie not recreation)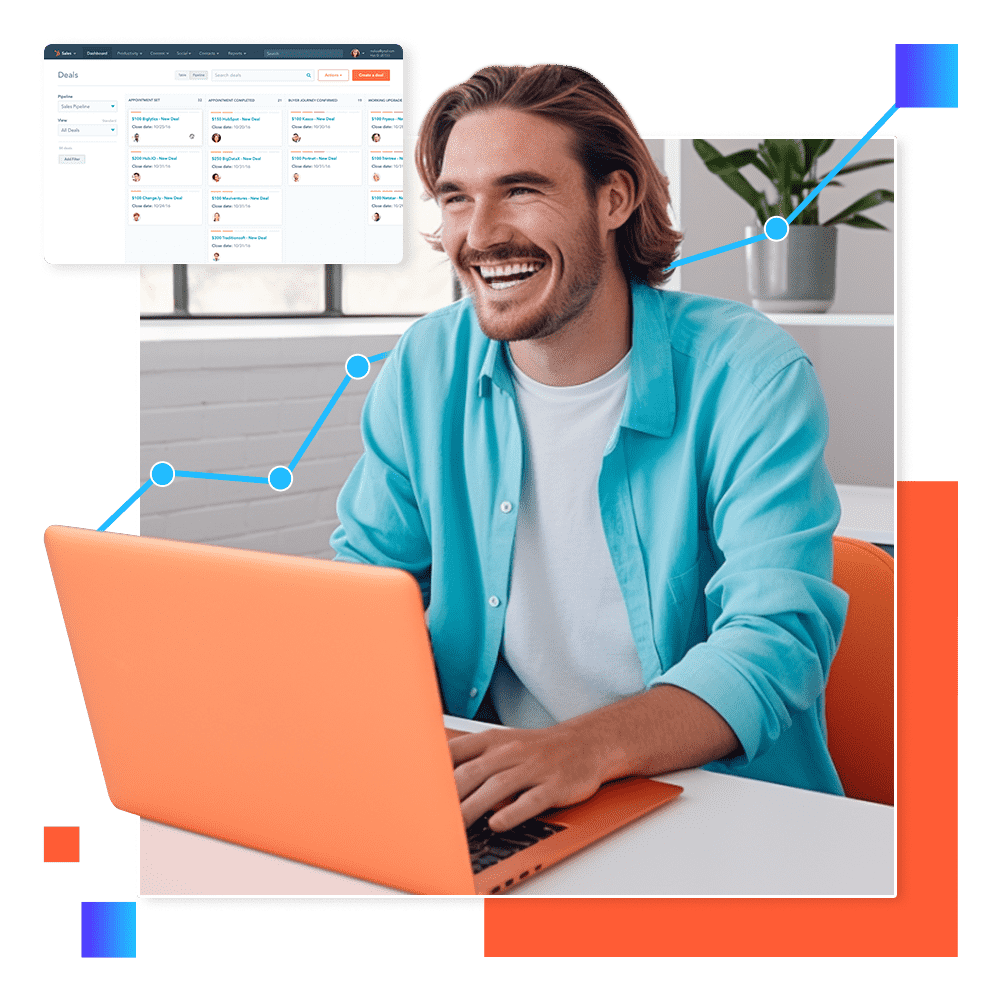 The Result
The result is efficiency (doing things better) and effectiveness (doing the right things).
You are freed up to focus on strategy and innovation.
Which in turn results in business growth.
That's how you get the most out of HubSpot.

Stage 1:
Foundation
A focus on the basics

Basic website tracking

Simple assets in place (website form)

Simple HubSpot settings (timezone and default currencies)

Making sure that personal things aren't logged in HubSpot

Training your team on the basics of how to use Contacts and Deals and maybe Tickets

Stage 2:
Enablement
Making sure things are done right and freeing up time

Assets belong to Campaigns for better reporting

Advanced sales and automation workflows in place (automatically assign new lead to rep based on lead score or logic)

Automations for following up leads with sales nurtures, and marketing nurtures.

Automations for following up cold leads

Automations for cross-selling and up-selling

The right people are notified

Security protocols and settings are in place

Content and segmentation strategy

Team trained up on automation tools

Stage 3:
Efficiency
Making sure things are done right and freeing up time

Assets belong to Campaigns for better reporting

Advanced sales and automation workflows in place (automatically assign new lead to rep based on lead score or logic)

Automations for following up leads with sales nurtures, and marketing nurtures.

Automations for following up cold leads

Automations for cross-selling and up-selling

The right people are notified

Security protocols and settings are in place

Content and segmentation strategy

Team trained up on automation tools

Stage 4:
Effectiveness
Doing the right things

You have reliable data to analyze in order to work out what's actually working

Start looking at proper attribution reports

Advanced settings (attribution settings)

Stage 5:
Empowerment
Where the real value of HubSpot lies

Focusing on relationships with your contacts and customers across Sales, Marketing and Service

Building helpful assets that provide high value to your audience

Archiving processes and assets that didn't work

A/B testing emails and pages

using smart content in emails and pages

Everything you do is proactive instead of reactive
The 5-Stage Plan
Outcomes
Each stage has a specific focus area which guides you to the relevant areas in HubSpot

Detailed Items
In each stage and focus area are specific HubSpot items that need to be completed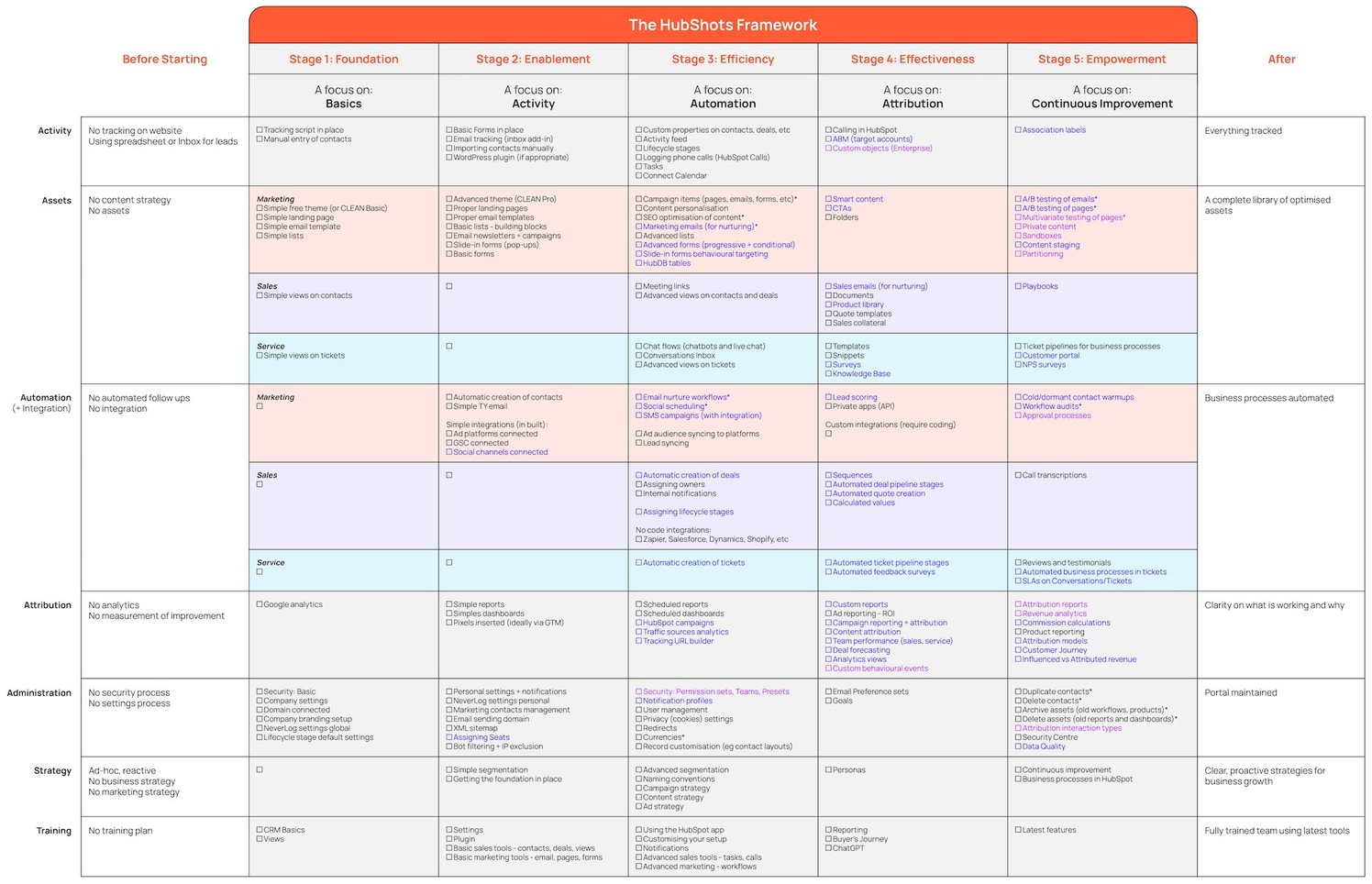 Download the HubShots Framework A3 PDF
Start getting the most out of HubSpot