Welcome to Episode 82 of HubShots!
Welcome to HubShots, the podcast for marketing managers who use HubSpot hosted by Ian Jacob from Search & Be Found and Craig Bailey from XEN Systems.
Listen to the episode here: https://soundcloud.com/hubshots/082-email-email-and-more-email-stuff
Join our WhatsApp group here: https://chat.whatsapp.com/09R0ogqg6ipI61YQRWPDtr
Join the Facebook group here: https://www.facebook.com/groups/1608138752821574/
Recorded: Wednesday 26 April 2017 | Published: Friday 28 April 2017
Shot 1: Inbound Thought of the Week
Not using emails as part of your marketing.
After our discussion last episode about No Pong Ian had a conversation with one of the co-founders, and they mentioned they made a deliberate choice not to send emails to prospects and customers - they didn't want to clog up people's inboxes.
An interesting approach - which we discuss further.
Shot 2: HubSpot Marketing Feature of the Week
Sending follow up emails to contacts who didn't open or respond to the first email
Using Smart lists to target contacts who:
Received but didn't open (eg for Newsletters)
Clicked but didn't purchase (eg for ecommerce)
Example lists: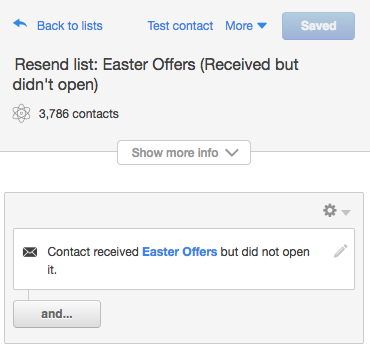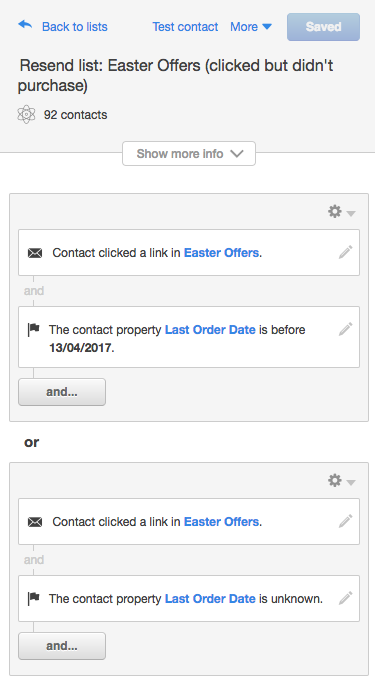 Shot 3: Marketing Tip of the Week
Abandoned Cart emails - CAN-SPAM and CASL compliance
Very difficult to get a definitive answer - here's a few resources to review:
http://rejoiner.com/resources/email-remarketing-can-spam-2/
https://www.experian.com/blogs/marketing-forward/2017/03/20/understanding-shopping-cart-abandonment-compliance/
https://www.shopify.com.au/guides/email-marketing/transactional-emails
(This is not legal advice, obviously) however, note:
Understand what a transactional versus commercial (promotional) email is
Be aware that rules are different in different countries (eg Canada is considered the most stringent)
If you do send abandoned cart emails, make sure you delete the contact from your database if they don't end up purchasing
Shot 4: Podcast of the Week
Digital Marketer episode 93: includes discussion about abandoned cart emails
(Thanks Suellen!)
https://www.digitalmarketer.com/podcast/website-tweaks-generate-sales/
Special guest Syed Balkhi, Co-Founder of OptinMonster
Shot 5: HubSpot Sales Feature of the Week
HubSpot Email Tracking or Sales > Activity Stream in HubSpot
https://www.hubspot.com/products/sales/email-tracking
Know the second a lead opens an email, clicks a link, or downloads an attachment - then send a perfectly timed follow-up.
3 things we find useful in this tool:
Knowing who has not opened your email so you can follow up.
Knowing when people click links in your email
When they revisit to your website
Shot 6: Opinion of the Week
Privacy and emails
UnrollMe got caught out selling people's data to companies such as Uber:
https://mobile.nytimes.com/2017/04/23/technology/travis-kalanick-pushes-uber-and-himself-to-the-precipice.html
They were 'heartbroken':
http://blog.unroll.me/we-can-do-better/
See also: https://daringfireball.net/linked/2017/04/23/heartbreaking
Tip: if you decide to delete your account with Unroll.me, make sure you revoke their access in your Google Account privacy settings.
Shot 7: Creative Top 10 of the Week
10 ideas for: segments for sending targeted emails to a cold contact list
Send a breakup email if they have not opened an email for 6 months
If they are a customer then call to see if they are getting your emails
If an ecommerce store, use last order date as a way to target customers who haven't purchased for a while and send them a special offer
If a seasonal business (eg tax accountant) use a specific cutoff date related item in the subject line eg Implement these tax tips before 15 June 2017
Test non branded marketing emails to contacts that have not opened emails in the last 3 months
Segment them by industry/interest and send them an email sharing a piece of related information that is valuable to them
Post them a gift (book/notebook/t-shirt) and follow up with an email
If they've visited the site, but haven't clicked on an email, email them asking about the last page they visited
If they've filled in a form, but haven't clicked on an email, add them to a list for the sales team to follow up with a phone call
Check they have not unsubscribed from emails that you send! Check the timeline on the contact.
Shot 8: Resource of the Week
How can I optimize my emails for better engagement?
https://knowledge.hubspot.com/articles/kcs_article/email/hubspot-email-tool-best-practices
Tons of useful tips and reminders
Shot 9: Quote of the Week
Done is better than perfect. - Facebook
Shot 10: Bonus Links of the Week
Other stuff we've been reading and recommend, but had to cut from the show:
Tool to investigate:
Some of Craig's reading:
https://getpocket.com/@craigbailey
Please rate and leave us some feedback as this helps us.