Welcome to Episode 115 of HubShots!
In this episode we talk about growing… with HubSpot in Melbourne. Plus we look at HubSpot's new features, especially on the sales side of the product. We look at how to use Google Search Console to check keyword rankings (now that HubSpot is killing its keyword tool). And we finish with a ton of interesting resources to embiggen your marketing thinking!
Listen to the show here: https://soundcloud.com/hubshots/115-growing-with-hubspot-in-melbourne-hubspots-new-features
HubShots is APAC's number 1 HubSpot focussed podcast, where we discuss HubSpot tips and tricks, new features, and strategies for growing your marketing results.
We hope you enjoy the podcast as much as HubSpot's CEO, Brian Halligan does: "Thanks for creating this podcast, it's awesome, ... I listen to it, and I enjoy it."
Welcome to HubShots, the podcast for marketing managers who use HubSpot hosted by Ian Jacob from Search & Be Found and Craig Bailey from XEN Systems.
Join our WhatsApp group here: https://hubshots.com/whatsapp/
Join the Facebook group here: https://www.facebook.com/groups/1608138752821574/
Recorded: Wednesday 07 March 2018 | Published: Friday 09 March 2018
Shot 1: Inbound Thought of the Week
Grow with HubSpot Melbourne is on next week - Thursday 15th March.
Charles McKay from Synx will be one of the speakers - looking forward to hearing him.
Register now, it's free.
Register for the Sydney HubSpot User Group (HUG). Great way to meet other HubSpot users and partners and grow your network.
Register here for free and join us at WeWork in Pyrmont.
Shot 2: HubSpot Feature of the Week
Following contact, company and deal records in CRM
https://www.hubspot.com/product-updates/follow-records-within-hubspot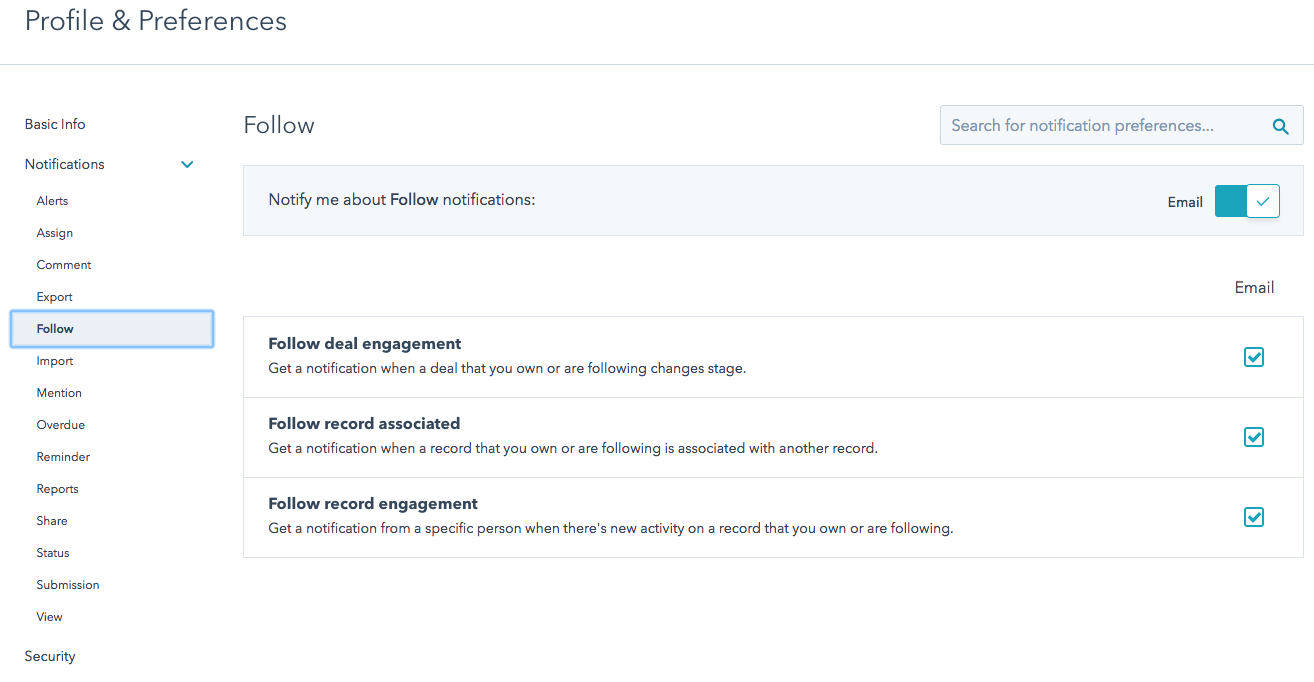 This along with Mentions is the HubSpot going down the path of what Salesforce Chatter was years ago.
Prediction: Look out for a Chatter like interface when Customer Hub comes out later this year.
The goal will be to get the whole company inside HubSpot.
Shot 3: HubSpot Gotcha of the Week
Setting locale for content strategy. This can only be done once you create the cluster! Default is United States. So data you get will be different. But remember this is a guide...don't take it as the gospel.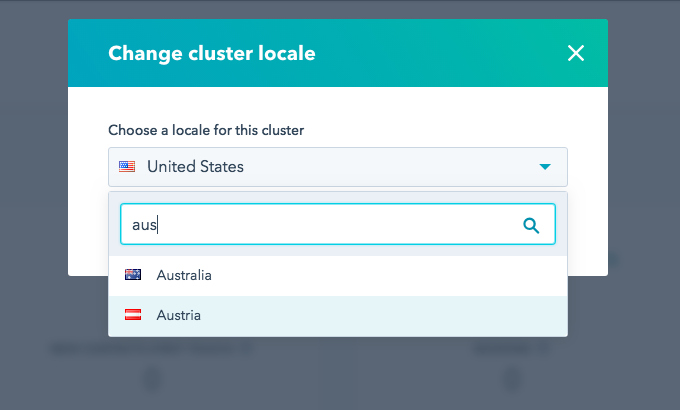 Shot 4: Marketing Tip of the Week
How to use Google Search Console to view keyword ranking data
Ie now that HubSpot is killing the keyword tool
Using the old Google Search Console you can access the keyword date for your site.
https://www.google.com/webmasters/tools/search-analytics
Once you've created an account, when you log in you'll see this: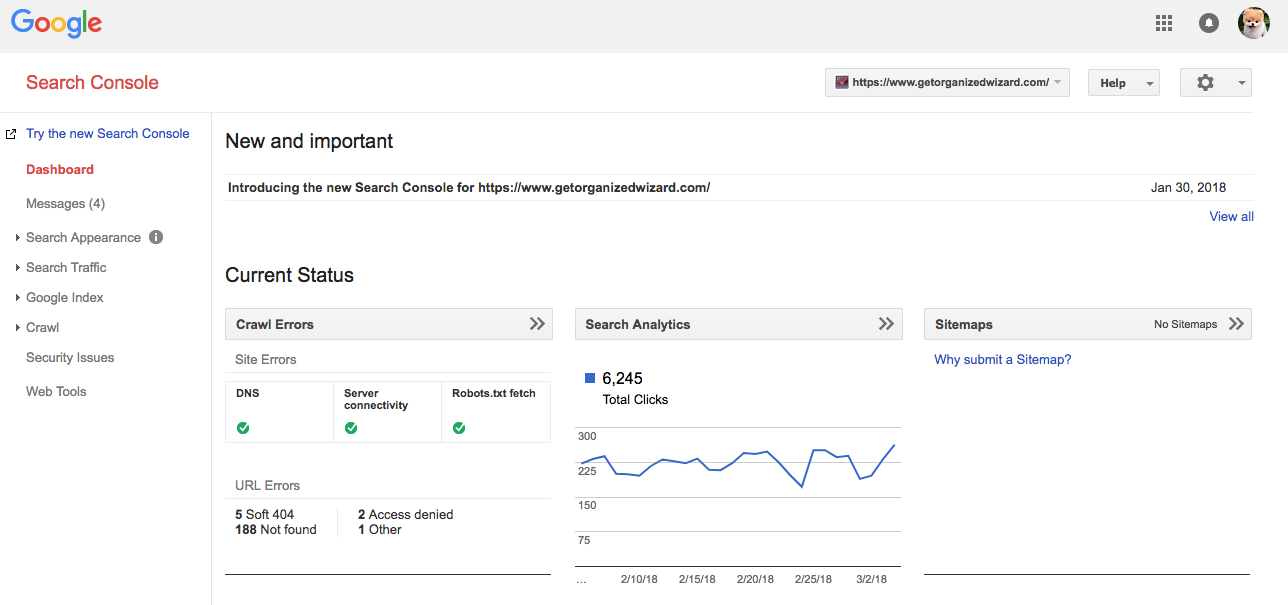 Click on the Search Analytics in the middle: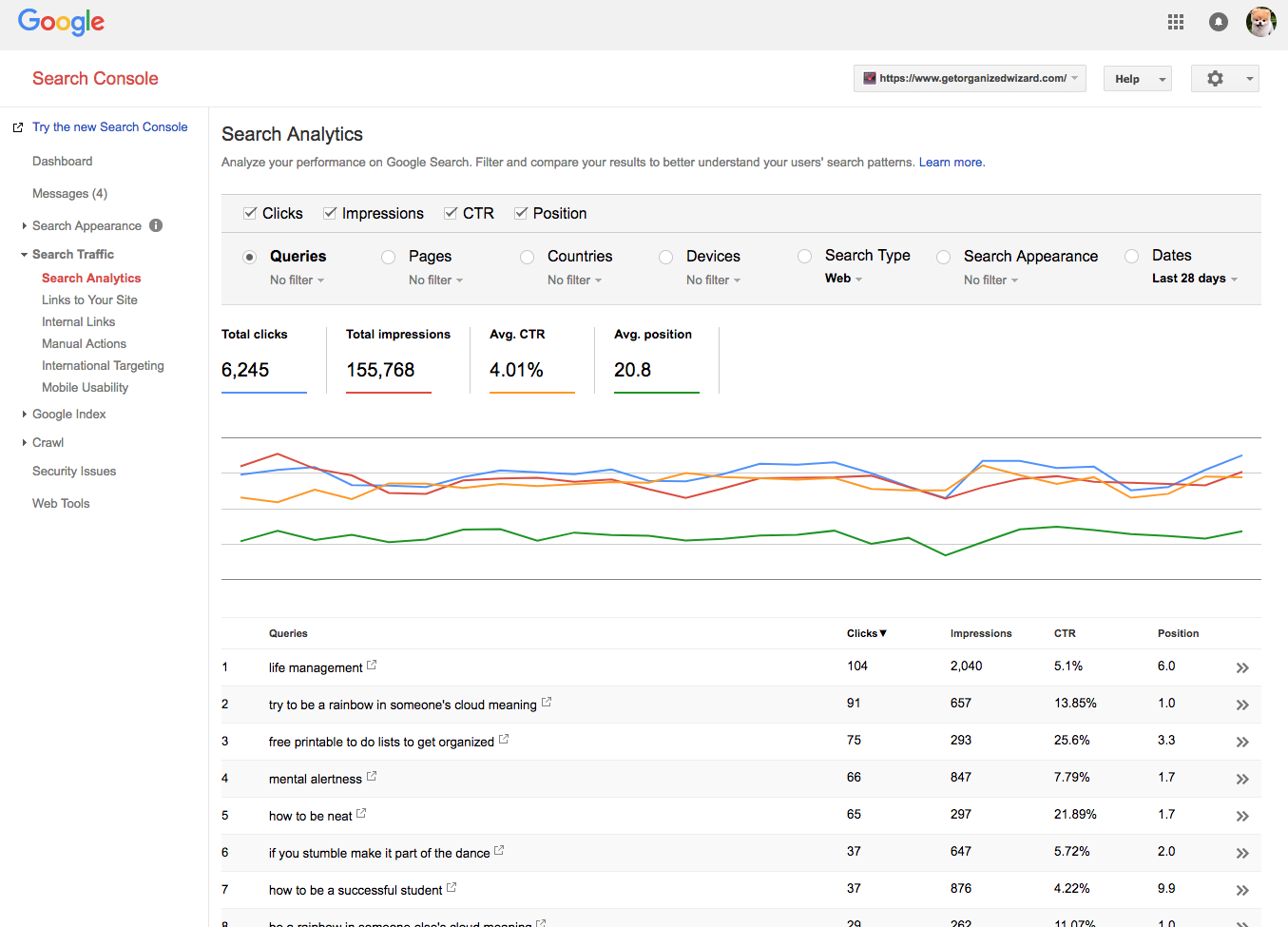 Enable all of the columns above the table to include Clicks, Impressions, CTR and Average Position.
You can change the Dates, Pages, Countries, Devices to drill into the data.
In the new Google Search Console interface the data is presented a bit nicer, and also allows further history (up from 90 days to an entire year of data).
https://search.google.com/search-console/performance/search-analytics
In the new interface, click on the Open Report for the Performance: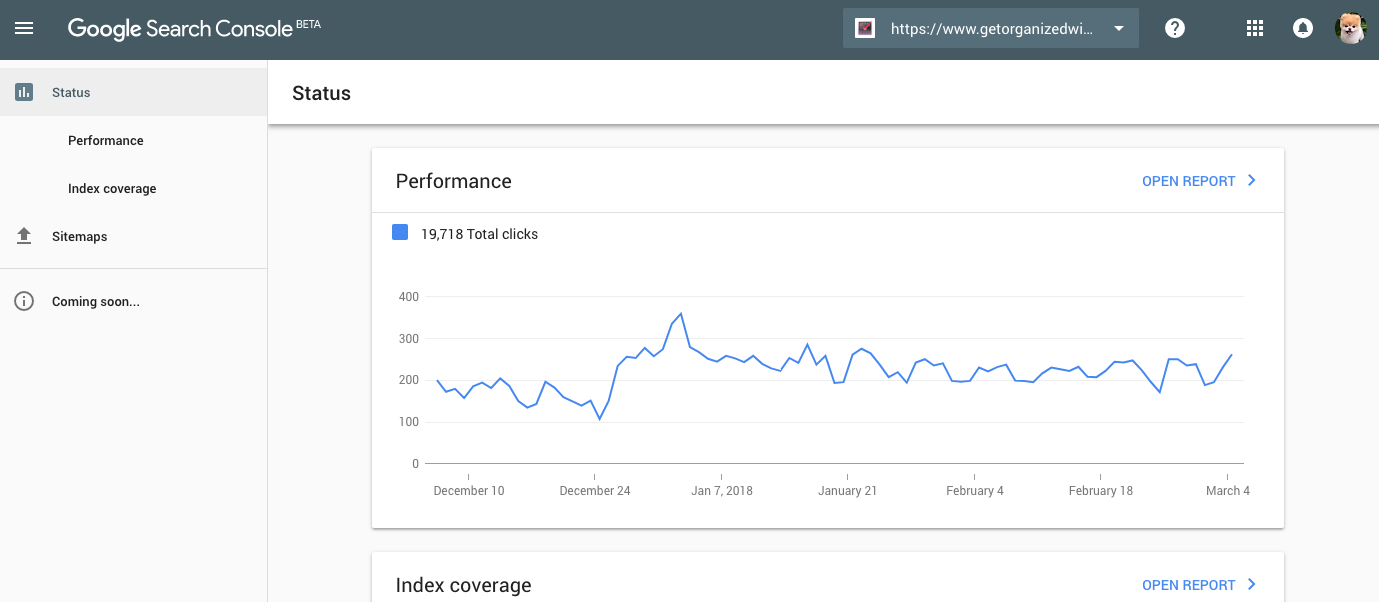 You'll see the keyword data presented as follows: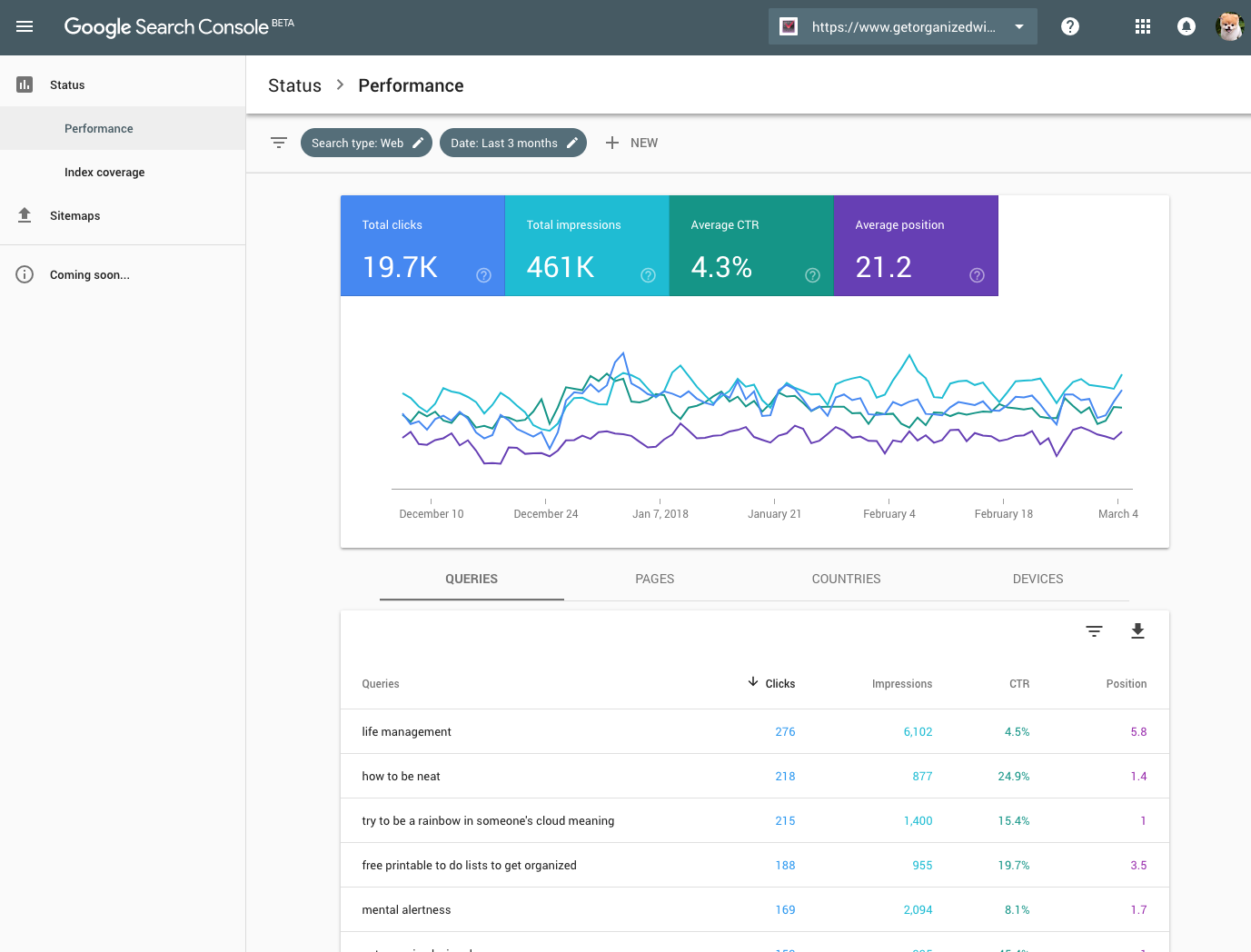 You can add filters at the top to narrow down your focus.
Shot 5: HubSpot Sales Feature of the Week
Now, you can set up your HubSpot Meetings link to automatically send reminder emails to prospects/clients 72 hours and 1 hour before your meeting, which should decrease no-shows!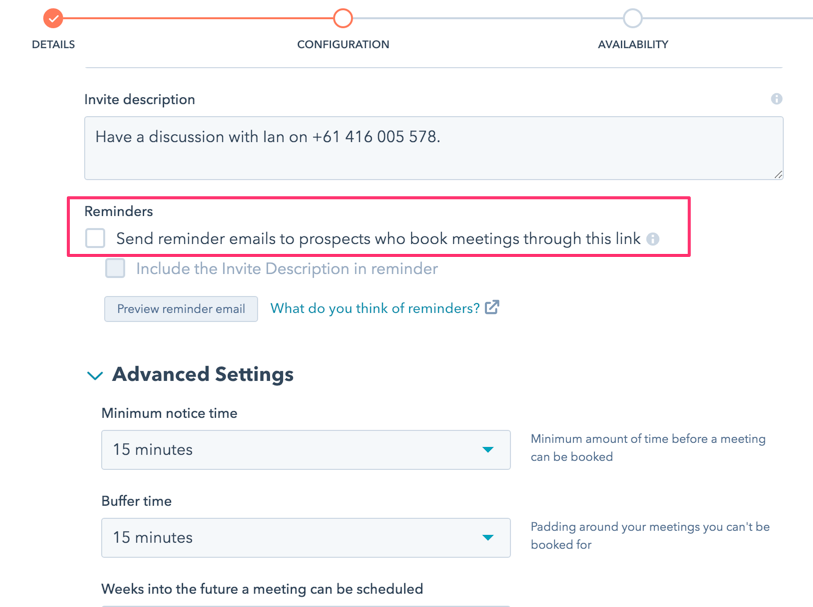 Note that you cannot personalise the reminder email at the moment: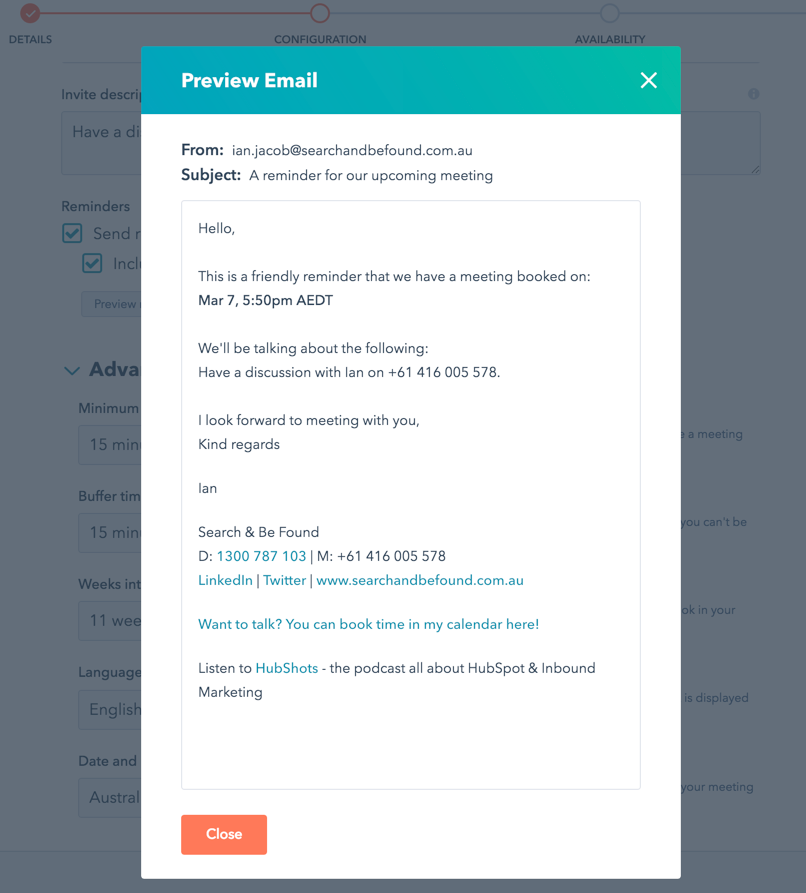 https://www.hubspot.com/product-updates/set-automatic-email-reminder-for-meetings
Shot 6: Opinion of the Week
Don't build your house on rented land… more from the Department of Stating the Obvious.
Focus on building your properties and investing in them. Build a moat!
https://www.businessinsider.com.au/littlethings-online-publisher-shuts-down-and-blames-facebook-algorithm-2018-2
Want to comment on this, then comment on the post about this in our HubShots Facebook Group.
On Facebook, it's pay to play… speaking of which…
HubSpot and Facebook
https://www.hubspot.com/company-news/hubspot-recognized-by-facebook-as-badged-marketing-partner
HubSpot announced today that Facebook has recognized the company for its rich capabilities, deep expertise, and long track record of success in advertising technology, naming HubSpot an official badged marketing partner.
...in an inboundy way...
Shot 7: Podcast of the Week
Interview With Kevin Kelly
https://www.fool.com/investing/2018/02/22/interview-with-kevin-kelly-bonus-round.aspx
"So, I think the world is getting better -- not by very much -- but 1% compounded annually is civilization."
"I think there is primarily only one metaskill that will serve people, and that is the metaskill of learning how to learn."
Hill: I've been to China twice in the past two years. No one is using cash. All transactions are done on a Tencent app that people use on their phones. When will cash be dead in the United States?
Kelly: [Laughs] It's absolutely true that nobody under the age of 30 carries any cash whatsoever. In fact, I saw a homeless guy begging, and he had his QR code. He only accepted mobile payments, because nobody had cash.
Shot 8: Resource of the Week
Google keeping people on its own entities longer:
https://moz.com/blog/googles-walled-garden
Charles Duhigg on Google:
https://www.nytimes.com/2018/02/20/magazine/the-case-against-google.html
Shot 9: Quote of the Week
http://tomtunguz.com/marketing-roadmap/
"At the highest level, marketing articulates a compelling narrative. This is step 1.The narrative brings the market forward by contrasting the current state of affairs with a persuasive view of the future. This is a Gap Analysis - a comparison of the current state of affairs to the desired potential."
Shot 10: App of the Week
Camera on iOS. Did you know that you can use it to read QR codes?
Shot 11: Bonus Links of the Week
https://webris.org/wiki/intro-to-seo/
https://moz.com/blog/googles-walled-garden
https://www.elephate.com/blog/ultimate-guide-javascript-seo/
https://salt.agency/blog/google-lighthouse-seo-guide/
https://www.gotchseo.com/ahrefs/
Tool to investigate:
Please rate and leave us some feedback as this helps us improve and reach more marketers.