Welcome to Episode 126 of HubShots!
Welcome to HubShots, APAC's number 1 HubSpot focussed podcast, where we discuss HubSpot tips and tricks, new features, and strategies for growing your marketing results.
This episode we chat about the HubSpot Community, plus dive into Google Tag Manager.
Listen to the episode here:
https://soundcloud.com/hubshots/126-using-google-tag-manager-with-hubspot
HubShots, the podcast for marketing managers who use HubSpot hosted by Ian Jacob from Search & Be Found and Craig Bailey from XEN Systems.
Join our WhatsApp group here: https://hubshots.com/whatsapp/
Join the Facebook group here: https://www.facebook.com/groups/hubshots/
Subscribe to our YouTube Channel here: https://www.youtube.com/channel/UCD3Uo4X-IxPJLE8ygPDQhNQ
Recorded: Wednesday 20 June 2018 | Published: Monday 02 July 2018
Shot 1: Inbound Thought of the Week
Highlights from the HubSpot Partner event in Sydney last week.
Got a sneak peak into some of the upcoming HubSpot feature releases.
Service Hub was a focus.
The Funnel is dead, it's all about the Flywheel - so sayeth David Shepherd
It's about making the customer the centre of everything.
Good to catch up with: Stacey Chalmers, Sarah McIntyre, Tony Eades, Justin Theng #gotheextra, Samantha Alford, Charles McKay, Daniel Bertschi, Varun Bhandarkar, Bob Ruffalo, Jethu Mahtani, Michael Redboard
Good to meet Adam Steinhardt and Zaahn Johnson (finally!) from the HubnSpoke podcast:
https://www.thekingdom.com.au/hubnspoke
Interesting thought from the day: are you planning for a coming recession and if so, how will approach it. Jethu noted the importance of customer retention - which played in nicely with some of the Service Hub offering.
HubSpot Community
Speaking of events, it's Grow with HubSpot Sydney tomorrow (as we record this). Shout out to Bertie who was looking after some last minute registrations. We emailed her just before 5pm and she replied almost instantly helping us out.
And even more about events - one of the reasons we've called out a bunch of people we caught up with is because it is an insight into the wonderful HubSpot community. If you'd like to be part of the HubSpot community, make sure to check out a local HubSpot User Group:
https://academy.hubspot.com/hubspot-user-groups
Shot 2: HubSpot Marketing Feature of the Week
How to add Google Tag Manager in HubSpot
https://knowledge.hubspot.com/articles/kcs_article/cos-general/how-do-i-add-the-google-tag-manager-code-to-my-hubspot-pages
Now set under Settings > Marketing > Web
And then scroll down to the settings for Site header and Site footer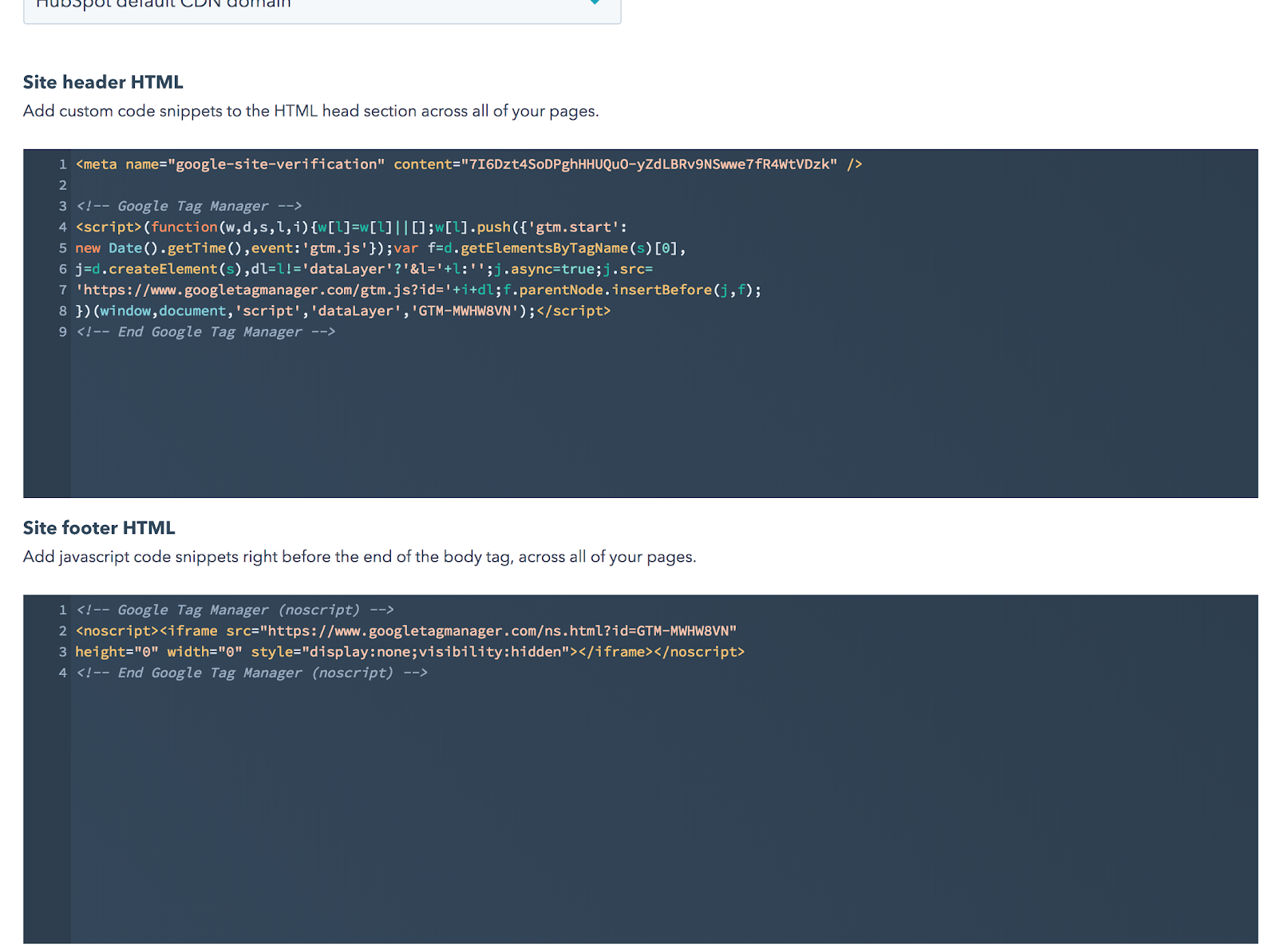 Ideally HubSpot should support this natively as a tickbox like they do for Google Analytics.
https://blog.hubspot.com/marketing/google-tag-manager-guide
Note: always use the new Google Universal Analytics script - never use Classic Analytics
Shot 3: HubSpot Gotcha of the Week
If you have multiple domains in your HubSpot portal make sure to select between domains when adding in the Google Tag Manager script: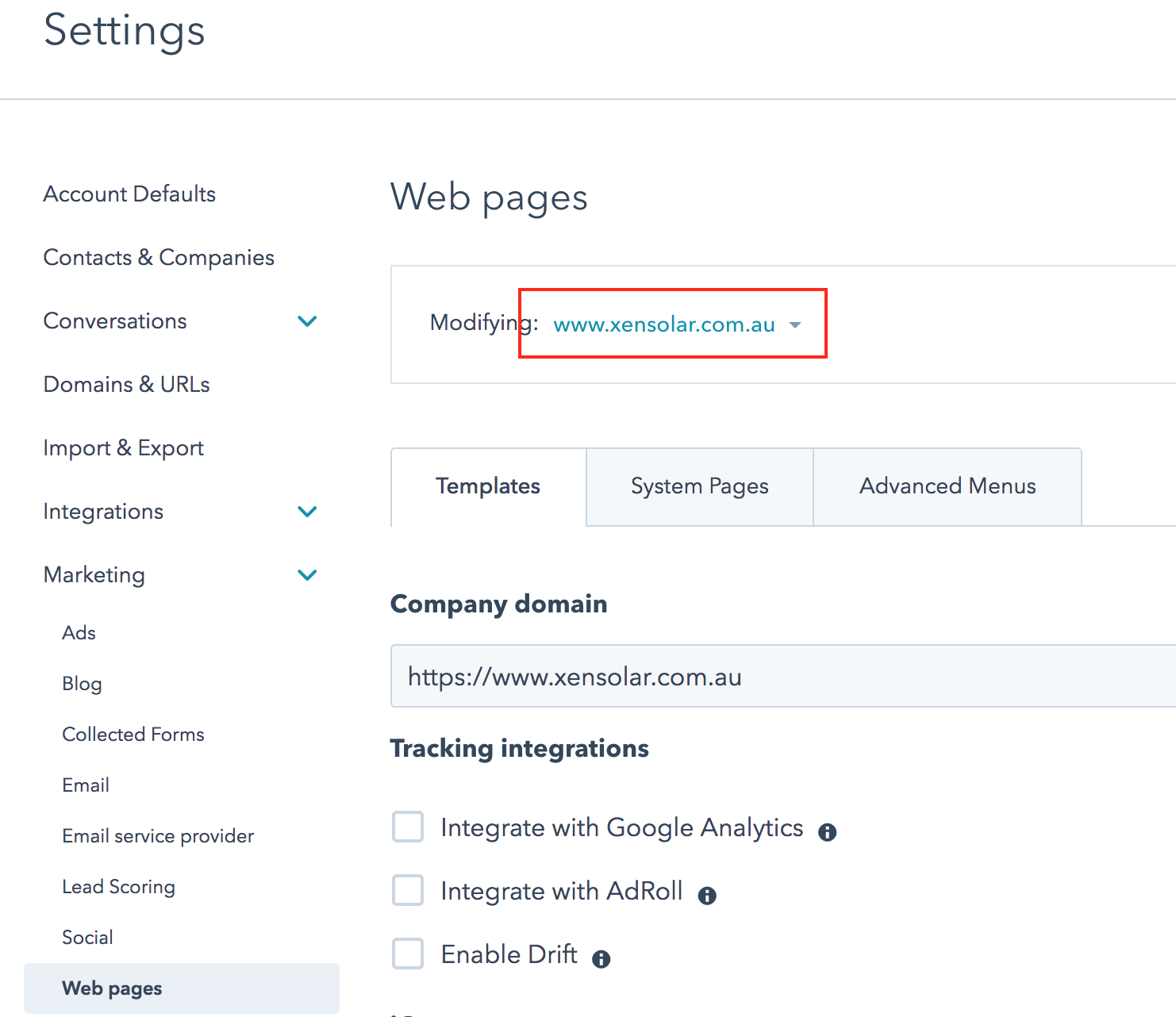 Otherwise you may have the GTM script appear on all your domains (which may not be want you want - especially if you have an Enterprise account).
Shot 4: Marketing Tip of the Week
Why you should be using Google Tag Manager to manage all your marketing scripts
https://support.google.com/tagmanager/answer/6102821?hl=en
https://moz.com/blog/an-introduction-to-google-tag-manager
Common examples:
Google Analytics
Facebook pixel
LinkedIn pixel
Twitter pixel
HotJar
Conversion Linker
Link tracking
Download tracking
https://www.simoahava.com/ is the guru on GTM and GA - worth following if you are a technical person or just love geeking out on the GA and GTM stuff.
Shot 5: HubSpot Sales Feature of the Week
Lead Activity Feed
This is a great way to get a quick overview of what your leads are doing. Plus when you hover over the record you can call, email, create a task, note, email and log activity.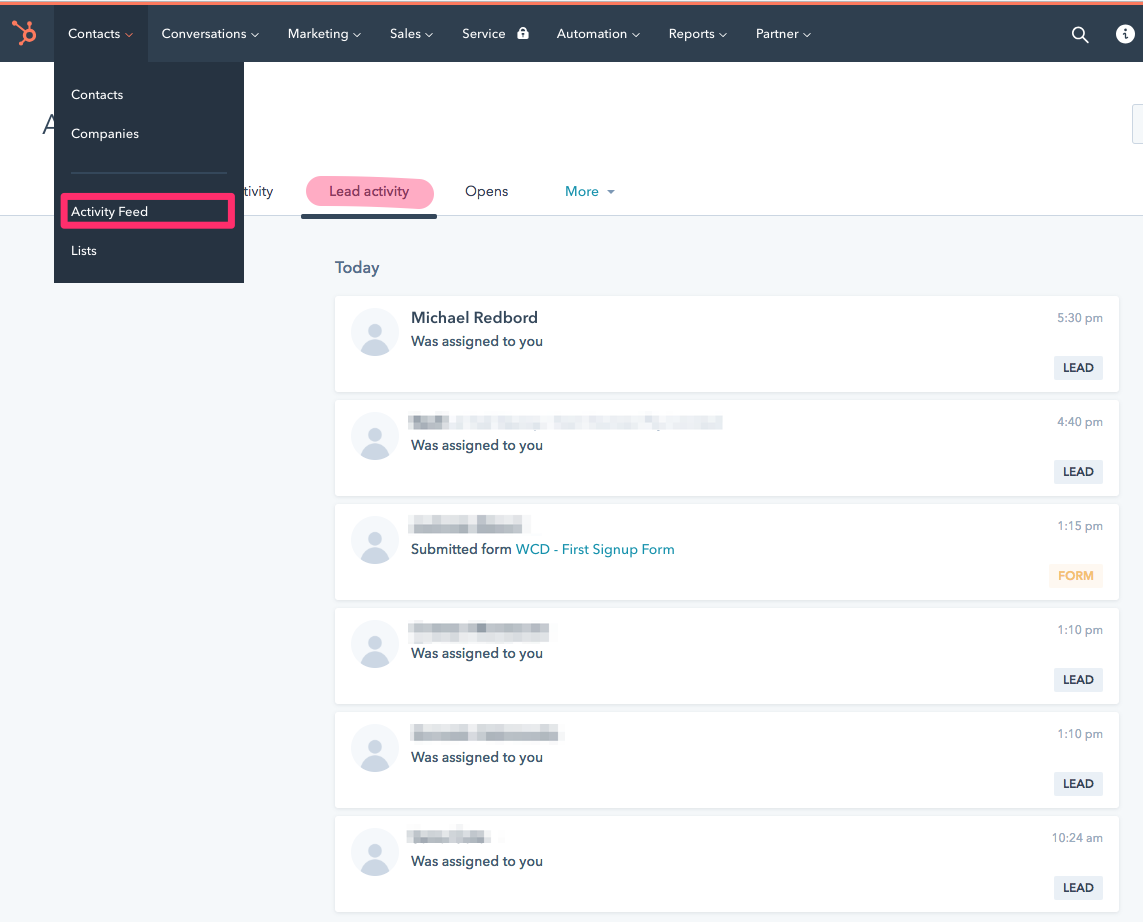 Shot 6: Opinion of the Week
https://seths.blog/2018/06/learning-from-the-factory-dealer-divide/
Hire the right people, walk away from those that aren't on the journey.
Gain enrollment.
Model behaviors.
Celebrate the right contributions.
Develop a culture, a language, a way of being on the path.
Commit to the journey.
People like us do things like this.
Raise the standards, repeat the process.
Shot 7: Podcast of the Week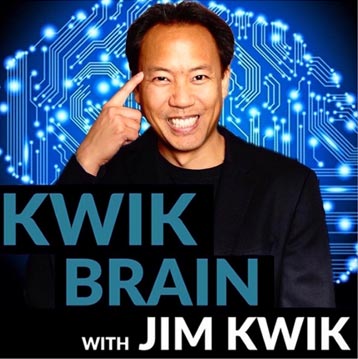 http://jimkwik.com/category/podcast-1/
Thank you to Kathryn Khiroya for sharing this with us!
Shot 8: Resource of the Week
Using Google Tag Manager can automate a whole range of tracking requirements on your website > https://www.lovesdata.com/blog/google-analytics-automation#automation-6 by Benjamin Mangold
Shot 9: Quotes of the Week
"The Funnel is dead. Long live the Flywheel" - Dave Shepherd
"On average, 8 out of 10 people will read your headline copy, but only 2 out 10 will read the rest." - Brian Clark
"Avoiding stupidity is easier than seeking brilliance" - Shane Parish (Farnam Street Blog)
Shot 10: Bonus Links of the Week
https://backlinko.com/seo-techniques
Ahrefs YouTube Channel:
https://www.youtube.com/channel/UCWquNQV8Y0_defMKnGKrFOQ
Please rate and leave us some feedback as this helps us improve and reach more marketers.