Welcome to Episode 127 of HubShots!
Welcome to HubShots, APAC's number 1 HubSpot focussed podcast, where we discuss HubSpot tips and tricks, new features, and strategies for growing your marketing results.
This episode we look at the revamped content strategy tool wizard (plus a workaround), think through the impact of data decay, and making calls from HubSpot.
Listen to the episode here:
https://soundcloud.com/hubshots/127-content-strategy-tool-improvements
HubShots, the podcast for marketing managers who use HubSpot hosted by Ian Jacob from Search & Be Found and Craig Bailey from XEN Systems.
Subscribe to our YouTube Channel here: https://www.youtube.com/channel/UCD3Uo4X-IxPJLE8ygPDQhNQ
Join our WhatsApp group here: https://hubshots.com/whatsapp/
Join the Facebook group here: https://www.facebook.com/groups/hubshots/
Recorded: Tuesday 26 June 2018 | Published: Wednesday 25 July 2018
Shot 1: Inbound Thought of the Week
Caught up with Charles McKay at HubSpot today
Also Varun, Mads, Nick Bayliss
We are testing a YouTube channel - if that's your thing.
https://www.youtube.com/channel/UCD3Uo4X-IxPJLE8ygPDQhNQ
Please subscribe, so we can get a sense of how many people find YouTube a good option.
If there's enough interest we'll look at providing video as well as audio in the feed.
Shot 2: HubSpot Marketing Feature of the Week
Reset your Content Strategy clusters, and then you can run through the Topic cluster wizard
https://knowledge.hubspot.com/articles/kcs_article/content-strategy/creating-new-topic-clusters-with-content-auditing
Please note: the content audit feature is only available if you do not have any existing topic clusters. If have existing topic clusters already and you'd like to use this feature, you can delete your existing topic clusters to add your topic clusters with content auditing.
After updating, you then wait 24 hours for the analytics to update:

btw
Semantic = buzzword
Noun. semantic relation (plural semantic relations) Any relationship between two or more words based on the meaning of the words.
semantic relation - Wiktionary
https://en.wiktionary.org/wiki/semantic_relation
Shot 3: HubSpot Gotcha of the Week
Understanding Sales Pricing and limits:
https://legal.hubspot.com/hubspot-product-and-services-catalog
Shot 4: Marketing Tip of the Week
Email decay rates - assume >20% per year
Widely cited stat (but we can't find the actual source) from Marketing Sherpa (https://www.marketingsherpa.com/) that email lists decay at 2.1% per month (which apparently when annualised is 22.5% per year - ie doesn't account for growth at the same time.)
https://www.hubspot.com/database-decay
This includes people opting out, but also people who change their email address.
Need to be mindful that if you aren't growing your list by 2.1% per month you are going backwards.
Plus that doesn't include people who still stay on your list but just don't engage.
Shot 5: HubSpot Sales Feature of the Week
Calling
You can place calls via VOIP (voice over the internet!) right from within your HubSpot account, or click to connect through a physical phone. Optionally record and log calls to a contact's record. Lite version in HubSpot CRM includes 15 minutes of calling per user per month. Starter 500 minutes of calling per user per month & Professional 2000 minutes of calling per user per month.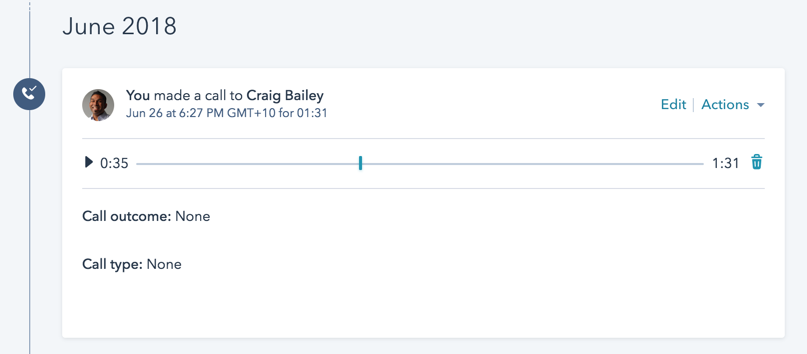 Saw this notification in a clients account as they have not been using it: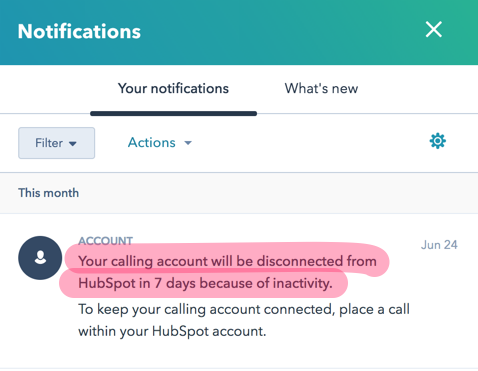 Bonus features:
You can export out your Quotes you've generated from the Deals
Settings > Sales > Products & Quotes
Shot 6: Opinion of the Week
Influencers and B2B Marketing
Was chatting with someone at Grow with HubSpot Sydney and they were in B2B, but weren't sure how they could incorporate at an influencer marketing strategy.
Before you get fixated on celebrity endorsements and instagram images, start simple - get reviews for your business. People are influenced by reviews.
Super simple example: we use Brian Halligan at the start of this podcast…
In B2B it may mean it is easier starting at the bottom of the funnel when people are deciding, versus at the top when people are researching.
Shot 7: Emotion of the Week
Occhiolism: The awareness of the smallness of your perspective
http://www.dictionaryofobscuresorrows.com/post/95735249861/occhiolism
Found this via David Perell on Twitter:
https://twitter.com/david_perell/status/1009966684764065793?s=12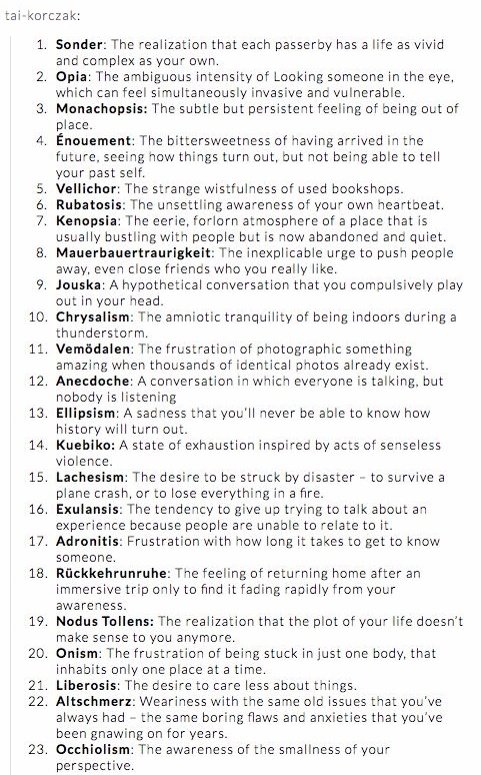 Credit to John Koenig from The Dictionary of Obscure Sorrows!
Via: http://www.dictionaryofobscuresorrows.com/
Shot 8: Resource of the Week
Five Years of Google Ranking Signals
from Bill Slawski (SEO by the Sea)
A great example of content that people will share widely but never actually read themselves:
http://www.seobythesea.com/2018/06/google-ranking-signals/
Love that each item has an action point eg here's the action point related to Google using the first time it crawls a site as a signal, because it uses Domain Age as a signal of quality.
Action items: Create evergreen content that people will find value in over time, and continue to link to. As people continue to link to it, Google will continue to see value in that content.
Shot 9: Quote of the Week
"Customers play ball not just because of extremely low prices but also because IKEA offers them advantages and an experience that other retailers do not. Are there ways in which your firm – or a new venture – could offer customers advantages that would not cost you very much, or would even increase profits?"
― Richard Koch, Simplify: How the Best Businesses in the World Succeed
Shot 10: Bonus Links of the Week
https://blog.hubspot.com/sales/the-psychology-of-selling
https://backlinko.com/seo-techniques
Please rate and leave us some feedback as this helps us improve and reach more marketers.