Welcome to Episode 165 of HubShots!
Welcome to HubShots - APAC's number 1 HubSpot focussed podcast - where we discuss HubSpot tips & tricks, new features, and strategies for growing your marketing results.
We hope you enjoy the podcast as much as HubSpot's CEO, Brian Halligan does.
This episode we revisit the new drag and drop email editor and discover that it doesn't support CTAs, but there is a workaround. Plus Google's Analytics Intelligence. And a really simple way to qualify leads to determine if they are sales ready.
Listen to the episode here: https://soundcloud.com/hubshots/165-drag-and-drop-email-editor-gotcha-and-workaround-plus-google-analytics-intelligence/
HubShots, the podcast for marketing managers and sales professionals who use HubSpot, hosted by Ian Jacob from Search & Be Found and Craig Bailey from XEN Systems.
Subscribe to our YouTube channel here: https://www.youtube.com/channel/UCD3Uo4X-IxPJLE8ygPDQhNQ
Subscribe to our Spotify channel here: https://open.spotify.com/show/7oee8w41riN5aRNrLKT2ar
Join the Facebook group here: https://www.facebook.com/groups/hubshots/
Follow us on Twitter here: https://twitter.com/hubshots
Follow us on Instagram here: https://www.instagram.com/hubshotspodcast/
Follow us on LinkedIn here: https://www.linkedin.com/company/hubshots/
Recorded: Tuesday 09 July 2019 | Published: Friday 19 July 2019
Shot 1: Inbound Thought of the Week
Always be helping.
#helpbetter
Here is something we encourage everyone to do > Inbound Sales Training
Shot 2: HubSpot Marketing Feature of the Week
A bit more on the new HubSpot email drag and drop editor (following our initial thoughts back in episode 161)
Some good things:
Very simple to use and move sections around
Simple styling
Adding new sections is easy (much nicer than when using the traditional editor eg using repeaters)
Some puzzling things:

Can't natively add CTAs

Can't add any html scripts for that matter eg can't add CTA embed code to try to get around the missing CTA functionality
Can't control some basic styling eg line height of paragraphs, better styling of links etc
Some solutions:
UPDATE 24 July 2019: This is no longer required – the CTA option is now available in the Button control – however, we've left it here as a quick overview of how to create custom modules:
To get around the CTA issue, you can create a global email Custom module that will show a CTA (see the code below) and then drag that onto the email. Big thank you to Mun Shuen from Hubspot Support who got this working for me.
Here's the code to add:

Steps:
Create a local custom module that is used in emails:

Add a CTA field:

Add the code in the main module code window:

Drag the custom module into your email editor:

Select the CTA to use
Note: the CTA might not render properly in the email editor. However it should render fine when the email is read in the email client.
More updates from June:
https://blog.hubspot.com/customers/the-complete-list-of-june-2019-product-updates
Shot 3: HubSpot Sales Feature of the Week
Be Direct - don't disguise your intentions
How to determine if leads are sales ready.
Ask on forms: Are you ready to speak to us?
Alternatives:
Would you like us to call you?
Would you like to speak to sales?
Shot 4: Marketing Gotcha of the Week
See above: You can't put CTA natively into emails using the drag and drop editor.
Shot 5: Marketing Tip of the Week
Google Analytics Intelligence
Insights in Google Analytics - just ask questions at the top of the page: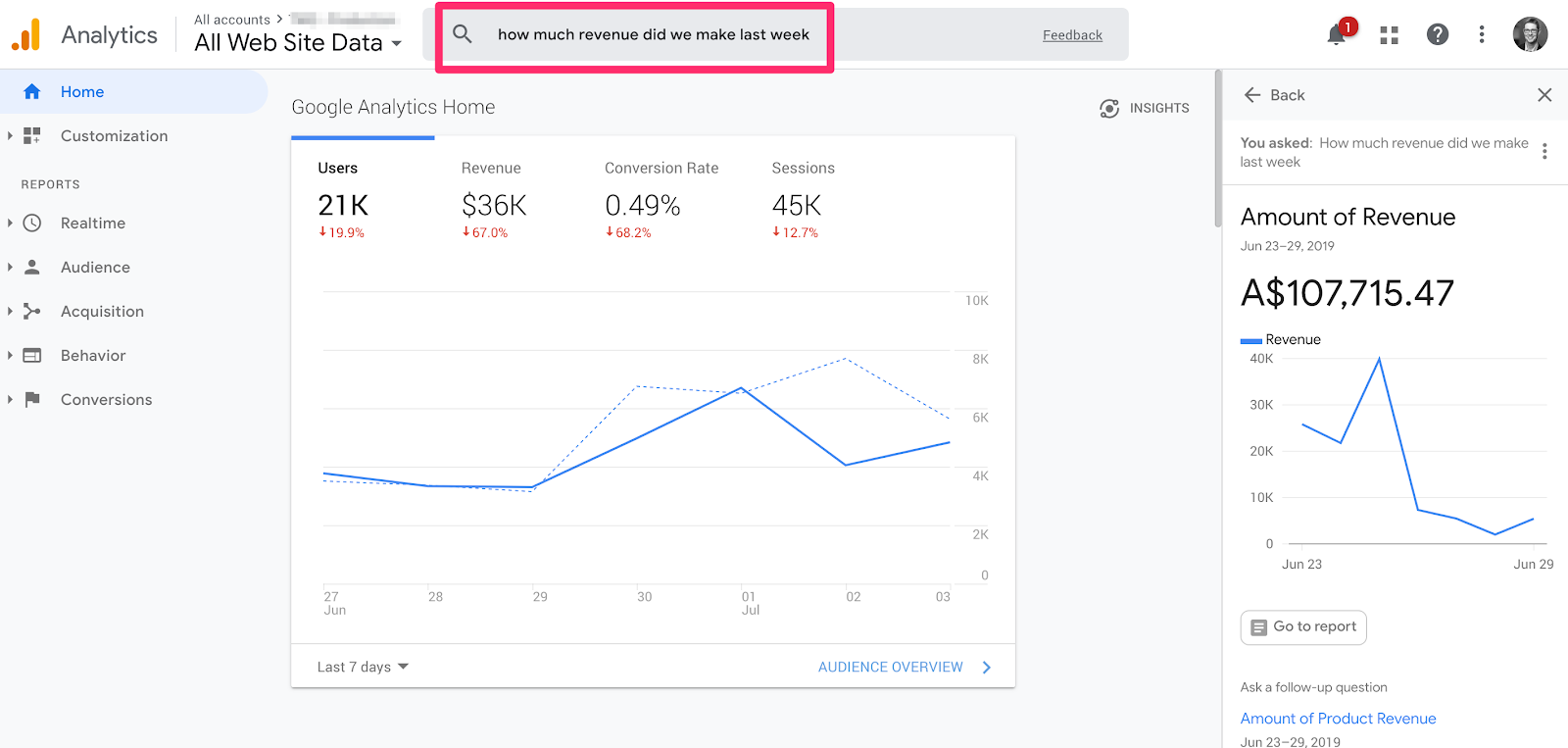 Use the Analytics Intelligence list on the right hand column to see other suggested insights: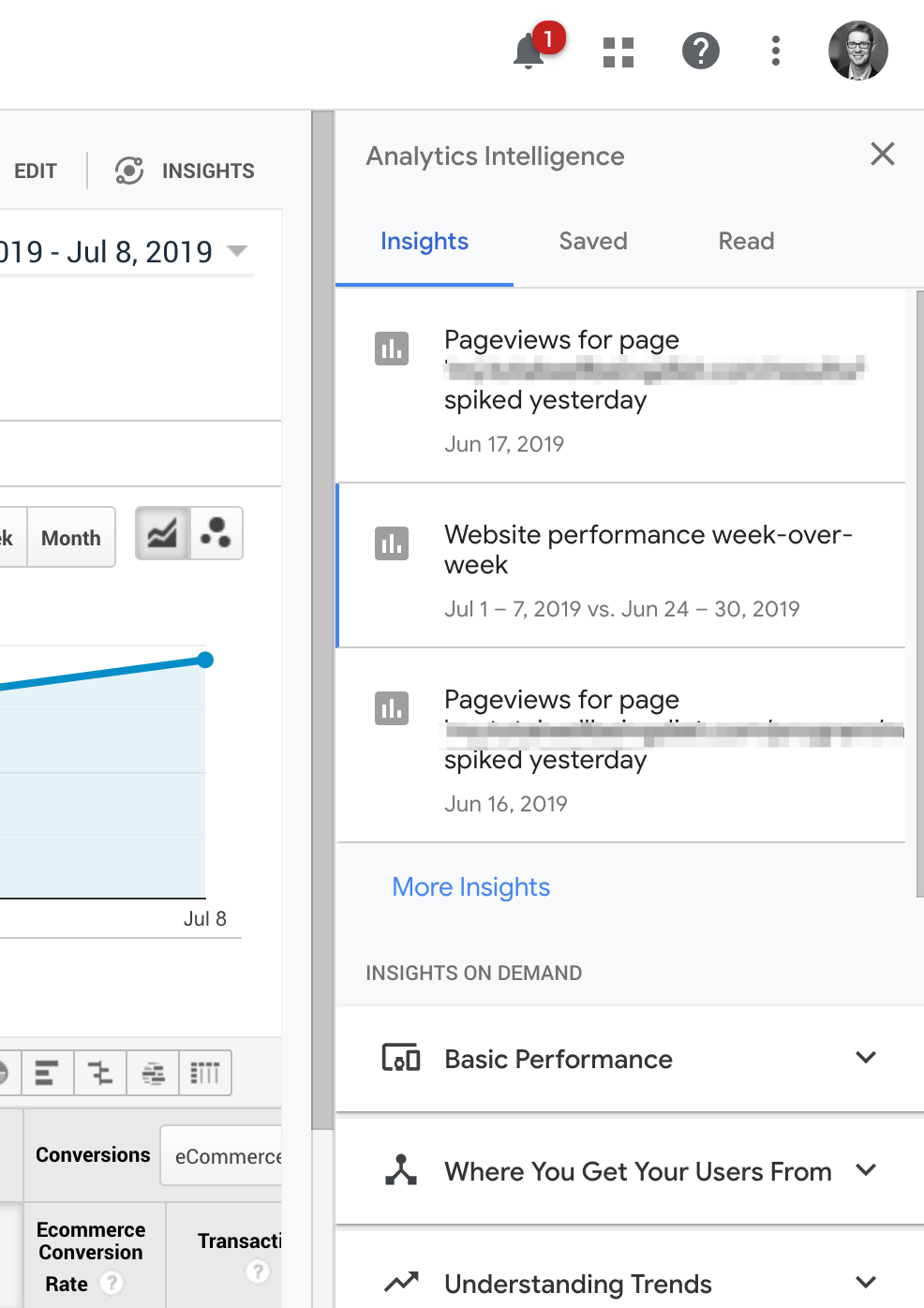 Shot 6: Insight of the Week
Marketing should do one thing: Build more trust.
That's a paraphrase of Seth Godin's approach to marketing.
Ask yourself: Does this ad, article, email, campaign, strategy help people and build more trust in us?
Shot 7: Retirement of the Week
Some social reports are leaving us - two Twitter reports (Timelines and Sent Messages)
Shot 8: Resource of the Week
Understanding all the different Google sections in the search results:
https://weareroast.com/news/serp-features-2019/
Answer boxes
How to boxes
Knowledge boxes and panels
People also ask (PAA)
Refine by
etc
Shot 9: Quote of the Week
"If you deliberately plan on being less than you are capable of being, then I warn you that you'll be unhappy the rest of your life."
Shot 10: Bonus Links of the Week
Please leave us a simple star rating as this helps us improve and reach more marketers.