Welcome to Episode 67 of HubShots!
Welcome to HubShots, the podcast for marketing managers who use HubSpot hosted by Ian Jacob from Search & Be Found and Craig Bailey from XEN Systems.
Join our WhatsApp group here: http://hubshots.com/whatsapp/
Join the Facebook group here: https://www.facebook.com/groups/1608138752821574/
Recorded: Monday 09 January 2017 | Published: Thursday 12 January 2017
Shot 1: Inbound Thought of the Week
The episode title came from: https://www.portent.com/tools/title-maker
Be a practitioner - moving to making mandatory training for our customers as part of our monthly reporting and review. As part of our catchup meeting I train them on one thing, whether it's analytics or HubSpot or Facebook, etc. For example, I might show them how to use the Keyword tool so they can track their rankings.
Start your training here > http://academy.hubspot.com/
Shot 2: HubSpot Marketing Feature of the Week
You can now add social metrics to your HubSpot dashboards, putting your social media data side-by-side with your other key marketing metrics.
You'll see four brand new report templates that can be added to your dashboard in a single click:
Social clicks.Tracks the total number of clicks on the links in your social messages, summed across channels.
Social clicks by channel. Shows you which specific accounts are sparking your social media success.
Social interactions. Aggregates the number of engagements across your social networks (see below for more details on how interactions are defined).
Social interactions by channel. Shows which specific accounts are driving the most engagement.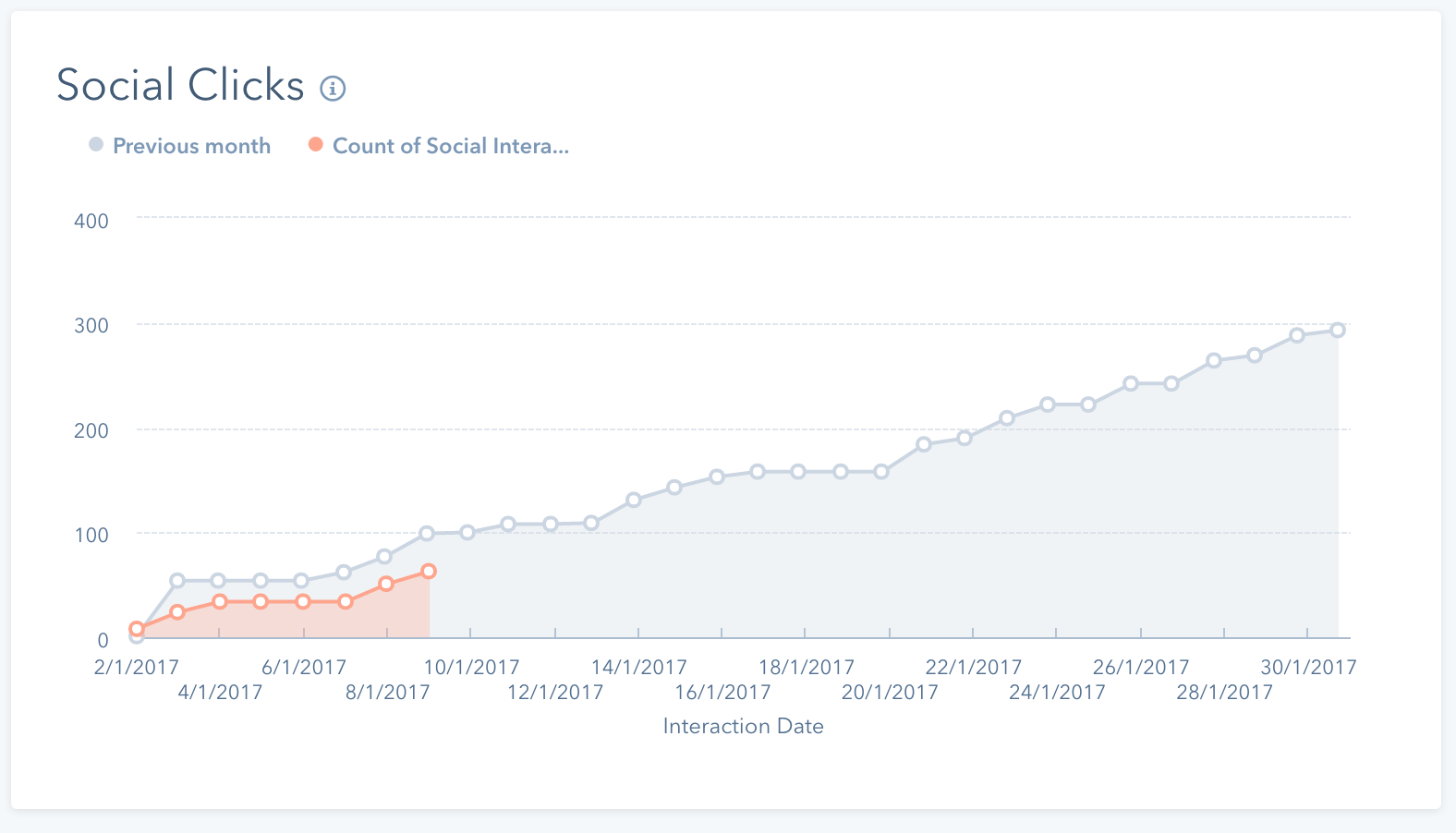 Action item: Use this to check which social channels are driving clicks. Craig was surprised to find that Google+ was driving tons more clicks than other channels!
Shot 3: HubSpot Sales Feature of the Week
Meetings - creating personal meeting links that include customising:
Time available
Buffer time
Time in advance
Number of weeks in future to book
Saves Ian a lot of time organising meetings with clients and prospects.
To learn more about it: https://www.hubspot.com/products/sales/schedule-meeting
Cafe Consulting
Book in 15 minutes with us on 25 January in Sydney to discuss any HubSpot feature or topic. Book here:
https://app.hubspot.com/meetings/ianjacob/hubshots-cafe-consulting-25-jan-2017
Tip for making time available on a particular day - create a custom meeting link, and then block out times in the upcoming weeks.
Shot 4: Opinion of the Week
Putting a price on user experience
Comparing HubSpot CRM with Zoho CRM.
HubSpot CRM is so nice to use. A customer is moving to Zoho CRM (for the reporting features), but even they've lamented that they really like the HubSpot user interface better.
In HubSpot CRM the focus is on the timeline - don't see this in many other CRMs. It makes engagement the key.
Shot 5: Creative Top 10 of the Week
Top 10 Ideas - for training our creative muscles.
This week: One of Craig's customers is a corporate catering company in Sydney. What's 10 ideas for driving more traffic?
Share preparation of food on Instagram & Pinterest
Target venues that don't have catering included in their offering
Tag and share suppliers pictures and posts so they can broaden their reach
Create content specific to areas of corporate catering that they are not targeting
Have a corporate catering night for event planners to experience their food & service
Use facebook to reach businesses (Admin Staff/Executive Assistants/Assistants/Event Planners)
Segment & email their past customers who are regulars and those who have only purchased once
Use similar audiences in Google and Facebook to reach new prospective customers
Partner with a celebrity chef to promote their brand and reach online and offline
Find social influencers to reach new audiences
Go after larger contracts for large venues
Shot 6: Podcast of the Week
Was listening to the HubCast where Marcus Sheridan goes through some of his predictions for 2017:
https://www.thesaleslion.com/hubcast-121-2017-predictions-for-live-video-marketing-social-media/
George and Marcus riff on some of the predictions from this post:
http://www.convinceandconvert.com/content-marketing/content-marketing-predictions-for-2017/
Shot 7: Resource of the Week
We use this blog post headline analyzer to score our overall headline quality and rate its ability to result in social shares, increased traffic, and SEO value.
http://coschedule.com/headline-analyzer
Shot 8: Quote of the Week
"Your focus should include creating communities outside of your site for people to connect with you, your products, and others within the community. Ultimately, this "outside" focus will drive people back to your site."
Shot 9: Bonus Links of the Week
Other stuff we've been reading and recommend, but had to cut from the show:
http://content.inbound.com/content/top-5-content-marketing-hacks <= Ryan Bonnici
https://thinkgrowth.org/how-i-built-a-100m-sales-channel-by-challenging-the-status-quo-e82000e9179d
http://unbounce.com/campaign-strategy/influencer-outreach-5-pro-tips-for-success/
https://conversionxl.com/perceived-value/
Some of Craig's reading:
https://getpocket.com/@craigbailey
Craig' book recommendations
Peak by Anders Ericsson: http://peakthebook.com/index.html
Please rate and leave us some feedback as this helps us.
Book in for Cafe Consulting here:
https://app.hubspot.com/meetings/ianjacob/hubshots-cafe-consulting-25-jan-2017