Welcome to Episode 102 of HubShots!
Note: this is an episode we recorded back before Inbound - and didn't get around to posting. Enjoy!
Listen to the podcast here: https://soundcloud.com/hubshots/102-buying-from-bots
Today we talk about…
tips for improving email conversions
how to identify AdWords Display traffic in HubSpot reports,
creative ideas for distributing content,
HubSpot product updates to the contact timeline,
Ian and Craig's App and Chrome extension recommendations,
plus HubSpot's Research report on AI revisited (47% of people would Buy from a Bot).
Welcome to HubShots, the podcast for marketing managers who use HubSpot hosted by Ian Jacob from Search & Be Found and Craig Bailey from XEN Systems.
Join our WhatsApp group here: https://hubshots.com/whatsapp/
Join the Facebook group here: https://www.facebook.com/groups/1608138752821574/
Recorded: Wednesday 23 August 2017 | Published: Thursday 30 November 2017
Shot 1: Inbound Thought of the Week
Excellent post from Talia Wolf (who we've featured many times on the show) - this time another tip from her guide to higher email conversions:
http://getuplift.co/how-to-turn-your-emails-into-high-converting-emails/
I love her two formulas ( in section #5 ) for writing a compelling story:
Formula #1: PAS
PAIN
AGITATION
SOLUTION
Start by writing down the following:
What is your customer's pain?
Why does your customer care?
How does she feel about this issue and how does it affect her?
How do you solve it?
Formula #2: AIDA
Attention – Grab their attention quickly.
Interest – Tell them something that intrigues them, something they may have never heard before, or something that goes against what they would normally do.
Desire – Engage them in a way that leaves the reader wanting what you have to offer.
Action – Ask them to take action.
She has two worked examples to demonstrate these
Shot 2: HubSpot Marketing Feature of the Week
Determining AdWords Search traffic versus AdWords Display traffic:
Thanks Suellen!
HubSpot Marketing Gotcha - Campaigns don't report paid social traffic:
https://knowledge.hubspot.com/articles/kcs_article/cos-general/why-are-my-tracking-url-visits-not-appearing-in-the-campaigns-tool
Shot 3: Marketing Tip of the Week
10 Ways to Distribute One Piece of Content (Besides Social Shares)
https://blog.hubspot.com/marketing/content-distribution-ideas
We thought this was interesting as it highlighted other things you can be doing to promote a piece and reach of content. They had to flex their creative muscles and the challenge was to come up with 50 ways!
It's like their Top 10 Creative Ideas shot :-)
Ideas 9 and 10 - via recruitment channels - were creative! Eg content linked job listings
Shot 4: HubSpot Sales Feature of the Week
Checking you have your timeline filters correct so you are seeing everything you need to see and are not missing things.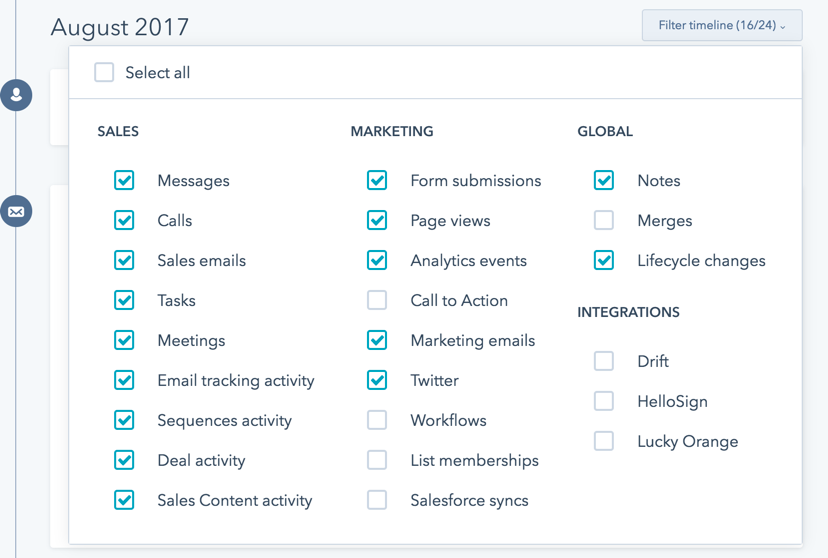 Bonus feature - consolidating page views in the contact timeline: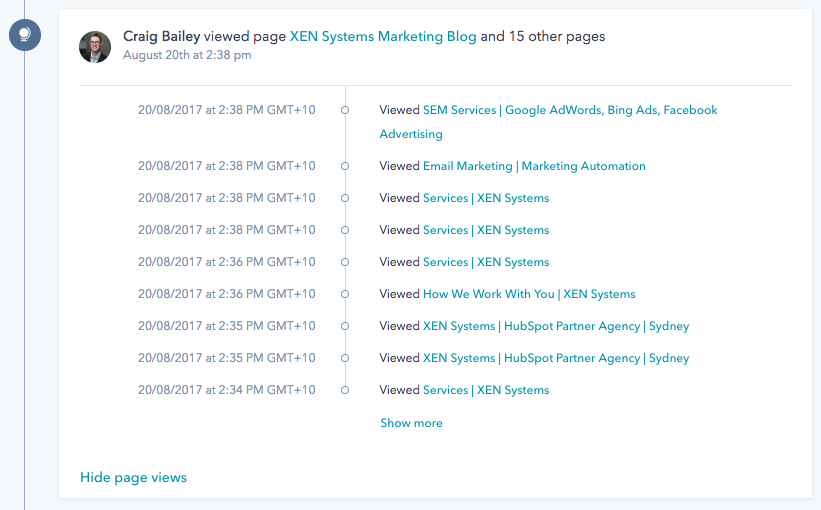 Shot 5: App of the week
Get a Yelp for Business Owners account and claim your business. Especially if you have people that visit your location. This also shows up on Apple Maps on an iPhone and that is where it draws the reviews for your business from! You can also get the Yelp for Business Owners app on your iPhone as well.
Shot 6: Google Chrome Extension of the Week
One Click Extension Manager:
https://chrome.google.com/webstore/detail/one-click-extensions-mana/pbgjpgbpljobkekbhnnmlikbbfhbhmem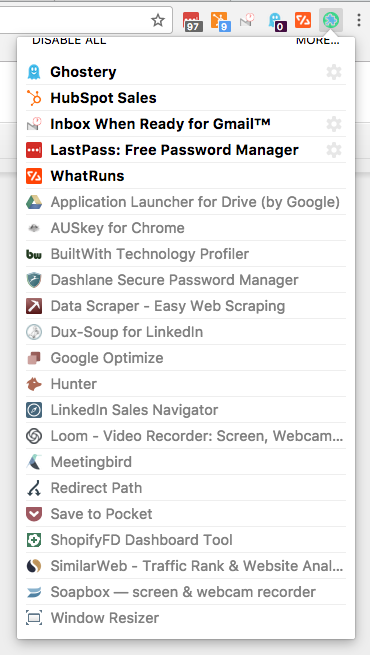 Shot 7: Podcast of the Week
Gold: How to 2x Your Business This Year: Lessons from Buying 29 Companies
http://okdork.com/buying-a-business-jonathan-siegel/
Shot 8: Resource of the Week
From back in January when HubSpot released a research report around Artificial Intelligence:
https://research.hubspot.com/reports/artificial-intelligence-is-here

The BfaB - Buy from a Bot trend:

The end of the article has some good examples of AI in action eg: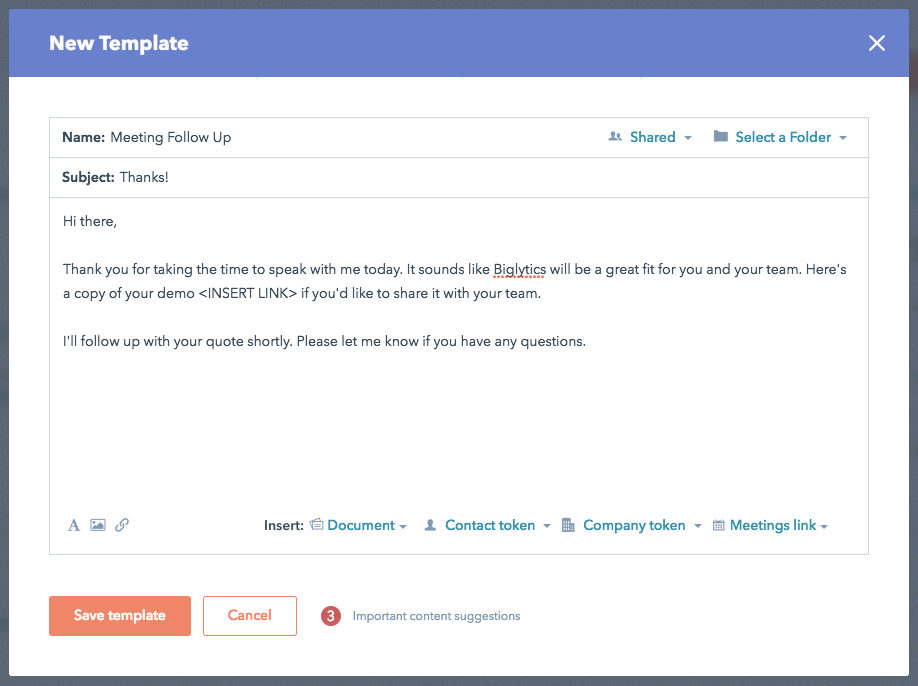 Shot 9: Quote of the Week
"The real problem is not whether machines think but whether men do. "
Shot 10: Bonus Links of the Week
Other stuff we've been reading and recommend, but had to cut from the show:
https://www.hubspot.com/product-updates/generate-more-engagement-using-twitter-card-view
https://hackernoon.com/elon-musk-made-p-g-think-like-tesla-8e2be6693b18
Tool to investigate:
https://www.hubspot.com/products/campaign-reporting-beta
Some of Craig's reading:
https://getpocket.com/@craigbailey
Please rate and leave us some feedback as this helps us.