Welcome to Episode 98 of HubShots!
Welcome to HubShots, the podcast for marketing managers who use HubSpot hosted by Ian Jacob from Search & Be Found and Craig Bailey from XEN Systems.
In this episode we chat about the new HubSpot blog format (it's a winner!), check out HubSpot's keyword tool for identifying ranking opportunities, note a cool Google My Business listing tip, try out a Databox hack, discuss proactive dashboards, and check out a tool for working out the best time to send emails to recipients with specific job titles.
Listen to the post here: https://soundcloud.com/hubshots/098-all-about-ranking-opportunities-how-to-take-advantage-of-google-my-business
Join our WhatsApp group here: https://hubshots.com/whatsapp/
Join the Facebook group here: https://www.facebook.com/groups/1608138752821574/
Recorded: Wednesday 16 August 2017 | Published: Friday 18 August 2017
Shot 1: Inbound Thought of the Week
The changing HubSpot blog - how HubSpot is adapting in order cover new user experience formats:
https://blog.hubspot.com/marketing/hubspot-blog-redesign
It's beautiful and feels much more like a publication, than a blog post.
Note: you miss all this goodness if you read via a blog reader.
Shot 2: HubSpot Marketing Feature of the Week
Ranking Opportunities in the Keyword Tool
Great way to find opportunities to get more traffic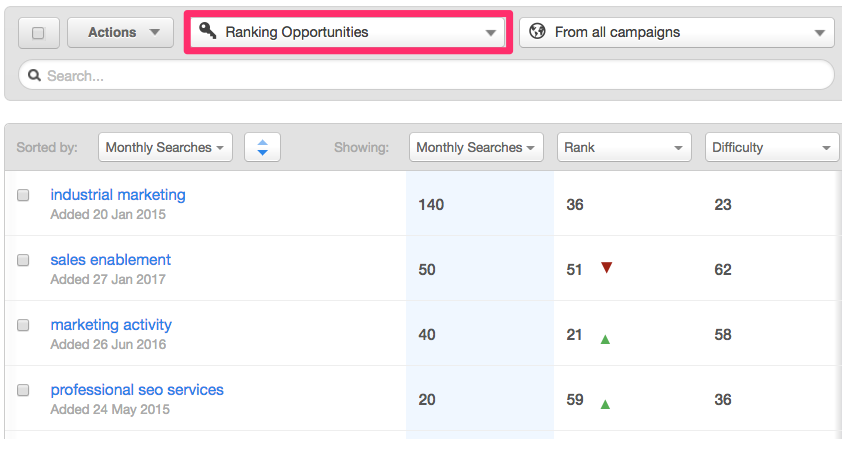 Shot 3: Marketing Tip of the Week
Interesting reading from Databox:
https://databox.com/inbound-marketing-not-working
We'll be chatting this through further in episode 101 - listen out for it, with a special guest!
Nice databox tip:
http://blog.nextinymarketing.com/soapbox-weekly-hacks-how-to-aggregate-multiple-hubspot-reports-with-databox
We're using this as a Databox embed on the XEN home page: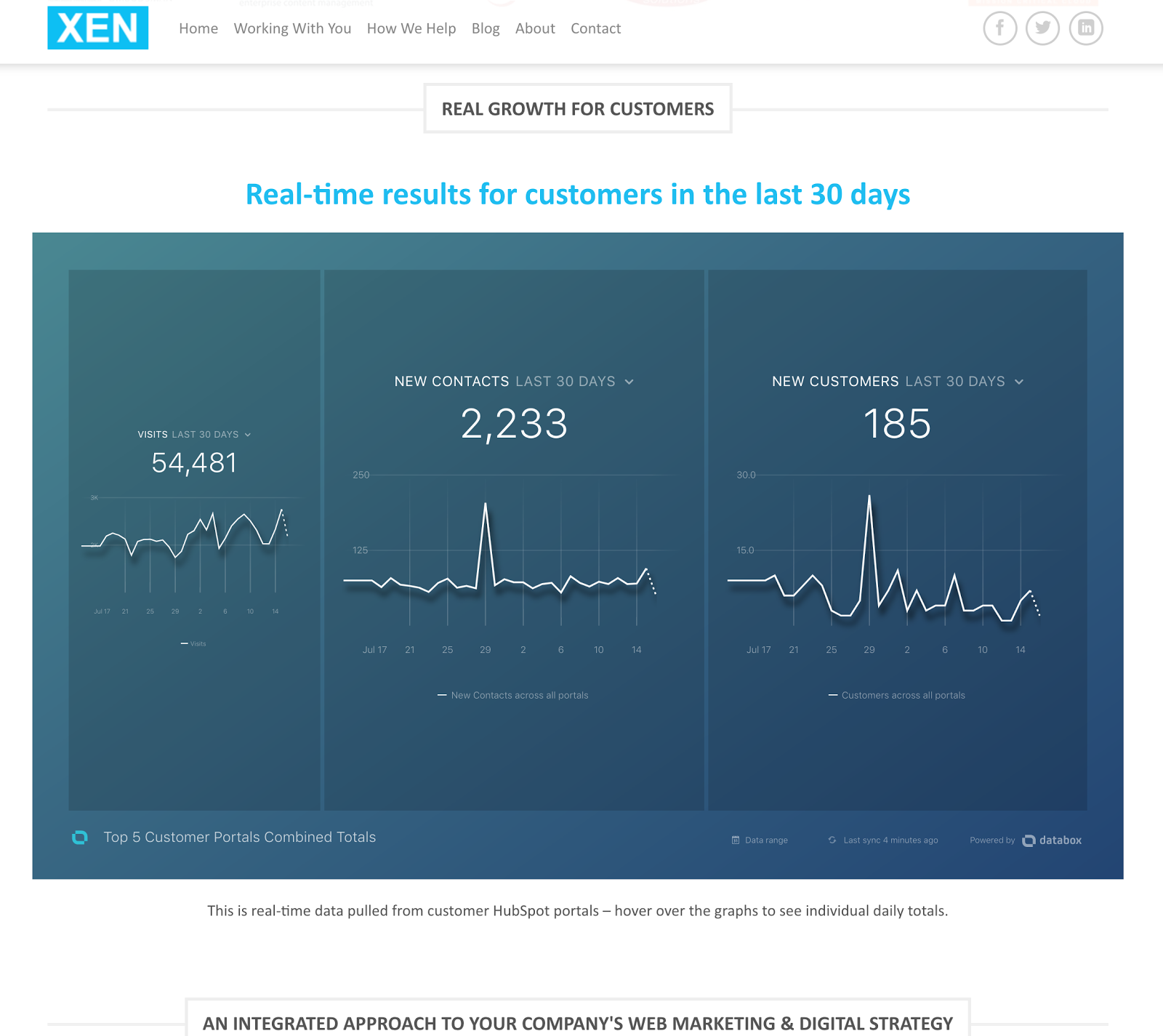 Shot 4: HubSpot Sales Feature of the Week
Google My Business is now adding Appointment URLs to your business listing
http://www.localvisibilitysystem.com/2017/08/11/12-facts-to-know-about-google-my-business-appointment-urls/
So create a separate page on your site, and embed the Meetings request widget from your HubSpot Sales Pro section:

eg here's how we do it at XEN:
https://xen.com.au/contact/book-an-appointment/
Add this to your GMB listing, and then wait up to 3 days for it to be approved, after which it should appear on your listing: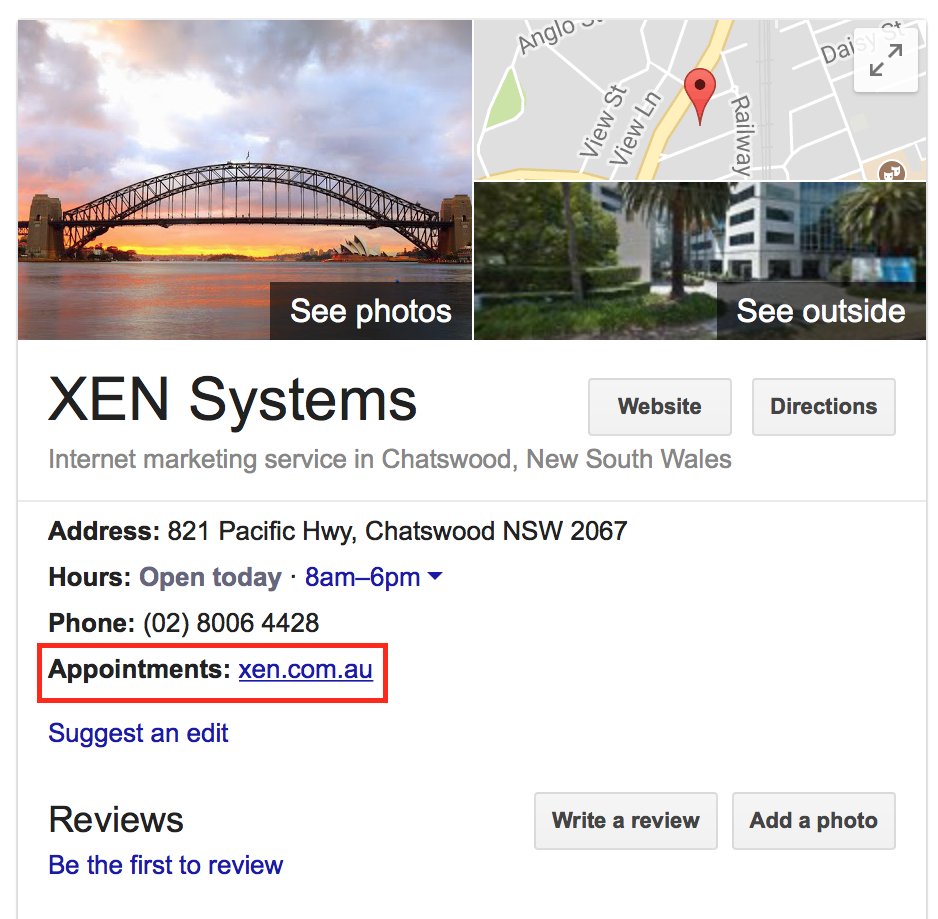 Shot 5: Opinion of the Week
You can't regulate against a monopoly on user experience.
Exponent episode 120:
http://exponent.fm/episode-120-google-antitrust-and-aggregation-theory/
Unlike historical antitrust scenarios where corporates with infrastructure monopolies could abuse their power, no one can regulate against user experience excellence.
Engagement and stickiness are hard to blog. It's a key advantage that companies are taking advantage of - one of the reasons that HubSpot is putting so much effort into making the product so fun to use.
Consider Xero - accounting of all things!, and yet a wonderful product to use.
Consider also how you can reduce/remove: anxiety
In Avinash's latest email newsletter he asks: Why do people love Uber. His opinion: it removes anxiety.
Shot 6: Business Lesson
Proactive Dashboard by Noah Kagan
[youtube https://www.youtube.com/watch?v=tQa019caFV0?rel=0&w=640&h=360]
It is not complicated. It is going back to basics!
This video shows you how you can proactively control what you have domain over. Example, you can control the amount of content you produce and publish on your website.
You can control the amount of email marketing you do. However you cannot control if people click on the links in your email!.
By controlling these inputs (what you have control of) you have an increased ability to improve your business, and reach your goals.
Shot 7: Podcast of the Week
Exponent episode 120:
http://exponent.fm/episode-120-google-antitrust-and-aggregation-theory/
With Ben Thompson ( http://twitter.com/benthompson ) and James Allworth ( http://twitter.com/jamesallworth )
As per our opinion of the week in Shot 5.
Shot 8: Resource of the Week
Cool tool for checking the best time to send emails to a recipient:
https://www.growbots.com/best-time-to-send-email/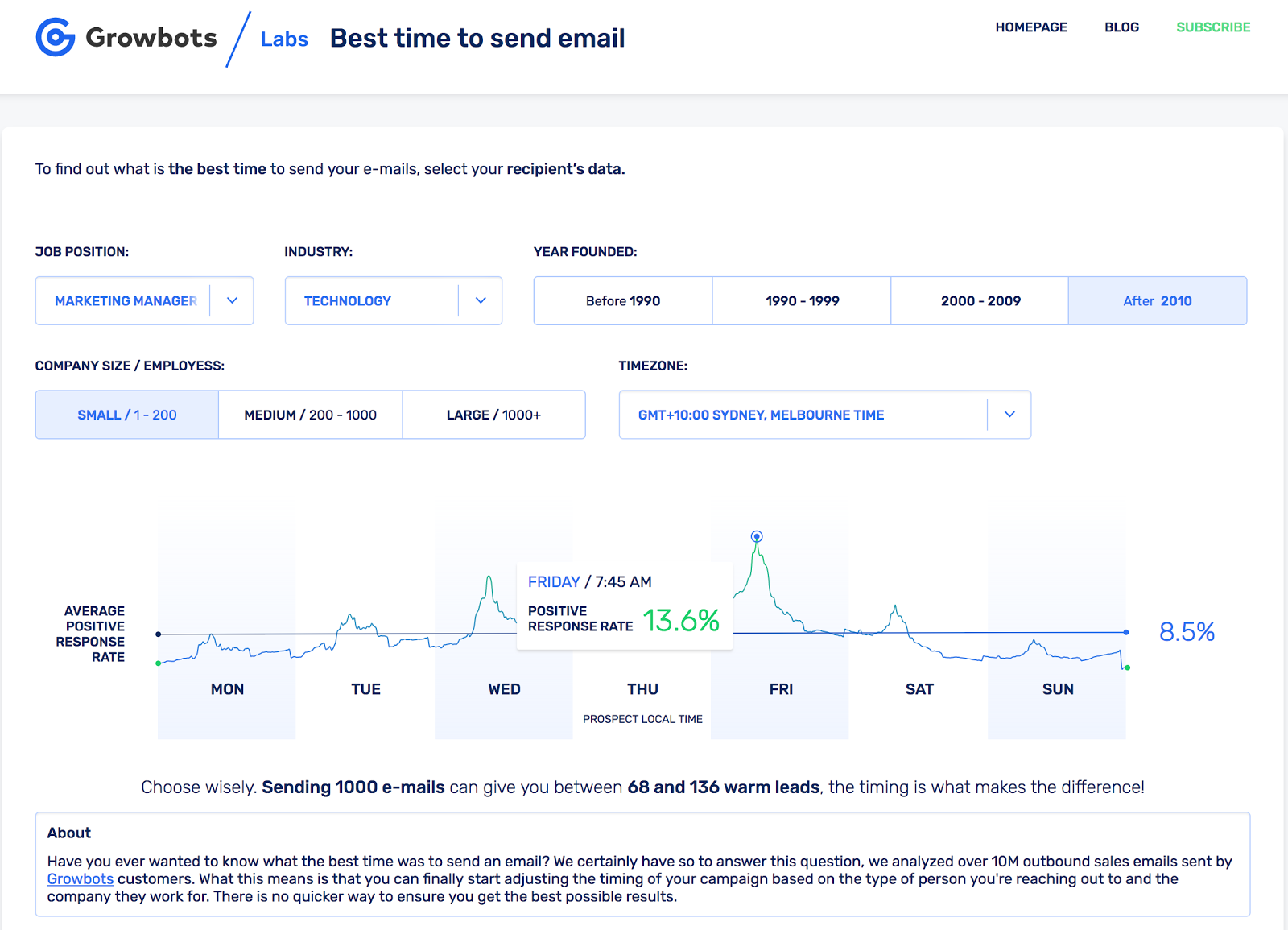 Eg if sending to Marketing Managers, send at 7:45am on Friday mornings - you'll get the highest open rates then.
Shot 9: Quote of the Week
Waves are free - from Seth Godin
http://sethgodin.typepad.com/seths_blog/2017/08/waves-are-free.html
When someone lets you into the flow of traffic, or holds a door, or takes a second to acknowledge you, it's possible to smile and offer a wave in response.
This, of course, costs you nothing.
It creates a feeling of connection, which is valuable.
It makes it more likely that people will treat someone else well in the future.
And it might just brighten your day.
The simplest antidote to a tough day is generosity. Waves are free, and smiles are an irresistible bonus.
Shot 10: Bonus Links of the Week
Other stuff we've been reading and recommend, but had to cut from the show:
Ahrefs discuss the learnings from study 10M structured snippets:
https://ahrefs.com/blog/featured-snippets-study/
Jon Loomer chats through Facebook Messenger ads - as usual, it's gold:
https://www.jonloomer.com/2017/08/01/facebook-messenger-ads/
Social Media Examiner jumps in with a bunch of Messenger tips:
http://www.socialmediaexaminer.com/facebook-messenger-ads-how-to/
We've had trouble finding the original attribution for this, so take it with a grain of salt, but it's an interesting thought experiment if nothing else:
http://yourotherperspective.com/2017/07/29/lives-will-change-dramatically-20-years-ceo-mercedes/
Tool to investigate:
Keyword Hero gives you insight into your keywords in Google organic, by adding the details back into a Google analytics profile:
Some of Craig's reading:
https://getpocket.com/@craigbailey
Please rate and leave us some feedback as this helps us.