Welcome to Episode 111 of HubShots!
In this episode, we chat about new HubSpot features we like, some upcoming inbound marketing events, understanding HubSpot versions, cool resource for Facebook audiences.
Listen to it here: https://soundcloud.com/hubshots/111-things-you-didnt-know-about-facebook-ads-hubspot-versions-hubspot-product-updates
Welcome to HubShots, the podcast for marketing managers who use HubSpot hosted by Ian Jacob from Search & Be Found and Craig Bailey from XEN Systems.
Join our WhatsApp group here: https://hubshots.com/whatsapp/
Join the Facebook group here: https://www.facebook.com/groups/1608138752821574/
Recorded: 31 Jan 2018 | Published: Friday 09 February 2018
Shot 1: Inbound Thought of the Week
Catching up with the HubSpot team in Sydney today. Shoutout to Mads, Varun, Brent, Ariana, Dave.
A good friend: tells you if you have something on your nose. Honest feedback is important.
We'd love your honest feedback about the show - please email us or leave a comment.
Grow with HubSpot Melbourne - https://offers.hubspot.com/grow-with-hubspot-melbourne-2018
Shot 2: HubSpot Marketing Feature of the Week
Understanding the different HubSpot Marketing versions:
https://www.hubspot.com/pricing/marketing
Free - when you are just getting started and want to see who is converting and the path they took. Remember it only holds 7 days of contact data in the timeline. Great for adding lead flows.
Starter - when you want to see contact timeline history and remove HubSpot branding
Basic - when you want to add forms, landing pages, blogs and send email campaigns
Pro - when you want to start adding Workflows and A/B testing
Enterprise - when you hit 33,000 contacts and want predictive lead scoring and want to manage multiple domains on the one account.
We also spoke about the redesign of the HubSpot pricing page > https://blog.hubspot.com/marketing/pricing-page-redesign-conversion-rate-optimization
Shot 3: HubSpot Cool Items of the Week
Snippets in Gmail email compose:
https://www.hubspot.com/product-updates/use-snippets-in-gmail-and-outlook
We spoke previously about this within HubSpot but to have it in Gmail and Outlook is going to take it to another level!
Shot 4: Marketing Tip of the Week
Facebook Ads Guide: 55 Custom Audiences to Target People Ready to Act
https://www.jonloomer.com/2018/01/24/facebook-ads-custom-audiences-guide/
Challenge take 1 a day and implement it in your marketing and tell us what happens.
For example #17: Did you know you can create custom audiences based on the utm parameters people visited your site via?
And number #47 - people who viewed your Instagram profile.
Shot 5: HubSpot Sales Feature of the Week
Email Threading in HubSpot CRM:
https://www.hubspot.com/product-updates/email-threading-in-hubspot-crm
Here's the default view: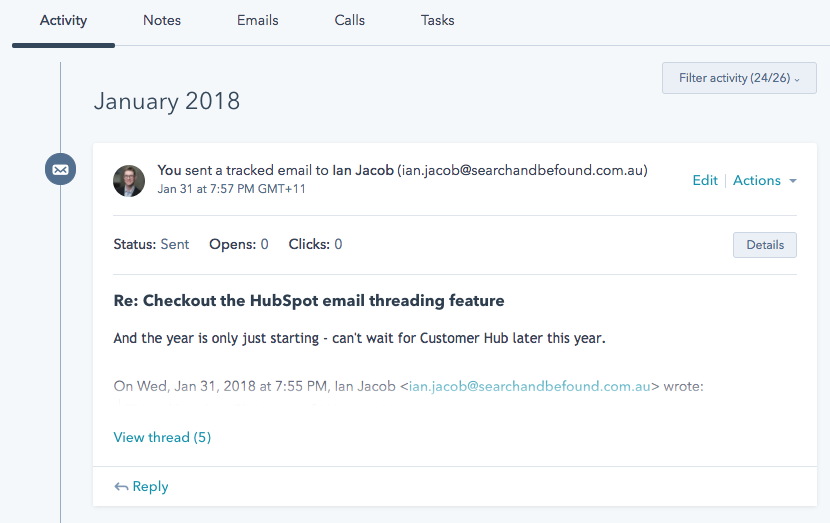 And now viewing the thread: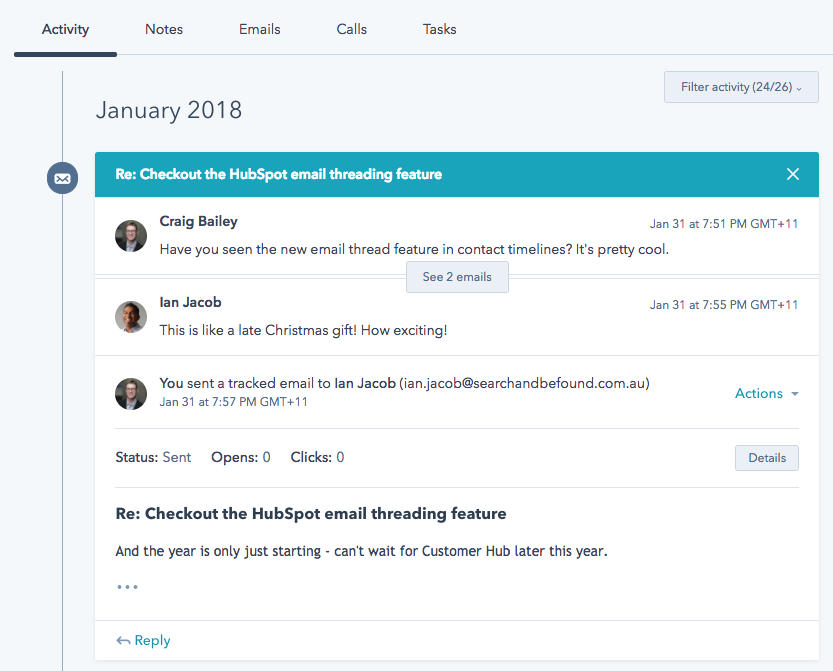 And now fully expanded: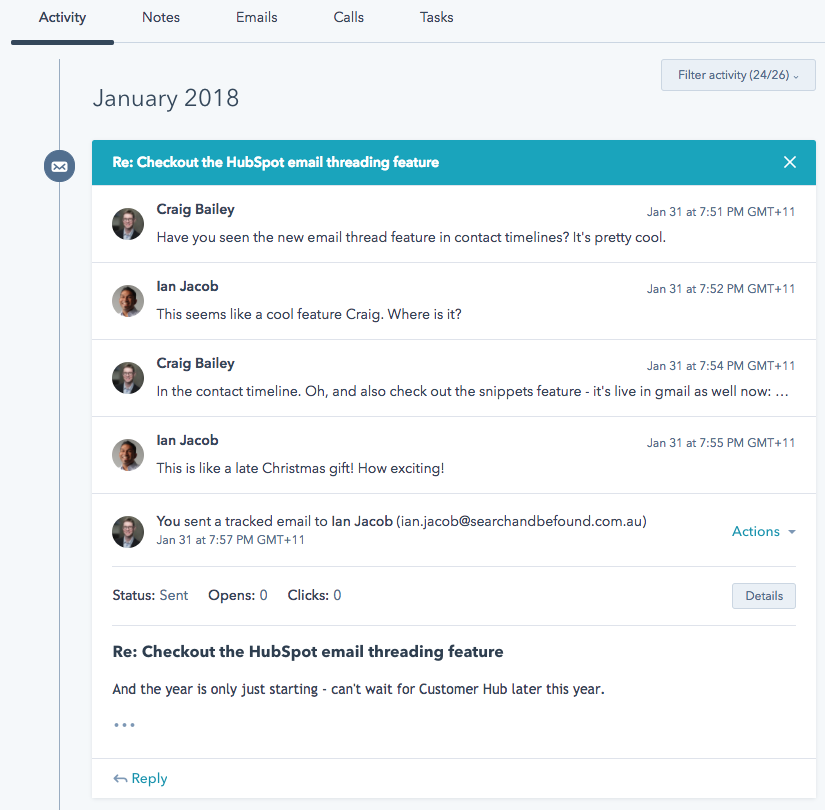 Shot 6: Opinion of the Week
Customer Service Idea of the Week
Intelligent on-hold voice recognition system - you're put on hold, and it asks you what kind of music you'd like to listen to. It basically gives you an Amazon Echo experience. It has voice recognition and plays you music you request, answers general questions you ask etc.
The ease of the sedentary life
https://twitter.com/puffnfresh/status/956434517111095296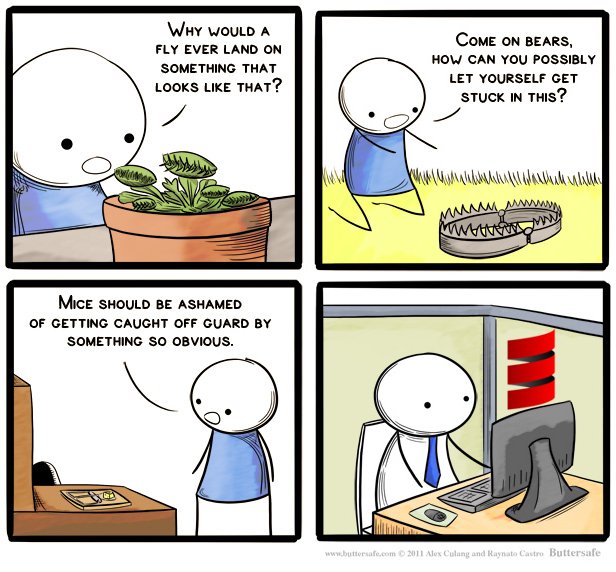 Shot 7: Podcast of the Week
Investing, Content Consumption & Behavior Watching | An Interview On Kelsey Humphreys's Show
https://itunes.apple.com/au/podcast/the-garyvee-audio-experience/id928159684?mt=2&i=1000399810200
Ian found the first part really interesting in when they talk about content consumption and behaviour.
Shot 8: Resource of the Week
Getting ready for GPDR compliance in the EU - the EU General Data Protection Regulation (GDPR)
https://blog.hubspot.com/customers/making-your-mailing-list-gdpr-friendly-with-hubspot-permission-pass-campaign
Resources:
The EU General Data Protection Regulation (GDPR) replaces the Data Protection Directive 95/46/EC and was designed to harmonize data privacy laws across Europe, to protect and empower all EU citizens data privacy and to reshape the way organizations across the region approach data privacy.
Who does the GDPR affect?
The GDPR not only applies to organisations located within the EU but it will also apply to organisations located outside of the EU if they offer goods or services to, or monitor the behaviour of, EU data subjects. It applies to all companies processing and holding the personal data of data subjects residing in the European Union, regardless of the company's location.
Shot 9: Quote of the Week
"your number-one job is to tell your story to the consumer wherever they are, and preferably at the moment they are deciding to make a purchase."
― Gary Vaynerchuk, Jab, Jab, Jab, Right Hook: How to Tell Your Story in a Noisy World
Shot 10: Bonus Links of the Week
Fascinating insight into the business of buying fake followers.
Fake likes and followers is nothing new, but this article delves into the business behind it and how harmful it is for real people who have their identities stolen to create fake profiles.
https://www.nytimes.com/interactive/2018/01/27/technology/100000005704904.app.html
https://blog.drift.com/chatbots-report/
https://www.slideshare.net/DrifttHQ/the-2018-state-of-chatbots-report
https://blog.drift.com/wp-content/uploads/2018/01/2018-state-of-chatbots-report.pdf
https://cognitiveseo.com/blog/14134/seo-competitor-analysis/
Tool to investigate:
Some of Craig's reading:
https://getpocket.com/@craigbailey
Please rate and leave us some feedback as this helps us improve and reach more marketers.