Welcome to Episode 139 of HubShots!
Welcome to HubShots, APAC's number 1 HubSpot focussed podcast, where we discuss HubSpot tips and tricks, new features, and strategies for growing your marketing results.
This episode we look at HubSpot's reporting tools, including the new custom reports.
Listen to the episode here: https://soundcloud.com/hubshots/139-hubspot-reports
HubShots, the podcast for marketing managers who use HubSpot hosted by Ian Jacob from Search & Be Found and Craig Bailey from XEN Systems.
Subscribe to our YouTube channel here: https://www.youtube.com/channel/UCD3Uo4X-IxPJLE8ygPDQhNQ
Join the Facebook group here: https://www.facebook.com/groups/hubshots/
Recorded: Wednesday 17 October 2018 | Published: Saturday 27 October 2018
Shot 1: Inbound Thought of the Week
The need for careful reporting.
If you can't measure it, you can't improve it.
Shot 2: HubSpot Marketing Feature of the Week
Thinking through HubSpot Reports
HubSpot reporting has been quietly improving over the past year.
A quick rundown of reporting areas:
Dashboards - high level trends, widgets
Reports - build your own reports, sometimes across data sets, add to dashboards
Analytics tools - usually a graph with a table underneath you can drill into
Under the Reports menu: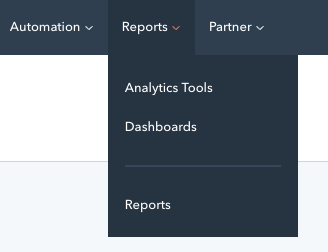 Dashboard reports - there's a decent library of widgets available now:

HubSpot Custom Reports
Getting started articles:
This slide deck by Daniel Bertschi is the best HubSpot technical item I've read all year:
https://www.slideshare.net/timpanix/the-best-hacks-to-supercharge-your-hubspot-reporting
https://twitter.com/LaptopTimpanist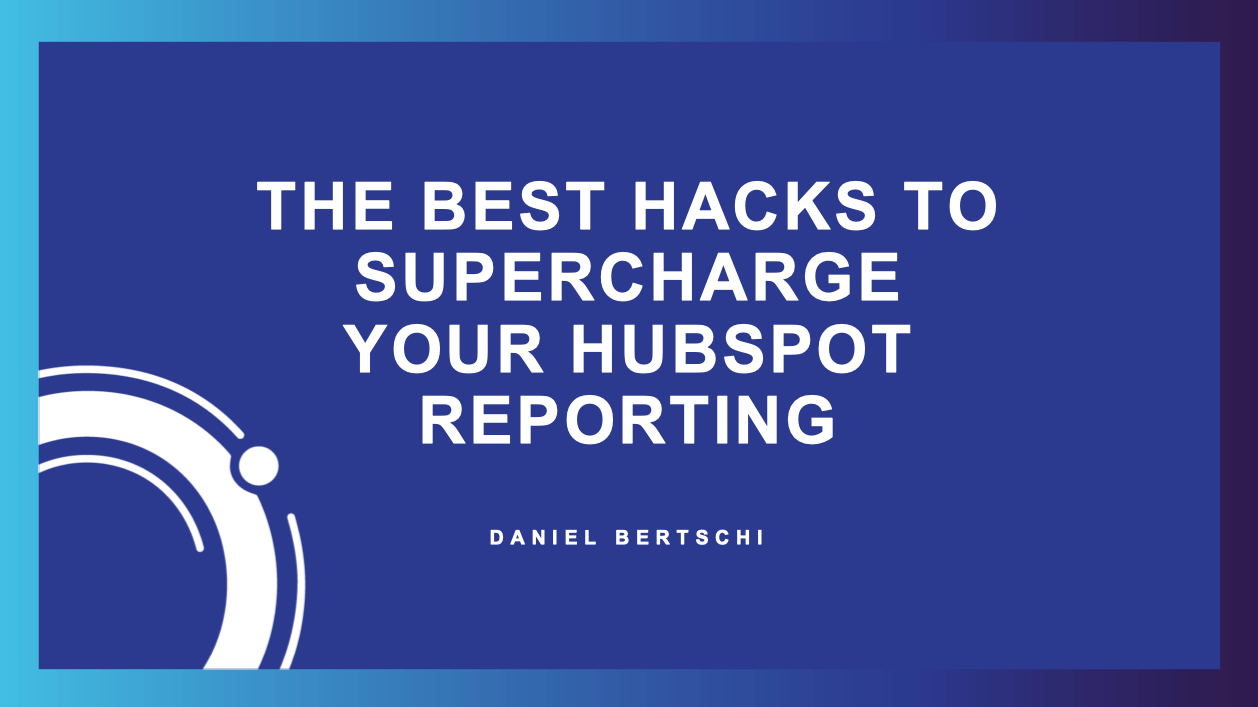 Shot 3: HubSpot Gotcha of the Week
Deal Stage Funnel Report
Looking at the Deal Stage Funnel Report and not understanding why the report is not showing everything is because of the default Measure used being "Show deals that have gone through
all stages." vs "Show deals that have gone through any stages."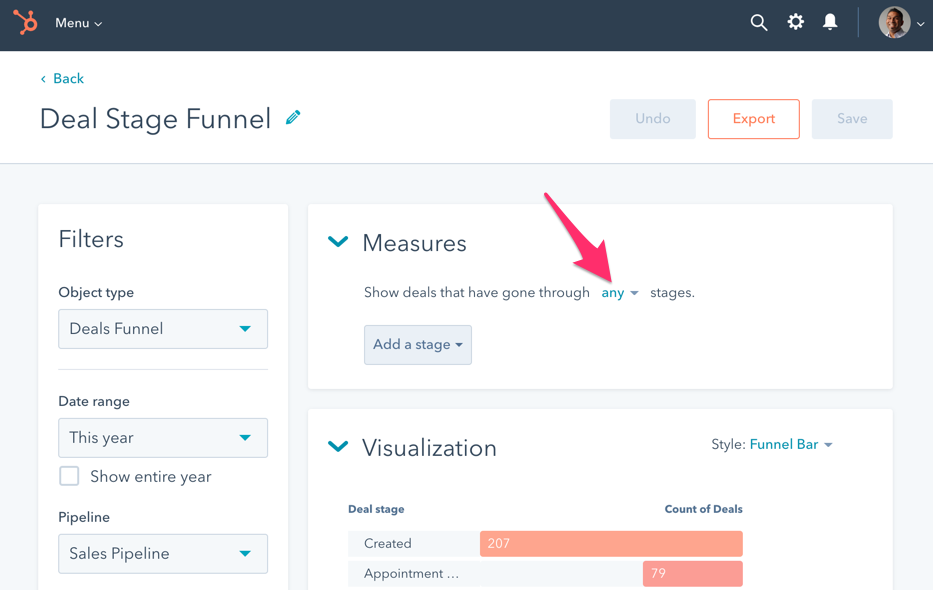 Shot 4: Marketing Tip of the Week
https://business.linkedin.com/marketing-solutions/cx/18/01/marketer-guide-to-winning-in-australia
Get a 1300 number (or equivalent in other country)
Shot 5: HubSpot Sales Feature of the Week
Creating sales reports that make sense and track what you need.
Some of the helpful ones we have helped businesses use is:
Deal Stage Funnel
Deal Leaderboard with Number of Deals
Leads Assigned to Sales Reps
Recent Deal Amount by Source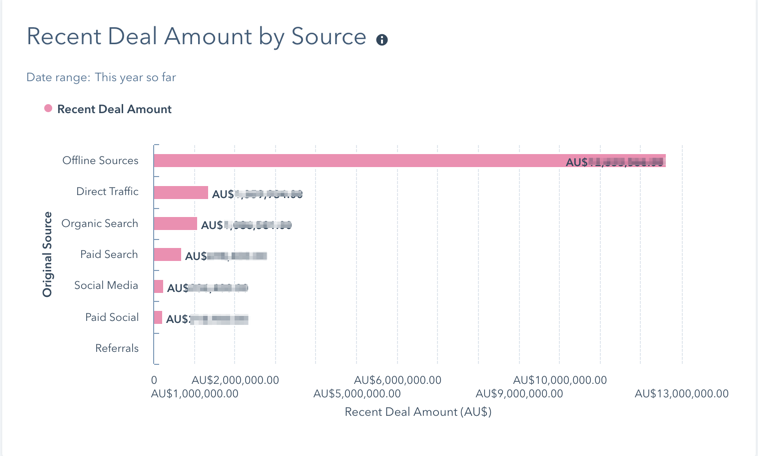 In one instance recently we had to use Zoho reporting to create a detailed report that could be formatted and printed before a sales meeting that was grouped by lead status in order of creation date.
Shot 6: Opinion of the Week
Struggling with the word usage of 'a software' ie as singular as opposed to a mass noun.
Example:
HubSpot is software designed for…
Versus
HubSpot is a software designed for…
https://www.google.com.au/search?q=%22a+software+for+%22&oq=%22a+software+for+%22
This is not a new gripe:
https://english.stackexchange.com/questions/52418/is-a-software-really-never-correct
https://english.stackexchange.com/questions/12990/why-dont-we-use-the-indefinite-article-with-software
But I've been seeing it more lately.
Shot 7: Feedback of the Week
Where Does HubSpot CMS fit in our Marketing Stack?
Last show we talked about our go-to Marketing starter stack, which included WordPress on WP Engine, and landingi for landing pages..
Vanessa from Mosaic asked whether we had considered HubSpot's standalone CMS as an option for the website and landing page piece.
It's an excellent point.
In our categorizing we'd likely put the HubSpot CMS in a middle tier between the two we spoke about last week.
HubSpot CMS is $300 USD per month, compared to WP Engine + Landingi coming in at $35 + $39 = $74 USD. It's a little bit more, but not a huge jump.
Advantages would be that you can get closer to the all-in-one benefits of HubSpot Pro.
HubSpot Marketing Starter + HubSpot CMS is a good combination - it basically fills the gap that HubSpot Basic used to cover.
So, excellent point from Vanessa. Thanks for listening and your feedback.
Shot 8: Resource of the Week
Siteliner - check your site for duplicate content: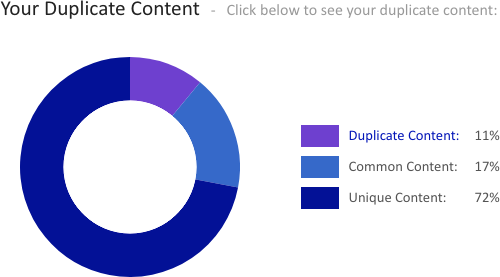 Shot 9: Quote of the Week
"The web is inherently complex, every bit of it… And it changes every day. In such an environment insights come not from the multi-million dollar tools that you can implement, and yes you can buy multi-million dollar tools, but the human power you can unleash to make sense of all the irrationality and ensure that valuable nuggets of insights can be found. …the tool is not the answer, it's the people. Buy the tool you want, but remember the 10/90 rule [$10k in software and invest $90k in great staff] and invest accordingly if you want to win." - Avinash Kaushik (https://www.kaushik.net/avinash/about/)
Shot 10: Bonus Links of the Week
SEO Audits that actually add value:
https://www.slideshare.net/aleydasolis/developing-seo-audits-that-maximize-growth-dmssconference
Site architecture tips for SEO:
https://zyppy.com/site-architecture-seo/
Marie Hayes SEO Newsletter:
https://courses.mariehaynes.com/search-news-you-can-use/episode-53-light-version/
Interesting thought around B2B content marketing (using the latest MarketingProfs report)
https://www.business2community.com/content-marketing/the-latest-b2b-content-marketing-trends-statistics-and-insights-for-2019-02129410
Please rate and leave us some feedback as this helps us improve and reach more marketers.
HubSpot zoom connector:
https://marketplace.zoom.us/apps/pDaQ0UXfTzq0Y0M1cSDS5g