Welcome to Episode 140 of HubShots!
Welcome to HubShots, APAC's number 1 HubSpot focussed podcast, where we discuss HubSpot tips and tricks, new features, and strategies for growing your marketing results.
This episode we look at setting up HubSpot Users, Teams and Permissions. Plus think through the Chatbots versus Live Chat. And revisit No Pong!
Listen to the show here:
https://soundcloud.com/hubshots/140-hubspot-permissions-and-teams
HubShots, the podcast for marketing managers who use HubSpot hosted by Ian Jacob from Search & Be Found and Craig Bailey from XEN Systems.
Subscribe to our YouTube channel here: https://www.youtube.com/channel/UCD3Uo4X-IxPJLE8ygPDQhNQ
Join the Facebook group here: https://www.facebook.com/groups/hubshots/
Recorded: Wednesday 23 October 2018 | Published: Sunday 04 November 2018
Shot 1: Inbound Thought of the Week
Good to be in at HubSpot this morning. Caught up with Varun and Daniel. Got to meet the guys (Glenn and Michael) from Lupo Digital as well - hey guys!
If you are a HubSpot customer and working with a HubSpot account manager, ask if you can go in a visit one day - take your account manager out for a coffee or lunch!
Shot 2: HubSpot Marketing Feature of the Week
Teams and Roles in Enterprise
https://knowledge.hubspot.com/articles/kcs_article/settings/hubspot-user-roles-guide
Teams are kinda in place (still a little clunky in terms of view child teams), but able to be setup currently.
Team Only Contact access option
Contacts access - option for Team Only access: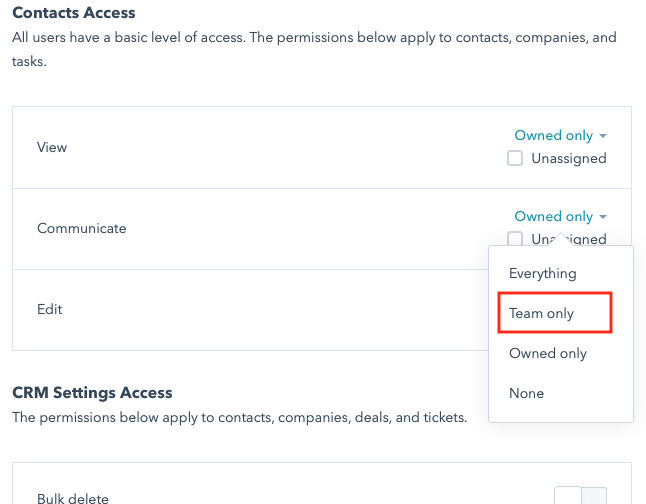 You get access to any contacts that other people in your team have access to.
Eg if other people in your Team are contact owners on contacts, you will get access to those contacts as well.
Coming soon is content partitioning
Content Partitioning. Organize the users in your HubSpot account on multiple levels based on teams, region, or other attributes. Up to now, you've been able to use Teams to control access to tools and to segment your database. Coming this November, you'll be able to use teams to partition your content, too. For example, you could configure certain landing pages to only be accessible to your channel marketing team. This is going to be released as an included feature in our Marketing Hub Enterprise product.
But watch out for brand domains: https://www.hubspot.com/products/brand-domains
Speaking of permissions, consider carefully who is allowed to export out contact details: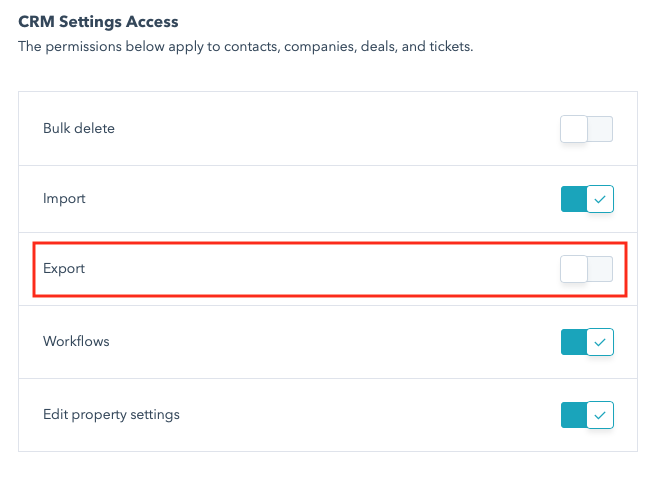 Shot 3: HubSpot Gotcha of the Week
No gotcha this week!
Shot 4: Marketing Tip of the Week
Why Google Ads brand campaigns are important
https://xen.com.au/why-google-ads-brand-campaigns-are-important/
Shot 5: HubSpot Sales Feature of the Week
Overview of which Workflow actions each edition of HubSpot provides:
https://knowledge.hubspot.com/workflows-user-guide-v2/how-to-choose-your-workflow-actions
Eg Sales Hub Professional users can access workflows and do the basic tasks (contact properties, create tasks, add delays, etc), as well as Add Deals
Shot 6: Opinion of the Week
https://conversionxl.com/blog/live-chat-vs-chatbots/
An interesting quote:
IBM predicts that phone-based customer service will exist solely as a backup option by 2020.
"There is a central truth here: Chatbots cannot fake human-based customer service (yet). If your chatbot strategy hinges on sustaining that deceit, you'll fail. However, a chatbot doesn't need to simulate a human to be successful.
The companies that have succeeded with chatbots recognize how to deploy them now (for Tier 1 questions), when to shift to live chat (for complex issues), and how to start planning for the future of customer service that, as of now, remains uncertain."
So I think about the context and outcome as this is focussed on customer support.
Shot 7: Listener Feedback of the Week
Emma loved our episode that mentioned No Pong, and they now use it all the time.
https://hubshots.com/episode-81/
You're welcome No Pong.
Shot 8: Resource of the Week
https://mobilemonkey.com/blog/2018/08/10/what-are-facebook-messenger-ads
Shot 9: Quote of the Week
A quote about worrying about contact pricing in HubSpot.
"You have the keys to the Ferrari but you are too focused on the cost of filling it with the best fuel to drive it!" - Ian Jacob
Shot 10: Bonus Links of the Week
https://contentmarketinginstitute.com/2018/10/research-b2b-audience/
https://www.searchenginejournal.com/google-my-business-lets-businesses-add-products-to-listings/274369/amp/
Please rate and leave us some feedback as this helps us improve and reach more marketers.