7 min read
Episode 254: Growth Mindset, HubSpot Child Workflows, Service Hub Forms, GA4 Primer

HubShots Jul 23, 2021 9:00:00 AM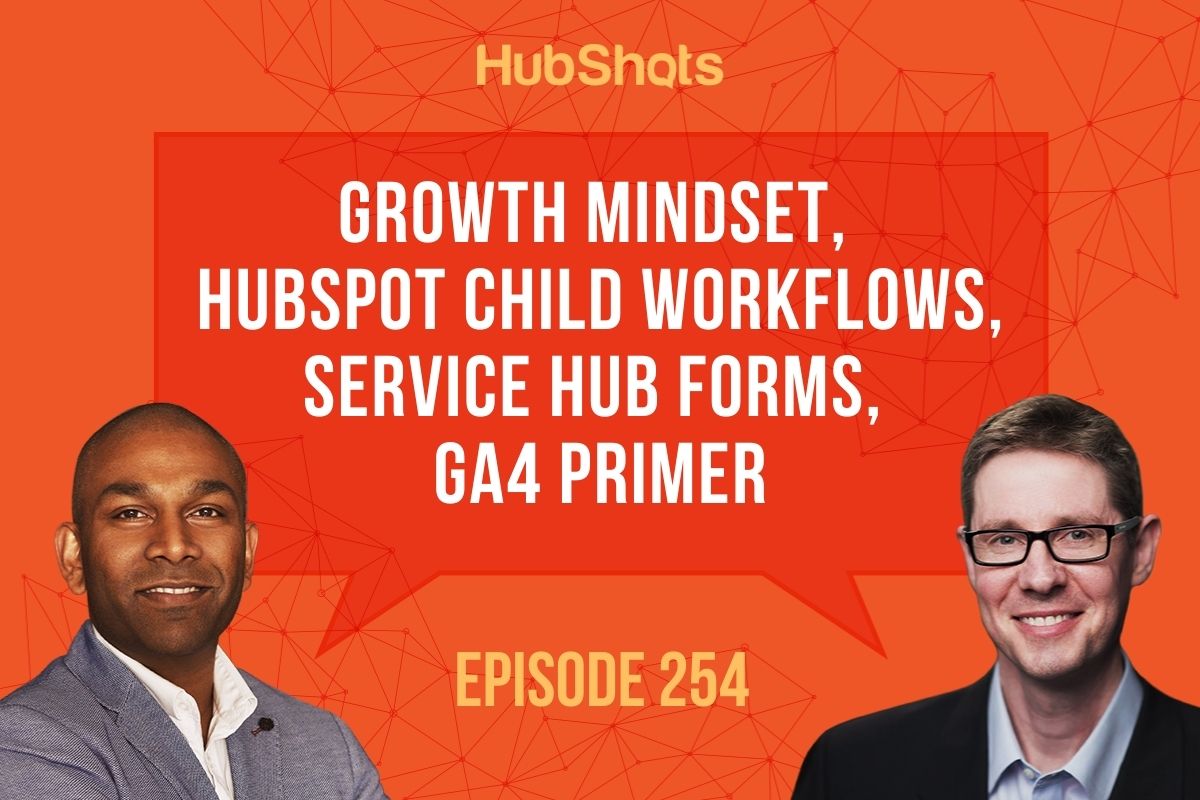 Welcome to HubShots Episode 254: Growth Mindset, HubSpot Child Workflows, Service Hub Forms, GA4 Primer
This edition we dive into:
Having a growth mindset
HubSpot Workflow actions for Enrolling in another Workflow
And how they enable Parent versus Child workflows
Create Deal Attribution cards
Service Hub forms for creating new tickets when the KB doesn't have the solution you're looking for
How to reach out to marketing agencies you want to work with
Benjamin's Google Analytics 4 Overview
You can listen to this episode of the show here.
Did a colleague forward this episode to you? Sign up here to get yours every Friday.
Please forward this on to your work colleagues.
Recorded: Monday 19 July 2021 | Published: Friday 23 July 2021
Shot 1: Growth Thought of the Week
Growing a Growth Mindset
As I mentioned last week, I've recently re-read Carol Dweck's book Mindset. If you've read the book you'll be familiar with the terms Growth Mindset and Fixed Mindset. If you haven't read the book then this overview from Brain Pickings will give you a comprehensive summary (note: Maria's summary is based on the first edition - Carol has since released an updated version, which includes some important additions).
It's a life-changing book (in many ways) and one I highly recommend. Last week at XEN we had our quarterly company update where we clear the day to review (what worked, what didn't), reflect (where are we now) and plan (what future we are planning for our personal selves and for the agency).
A focus on mindset is what is underpinning our (XEN's) growth for the next quarter, year and 3 years. That is, a recognition that whilst we of course have limitations of resources (as every business does), we're not limited in our resourcefulness.
A growth mindset, simply put, is about believing people can develop their abilities.
Whilst it sounds obvious - 'of course I can get better at things' - the reality is that in many areas we think we can't (eg I'm not good at singing, I'm not good at networking, I'm not good much of a reader, I can never remember names, I'm not good at writing, etc). A fixed mindset is assuming we're born with certain natural abilities and can't develop ones we're not naturals at.
Why do I mention all this, and what does it have to do with marketing?
Perhaps like me, you've gravitated to areas of natural talent and assumed that 'focussing on your strengths' is the only way to live. And those areas that weren't naturally good out of the box have been neglected (and assumed unattainable)...
Perhaps it's time to review these beliefs. What if you have passions (but not natural talents) in particular areas? Perhaps it's not all about talent, perhaps it's actually about hard work.
More on this in Shot 8, but before we continue, a quick tip:
Every time you hear yourself saying 'I'm not good at [X]' simply add 'yet' to the end of it.
I'm not good at copywriting… yet. I'm not good at networking… yet. I'm not good at putting myself out there… yet.
#preachingtomyself
---
Shot 2: Quick Shots of the Week
Here's a few quick items of interest we noticed:
HubSpot has added a new attribution card on deals, for highlighting (or 'attributing') the actions that lead to the deal being created (ie over and above the activities that lead to the contact being created). It's also built into the Custom Report builder. More on this in Shot 4.
Slack Integration settings have been improved.
---
Shot 3: HubSpot Marketing Feature of the Week
Parent and Child Workflows
This is an advanced automation concept, and one we've covered a number of times on the show (eg episodes 230 and 153). However, it's worth repeating.
The concept is this: for some business automation processes it's useful to think in terms of parent and child workflows.
Note: HubSpot workflows (in the platform) don't have any setting of being parent or child - it is simply a concept we use for referring we implement various workflow ideas.
When we're planning out processes we aim to 'atomise' certain sets of actions into a self-contained child workflow, which we then call from other workflows (which we refer to as parent workflows).
Here's a few signs that you need to 'atomise' certain workflow actions:
You find yourself creating copies of sets of actions in different workflows
Workflow branches get overly complicated
You're finding that lots of Go actions are hard to follow
These may indicate candidates to be put into separate workflows.
---
Shot 4: HubSpot Sales Feature of the Week
Deal Create Attribution
Deals have nice new card in the right hand bar for displaying deal attribution details: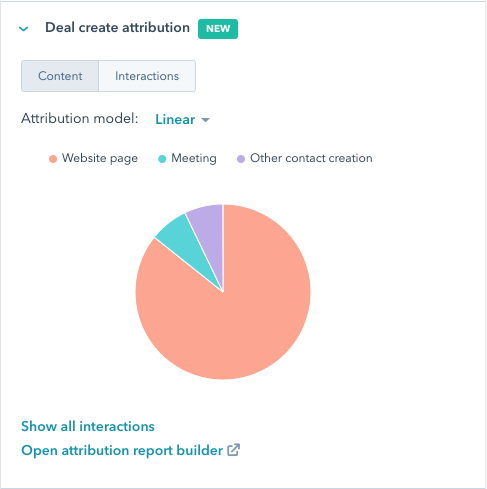 The goal here is to indicate the activities that moved the contact from initial prospect to being an opportunity (ie assigned a Deal).
Notice that you can choose the Attribution model to use.
There's more in the knowledge base article.
---
Shot 5: HubSpot Service Feature of the Week
Not finding what you were looking for? Now you can add a Support Form.
Add a support form to your knowledge base so people who can't find what they're looking for can get in touch with your team. This can be found in the section in the Knowledge Base > Customize Template > Global Navigation bar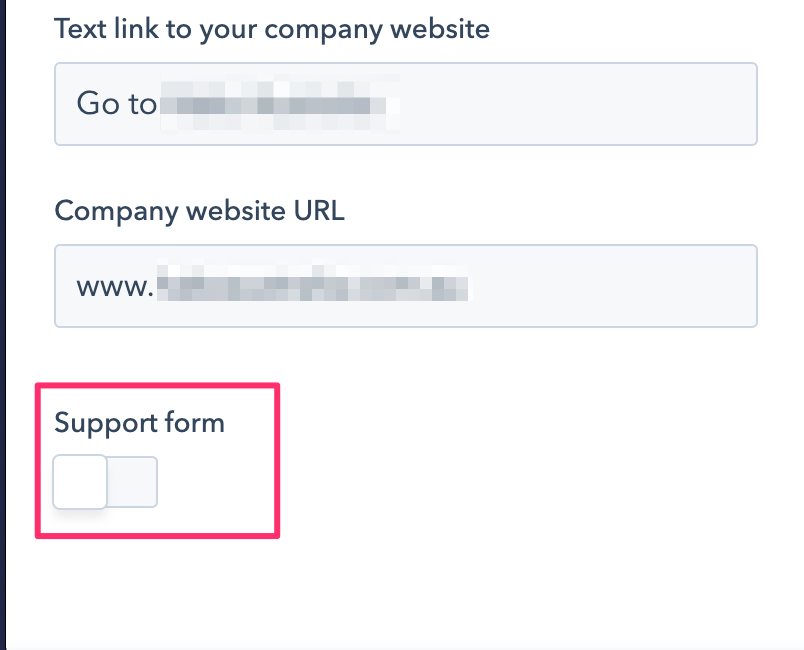 Links to the place to add a Support form. You will want to create a form to collect this information.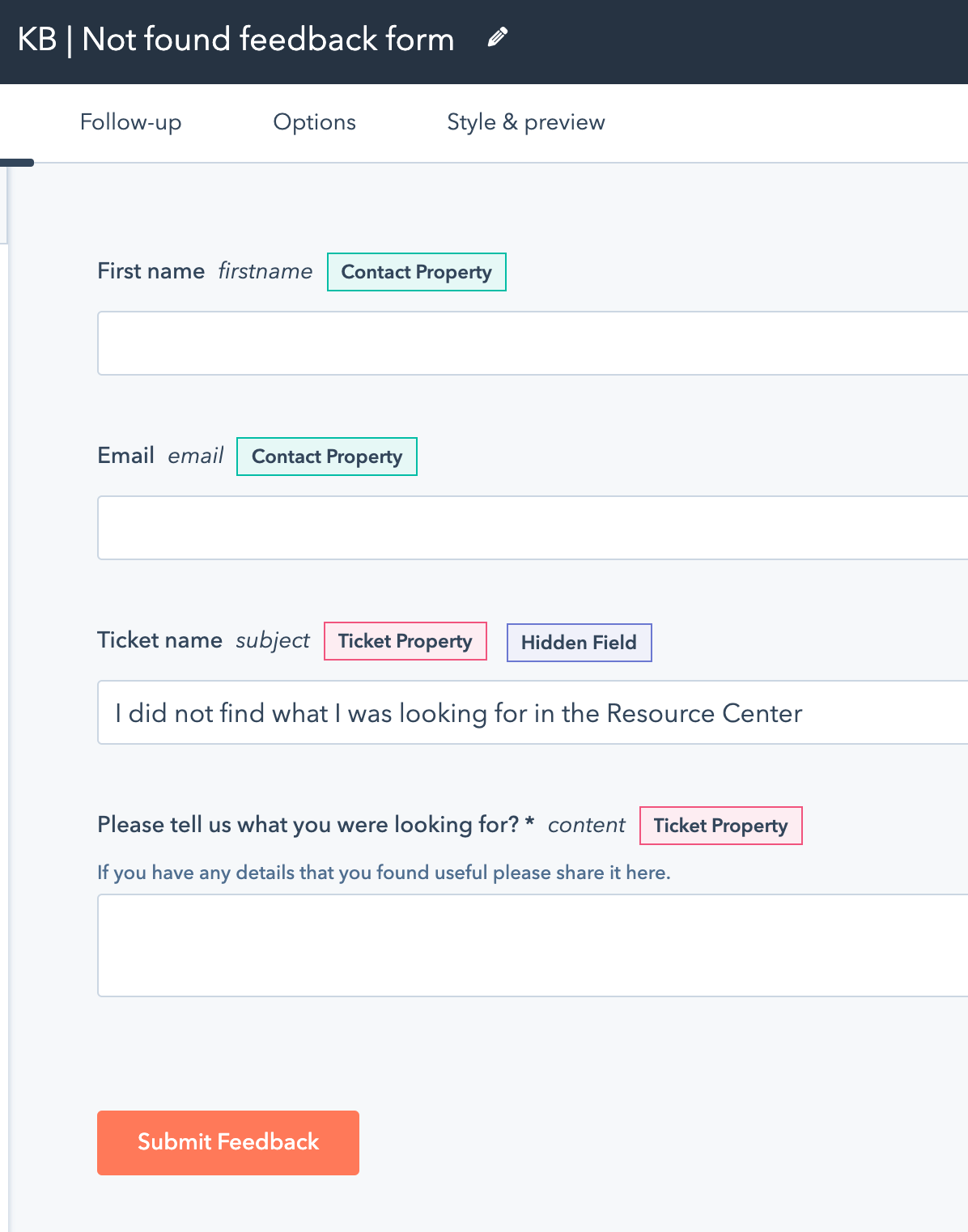 Finally add the form in this section in the Knowledge Base > Customize Template > Content > Global Navigation bar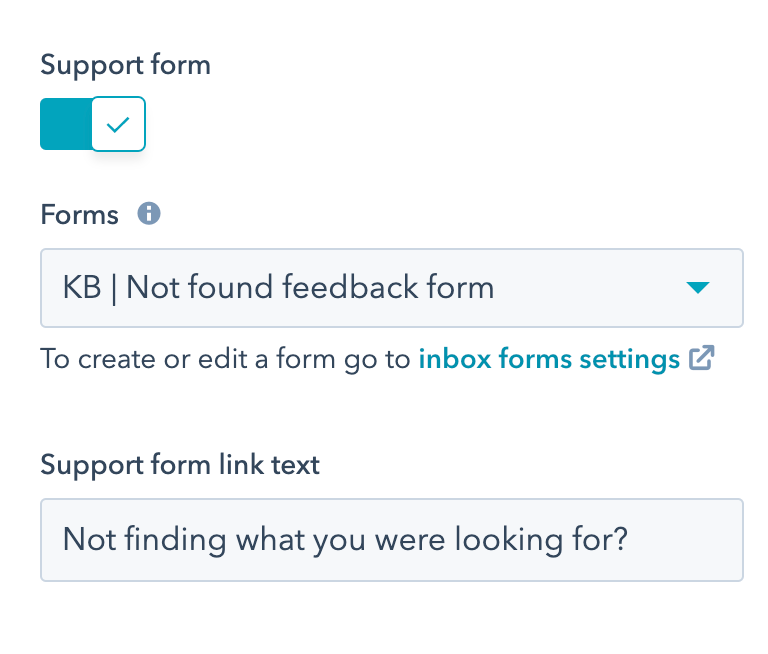 This should give users the ability to fill in the gaps that you may be unaware are missing.
---
Shot 6: HubSpot Workflow Action of the Week
HubSpot Enroll in another Workflow Action
In Shot 3 above we discussed the concept of Parent and Child workflows.
So, how do you implement these? It's very simple - are creating self-contained 'child' workflows, you can call them from 'parent' workflows using the 'Enroll in another workflow' action.
This simply takes the contact that is currently progressing through the (parent) workflow and enrolls them down into the (child) workflow: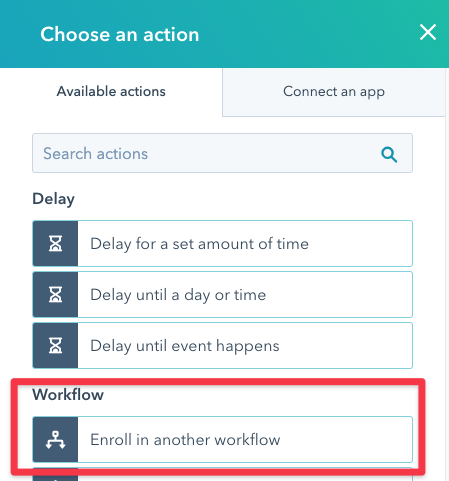 It's a very handy action that leaves your calling (parent) workflow looking much cleaner and easy to manage.
Plus the child workflow can be called from many different parent workflows, or even multiple times from a parent workflow.
Some tips for when to use:
Review your most complex workflows
Are there particular sections of a workflow that seem to be repeated (Eg down multiple brand paths is a common example
If so, consider pulling that repeated part out into its own workflow (ie to become a child) and then simply calling it from the parent
---
Shot 7: Marketing Tip of the Week
How to Reach Out to Agencies/Others
If you're looking to work with an agency you've likely searched online for options and then filled out an enquiry form or two (or ten).
The quality of the response you get from agencies will depend largely on the quality of your request.
Each week we get a bunch of enquiries that are copy and paste requests - they aren't personalised and usually just ask for a price list or standard packages. Here's an example: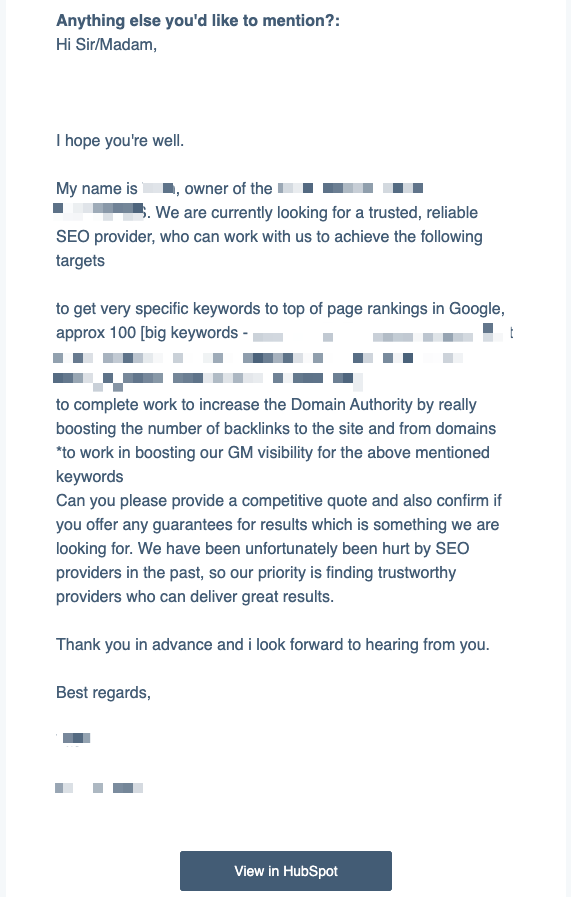 We don't respond to any of them.
The example above has all the red flags of being a bad fit for us (and I'd suggest, for any half decent agency). They have made no effort to find out who the agency key people are, what we offer, or how we price our packages (eg our pricing is on our website).
Plus, any decent agency these days is going to have implemented tracking in order to see what the prospect had done on the site prior to filling out the enquiry form.
One of the first things I check is which pages the enquiry has visited. If it's only a page or two (eg visit home page, go to Contact page, fill out form) then I know it's not going to be a fit - they've made no effort to qualify us (so in a sense they've disqualified themselves).
I get that this might come across as sounding a bit arrogant, but don't let that detract from the tip here - all the good agencies are going to be overloaded with work, and very selective about who they work with.
So, make the effort to tailor your reaching out - you are looking to partner with an agency, not simply transact. The way you start the conversation is important.
BTW, it's worth highlighting that when a prospect has made the effort to reach out to us well (ie taken the time to understand who we are, introduce themselves, and then ask about our services), I always reply. Even when they aren't a fit for us (eg in an industry we don't service) I'll make the effort to respond and recommend another agency for them to work with. In the past 12 months I've recommended other agencies to more than 20 enquiries that came in on our site.
Key takeaway: Start conversations and relationships, not demands and transactions.
---
Shot 8: Insight of the Week
Having a Growth Mindset in Marketing
In Shot 1 I mentioned how we're making a Growth Mindset approach the foundation for XEN's future growth. It starts with us personally, and then continues as part of our company culture - it's what Brian Halligan referred to (in episode 100) when he mentioned he looks for people with a 'learn it all' (ie not know it all) attitude.
If you've been in marketing for a while you'll have seen how quickly things change - which means that marketing is an ideal industry for growth minded people to excel. Perhaps the natural talent that means the most (if there even is one) in marketing is: curiosity. A thirst for digging into things (channels, platforms, ideas).
Ask yourself this: when was the last time you came across a highly successful marketer who was still using the same techniques and strategies that were working 10 years ago? I'm going to guess it's rare (if ever). Why? Because those marketers who didn't learn, adapt and change are no longer working in marketing.
The fact that you are still here, working in marketing, is a good starting sign.
Whether you'll still be here in another 5 years depends on whether you're willing to put in the hard work to continue learning, and increasingly in areas outside your comfort zone (public speaking, revenue attribution, technical implementation, team leadership, etc).
Which brings me to my main point. This insight Shot isn't a suggestion about having a growth mindset as an advantage… No, this is a warning that not having one puts you on a path to irrelevance.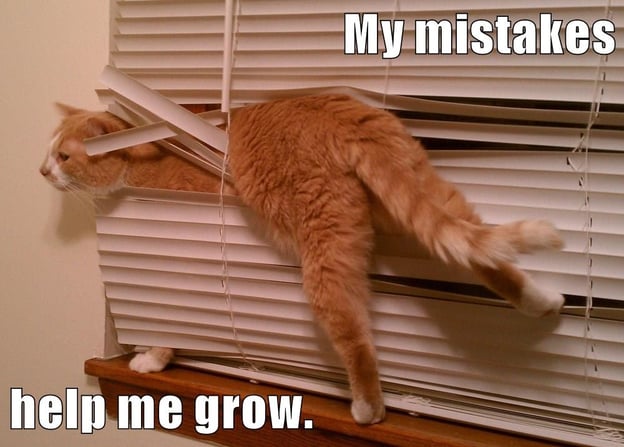 (via Growth Mindset Cats)
---
Shot 9: HubShots Throwback of the Week
Via the HubSpot product updates blog.
This time a year ago HubSpot had introduced in Workflows "Wait Until" Delays, Meetings Link Edit Permissions, Bulk Unenroll for Sequences, Sequence Delays Updates and the ability to create Tasks in Gmail!
---
Shot 10: Resource of the Week
Benjamin Mangold's GA4 Update has been Updated
Ben from Loves Data has updated his Google Analytics 4 overview - well worth watching.
In it he covers the main differences between GA4 and GA Universal, the key areas of GA4, and some high level reports. He finishes with an overview of how to set up GA4, if you don't already have it running in parallel on your site(s). 19 minutes of gold right there.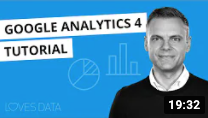 ---
Shot 11: Quote of the Week
"Every day you have 1,440 minutes. Minutes are your dollars. Invest your time wisely." – Ryan Serhant
---
Shot 12: Bonus Links of the Week
How to Scale Content Creation [New Step-By-Step Guide] by Brian Dean
---
Shot 13: Follow Us on the Socials
Connect with HubShots here:
Connect with Ian Jacob on LinkedIn and Craig Bailey on LinkedIn
---
HubShots, the podcast for marketing managers and sales professionals who use HubSpot, hosted by Ian Jacob from Search & Be Found and Craig Bailey from XEN Systems.
HubShots is produced by Christopher Mottram from Podcastily.
Please share this with colleagues - it helps us improve and reach more marketers.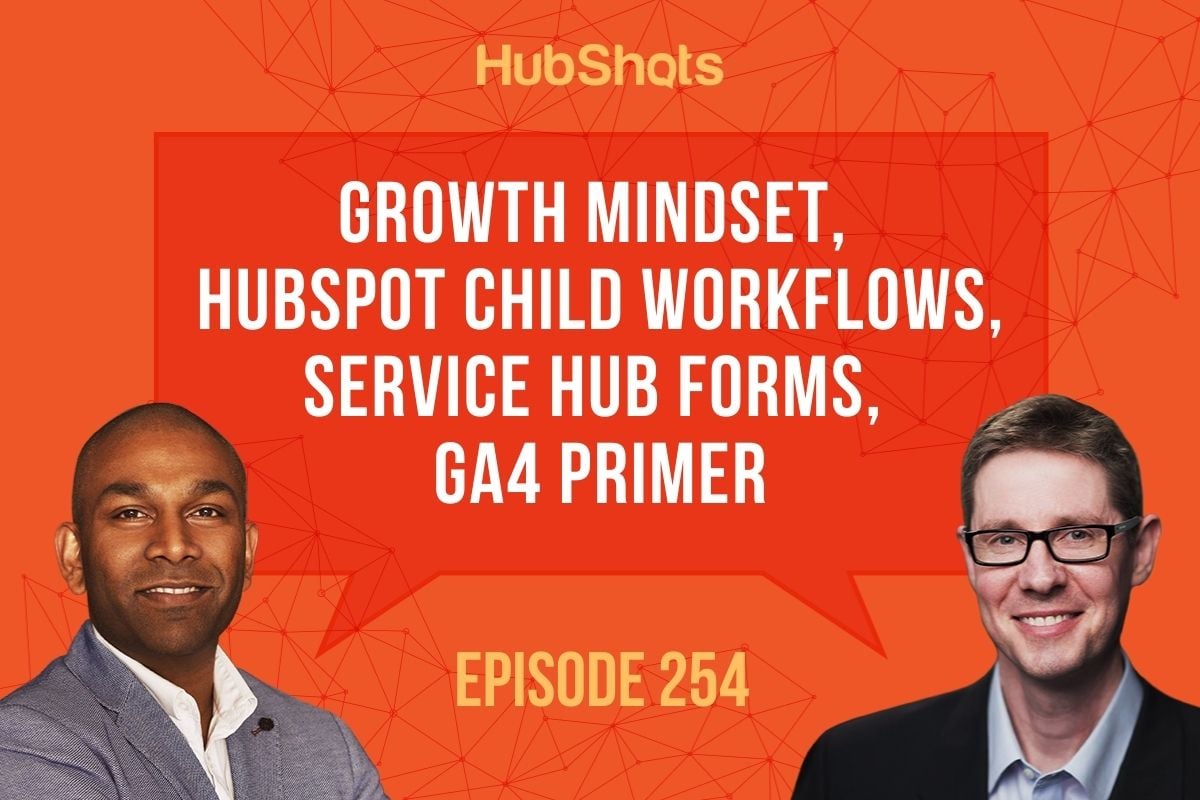 ---