Welcome to HubShots Episode 256: HubSpot CMS Hub Starter - Everything You Need To Know
This edition we dive into:
The new CMS Hub Starter edition
What's included, what's missing
Who it's ideal for
Where it fits in the overall HubSpot strategy
You can listen to this episode of the show here.
Did a colleague forward this episode to you? Sign up here to get yours every Friday.
Please forward this on to your work colleagues.
Recorded: Monday 09 August 2021 | Published: Friday 13 August 2021
Shot 1: Growth Thought of the Week
HubSpot CMS Starter released
HubSpot have fleshed out their CMS Hub tiers, adding a new Starter tier to complement their Pro and Enterprise tiers.
In this episode we chat through:
A breakdown of what's included in CMS Starter and what's missing
Who CMS Starter is ideal for
When you would upgrade to CMS Pro or Enterprise
It being included in CRM Suite Starter (we'll have a whole episode dedicated to CRM Starter in the coming weeks)
Where HubSpot is going - and where CMS Starter fits in
Shot 2: CMS Hub Starter Overview
HubSpot CMS Starter
As you know HubSpot launched the Starter tier of the CMS Hub this week.
It's a good move and includes a generous level of functionality for the price.
Here's a quick breakdown of what's included, and what's missing:
What's included in HubSpot CMS Starter
Access to most functionality of the CMS design experience including:
Using drag and drop page builder (but not with templates)
File Manager (but possibly some limitations with Video hosting)
Forms (without branding)
Special set of Themes available in the Theme Marketplace
(Tip: You could potentially just use CMS Starter to remove the branding on your forms if you didn't want to purchase Marketing Starter.)
Also includes:
Blog
SSL certificate
CDN
Custom domain
Note: HubSpot are (rightly) promoting these features (ie safe, reliable, secure) in a market where WordPress can get associated with being hacked.
Some of the nice features that I wasn't expecting:
Expire pages on a certain date (in settings on a page)
Schedule settings
Optimise (SEO) settings
Create a multi-language variation (but each variation is another page!)
All the main Domain, Page and Blog settings including:
XML Sitemap
Robots.txt editing
Adding GA and GTM
Editing site header and footer html
System pages
Navigation menus
Language settings
Redirects
What's missing
Can't create Landing pages based on Theme templates (very confusing)
No RSS email option
CTAs (note: some of the free Themes have pages that have 'CTA' options in their modules - but these are just styled buttons - they aren't the HubSpot CTAs)
A/B testing
Smart content
Can't set the root domain (as far as I can tell)
Site tree
SEO tool
Campaigns
Most Dashboards and Reports
What's limited
15 web pages - which is kinda bizarre (by comparison Wix has a limit of 100 and Squarespace has a limit of 400 pages, and of course WordPress has no limit)
Can't create or edit drag and drop templates in the Design Manager (you can edit Theme files eg HTML files, but you can't edit or create drag and drop theme pages)
HubSpot Marketplace
HubSpot Marketplace tailored for CMS Starter portals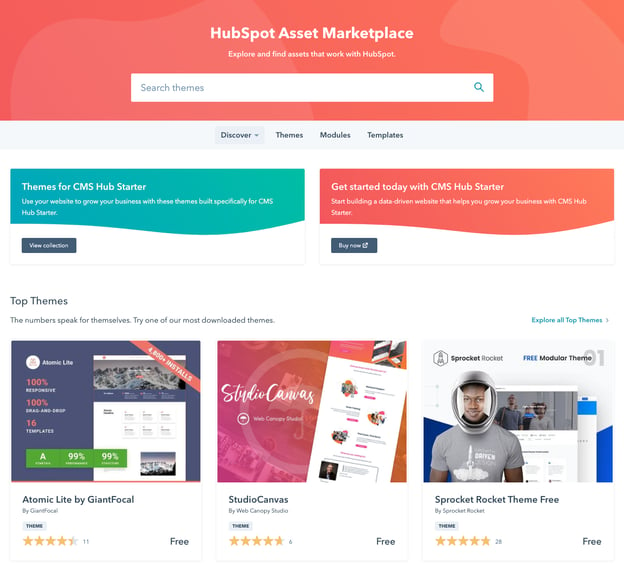 There's a new Marketplace Downloads section in Settings: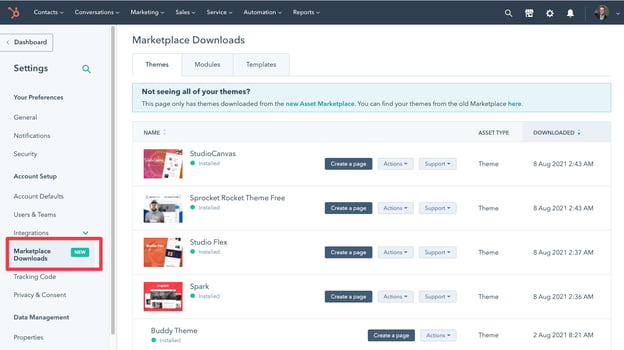 File Manager Experience
File Manager includes the Shutterstock Stock images option (perfect for selecting all your cliche handshake business images lol)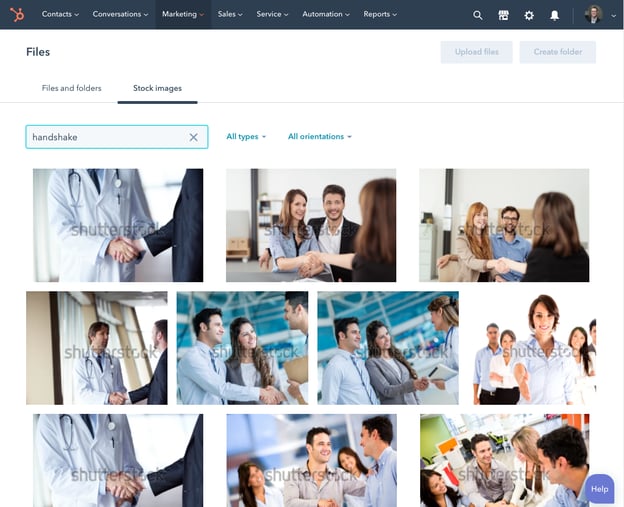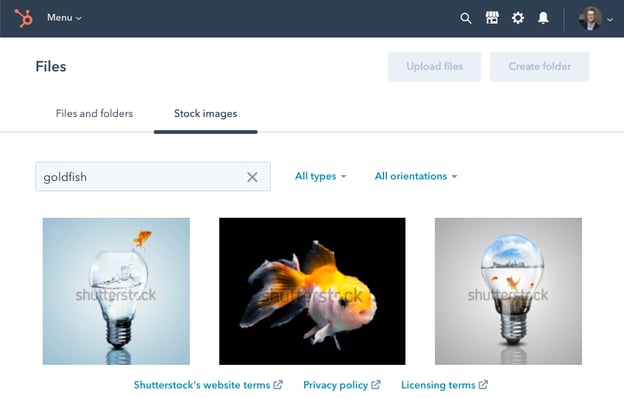 Shot 3: Who is CMS Starter For?
CMS Starter is ideal for microsites and very simple company websites.
Also ideal for people who have a personal blog.
It's very simple to set up and use, as well as being secure and stable.
It's priced very competitively in the same range as squarespace, wix and others.
It's also a very compelling alternative to landing page tools such as Unbounce, landingi, LeadPages. However we are checking to see if you can create a landing page with the theme you download/purchase.
Shot 4: When would you upgrade to HubSpot CMS Pro?
The main trigger for upgrading would be when you hit the 15 page mark.
However, features wise, it's when you want to be more sophisticated in your site implementation and include
CTAs
Personalisation
smart content
A/B testing
Content staging
Shot 5: The HubSpot Hub Family
HubSpot CMS Hub Starter is included in the CRM Suite Starter bundle, which includes:
Marketing Starter
Service Starter
Sales Starter
Operations Starter
CMS Starter
We'll be discussing this in detail in a future episode.
Shot 6: Where does this fit into the overall HubSpot strategy?
CMS Usage globally
W3Techs have a regular trends report showing usage of CMS, you can view that here.
Will be interesting to see how this % changes over the coming year - currently HubSpot is sitting down at position 18: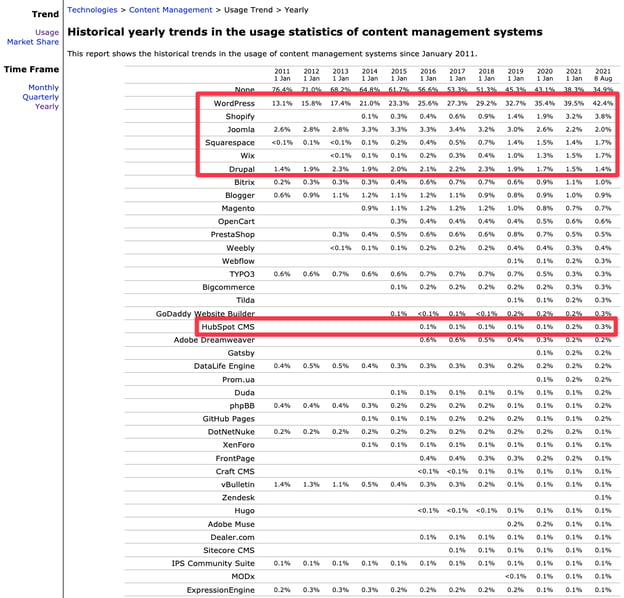 Squarespace and Wix are firmly in the sights with CMS Starter. (Drupal and Joomla are targets for CMS Pro or Enterprise)
I won't be surprised to see HubSpot above 1% within a year, and above 2% within 3 years.
And from there it's a WordPress, Shopify and HubSpot world.
Shot 7: Our Current Marketing Stack for Small Businesses
For small businesses this is our current stack:
HubSpot CRM Suite Starter, which includes:

HubSpot Marketing Starter
HubSpot CMS Starter
HubSpot Sales Starter
HubSpot Service Starter
HubSpot Operation Starter
Inexpensive costs per 1000 contacts

MailerLite (for email automation and RSS emails)
Agorapulse (for social management)
This is an update to our previous stack (which you can review in episode 138).
---
Shot 8: Follow Us on the Socials
Connect with HubShots here:
Connect with Ian Jacob on LinkedIn and Craig Bailey on LinkedIn
---
HubShots, the podcast for marketing managers and sales professionals who use HubSpot, hosted by Ian Jacob from Search & Be Found and Craig Bailey from XEN Systems.
HubShots is produced by Christopher Mottram from Podcastily.
Please share this with colleagues - it helps us improve and reach more marketers.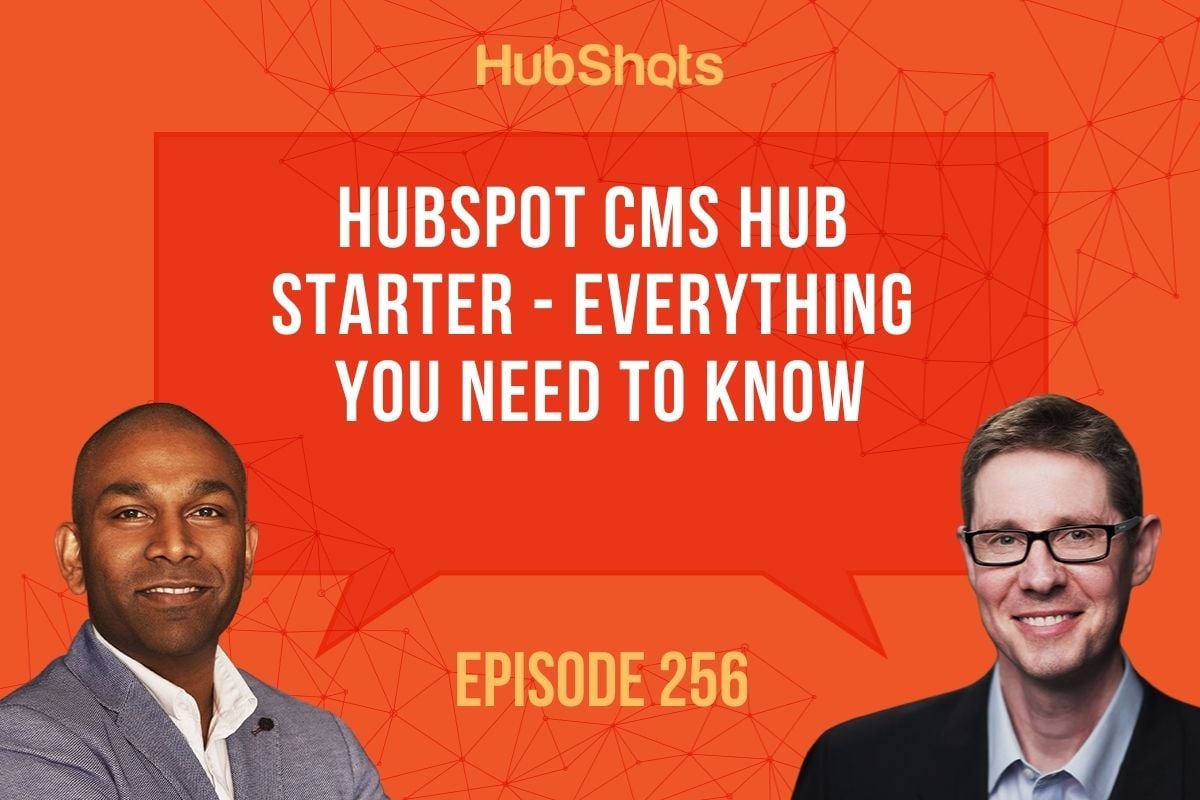 ---