Welcome to HubShots Episode 264: HubSpot Social Monitoring, Reporting on Meetings & Avoid being sent to Spam
This edition we dive into:
Solving for the Problem
HubSpot Social Monitoring
Reporting on Meetings
Custom Surveys
Clone Workflow Action
The start of the Google downfall?
You can listen to this episode of the show here.
Did a colleague forward this episode to you? Sign up here to get yours every Friday.
Please forward this on to your work colleagues.
Recorded: Monday 25 October 2021 | Published: Friday 29 October 2021
🌱 Shot 1: Growth Thought of the Week
Solve for the Problem
Successful people solve better problems.
(Aside: Unsuccessful people try to avoid problems altogether)
The key to marketing success is understanding your next best step.
The key to understanding your next best step is to understand what your current problem is.
Throwback episode from 2016: HubShots episode 40 with Kipp Bodnar when he talks about 'solving for the problem'.
We recently worked through this process with a client who wanted to focus on generating more traffic for their blog. But after some analysis, it turned out that they had plenty of traffic, and instead their next best problem was improving conversion rates of leads.
Consider - if you will - that life (or business) is a game - essentially just solving puzzles. What puzzle should you focus on next?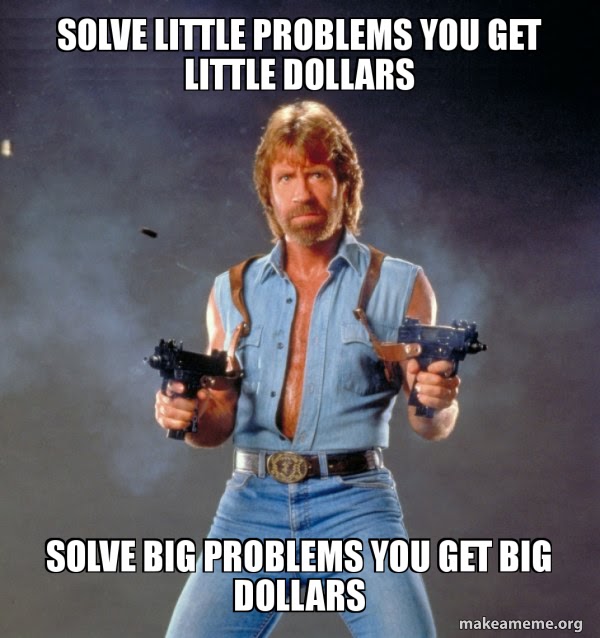 (Source)
---
✨ Shot 2: Quick Shots of the Week
Here's a few quick items of interest we noticed:
Academy App is now on the Mobile App (iOS and Android)
You can create Contacts, Companies, and Deals via Slack Integration
---
🐧 Shot 3: HubSpot Marketing Feature of the Week
HubSpot Social Monitoring
The HubSpot Social tools don't get much attention these days - they are easy to overlook.
One little tip is to use the Monitor tab to check interactions. The Twitter monitor will highlight new followers and even allow you to follow back and/or reply right from within HubSpot: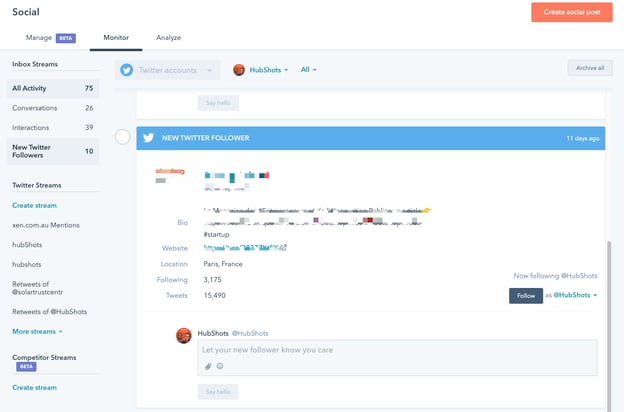 ---
💰
Shot 4: HubSpot Sales Feature of the Week
Reporting on Meetings
In this case, we were trying to see how effective particular meetings were over the month and their source as we are running multiple channels of traffic to it.
Here is the outcome.

Here is how we configured it: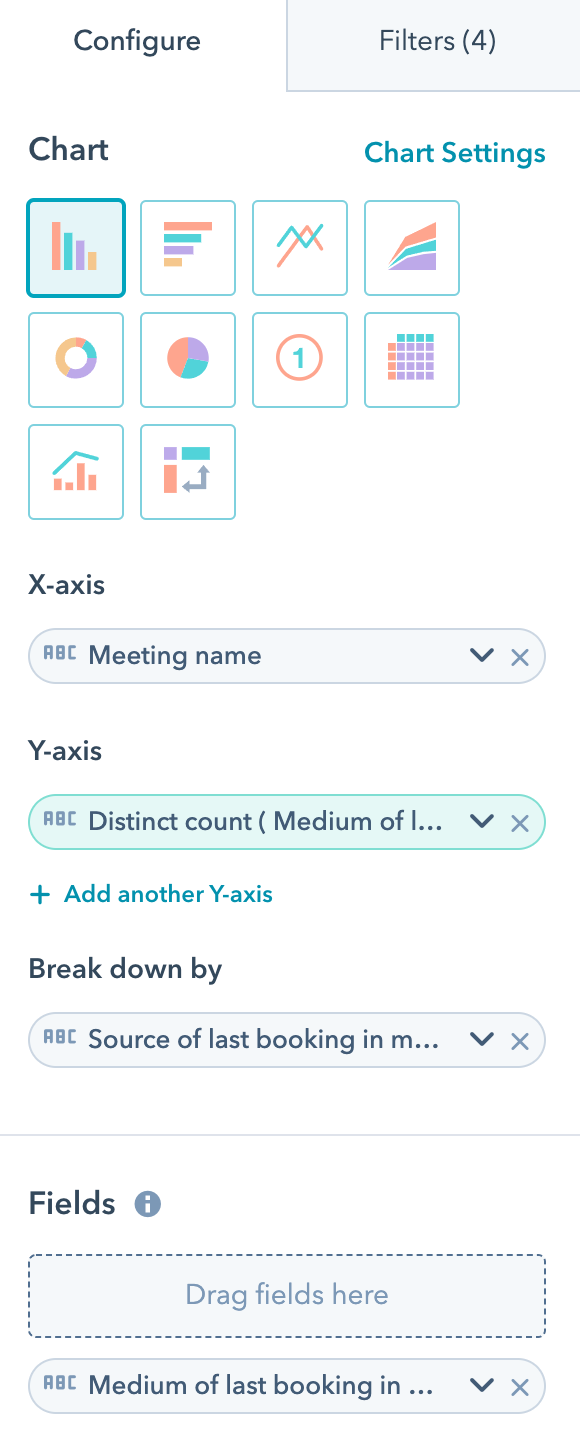 Here is how we filtered it: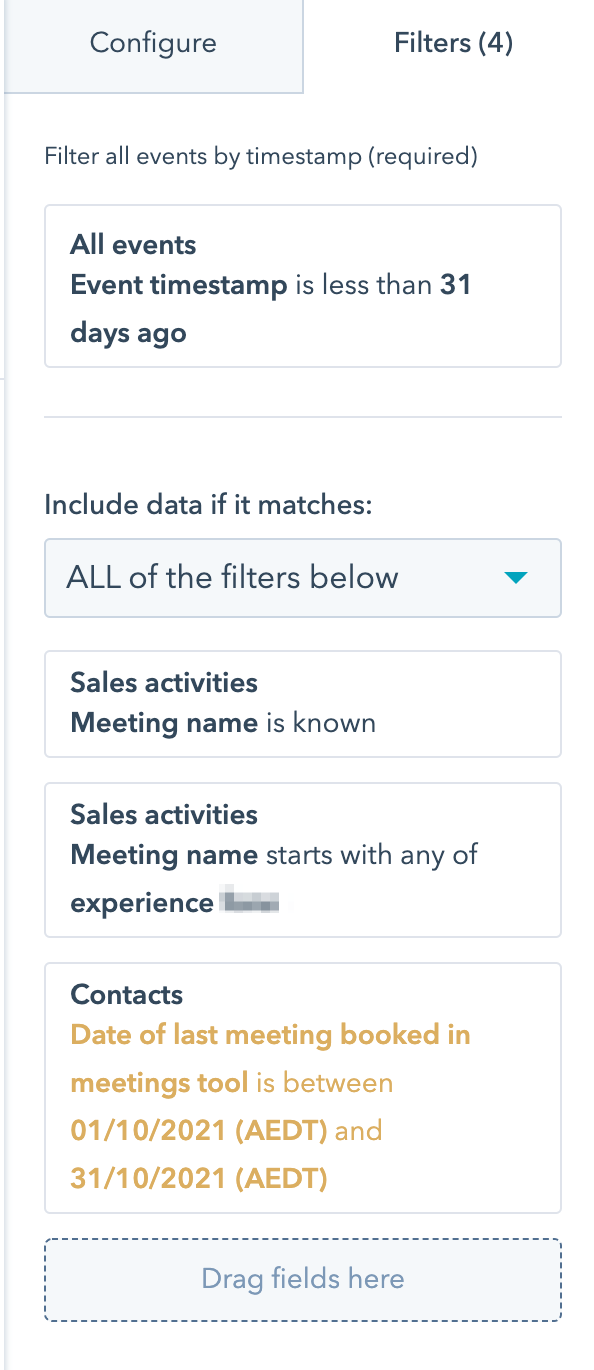 ---
👨‍🔧 Shot 5: HubSpot Service Feature of the Week
Custom Surveys
Here is the link to our one! There is another one that is similar that you should have got an email to as that is triggered from the system because you are a subscriber.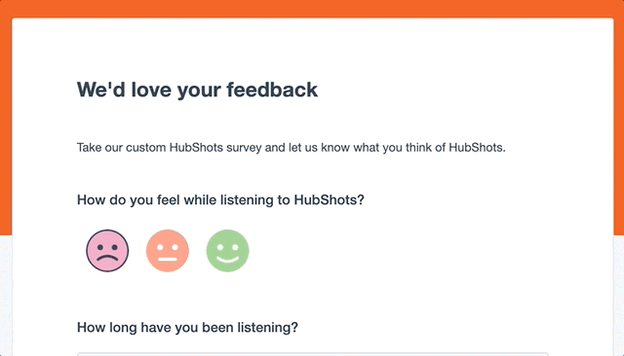 🙋 So did you complete the custom survey? Here is the link to the HubShots one! 👈
---
🤖
Shot 6: HubSpot Workflow Action of the Week
Clone Workflow Action
How did I miss this?
On a client HubSpot coaching call with Ian last week he mentioned this option on actions in a workflow: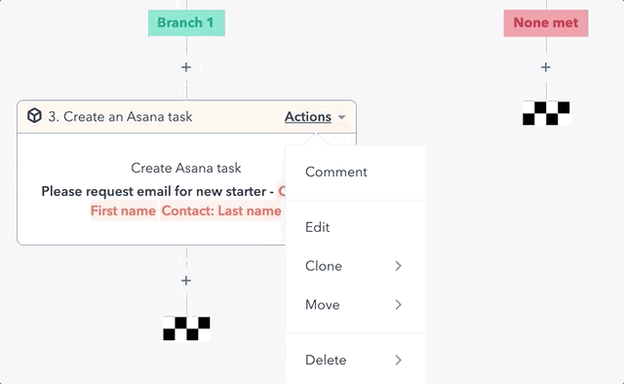 Bonus: it will also (optionally) clone all the actions after it as well.
---
Shot 7: Marketing Tip of the Week
Avoiding being sent to the Spam folder
An example of why I'm now marking a lot of email as spam (even if it has an Unsubscribe link)
An example of why I'm getting lots more email (that I don't want)
Steps to overcome the problem
[1] Click Here to Unsubscribe Scam
I was checking through my Sane Later folder this morning (as I do every few days) checking for any emails to unsubscribe from. I use Sane Box to group any newsletter type emails into a Sane Later folder. My usual process has been to check the emails and unsubscribe from any that aren't relevant (this is usually most of them).
When I clicked on the Unsubscribe link of one this morning it opened a browser tab that tried to install an app on my machine (fortunately my virus checker caught it and deleted it).
It made me realise how trusting of unsubscribe links I had been - and how I'd almost been duped - the email was essentially a scam (a very credible looking one) with the sole purpose of getting me to click the Unsubscribe link.
Silly me - I should have known better.
But it has resulted in a change in my process. Now, instead of unsubscribing from emails that I don't want I'll instead:
Check if I even recognise the brand (or remember signing up)
And if I don't I'll just be marking it as spam
No more trying to be a good citizen and unsubscribing. Sadly, now I'll be marking a lot of emails as spam.
It's bad for the legitimate companies who are using permission marketing to send me their newsletters because if I don't recognise them (or remember signing up) they'll be unfairly marked as spam.
Why do I mention this? Because I'm pretty sure I'm not the only one doing this now… instead I think it is becoming the norm.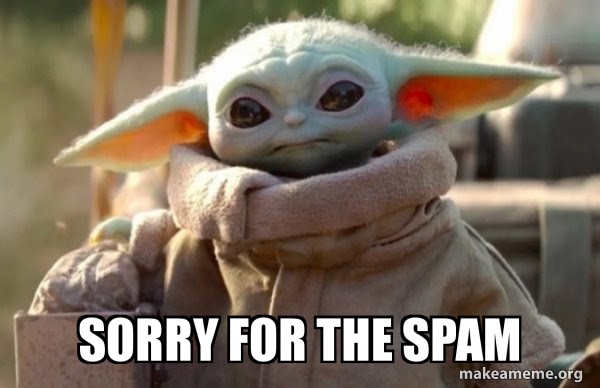 (Never pass up an opportunity to use a baby yoda image)
Which brings me to...
[2]
Inbound event spam
I've been busily unsubscribing from all the exhibitors that paid to be part of Inbound this year.
I'm assuming that as part of registering I agreed to receive marketing emails from exhibitors. I wish I'd paid more attention and not ticked it (or opted out) because last week I was getting a few new emails every day from vendors I'd never heard of, all chatting about things 'now that Inbound was finished'.
Anyway… I've been getting lots of emails that I don't want. And as per my experience in [1] above, whilst I'd usually go through the unsubscribe process, now I'm just marking them as spam instead.
I wonder what their Spam % results have been...
[3] How to counter being marked as spam
First up, for the vendors in [2] above I wonder how many of them sent from their main email platforms (Eg HubSpot) versus how many sent from a separate new account, purely for this follow-up.
I'm guessing most of these vendors send from separate accounts set up purely for post-event follow-ups. It's what I'd do.
But second, part of overcoming being marked as spam is to build some brand recognition with your recipients before you send. Especially if they are a new list of contacts (eg that you've purchased from HubSpot) or if you haven't sent to them for a while.
Running some brand ads to those audiences (eg via synced audiences) could be a good start.
That way when they see your email, they'll recognise the brand and potentially be primed to read it.
---
Shot 8: Insight of the Week
Resources versus Resourcefulness
This isn't a new idea - I've been reminded of this by a number of coaches and mentors over the years. But it is one that continues to ring true for me - and seems to be a key criteria I'm noticing in those who move ahead.
With that in mind, I thought I'd mention ways you can be resourceful with your HubSpot and Marketing activities when it might appear at first that you don't have the resources you need…
Email is your friend - if you can use it to reach your existing database (in a non-spammy way), take the time to write and create useful email updates (hopefully these show notes fall into that category)
Test and Measure is your friend - what can you review to test improved results, eg:

Review landing pages to improve conversion rates
Review forms to reduce field required

Creativity is your friend - can you work harder on your social banners (as opposed to just using stock images)?
Providing value is your friend - can you review your past blog posts and update them to be more useful (and can you send them in future email updates)?
Personal connection is your friend - can you connect one-to-one with people in your network to help and grow your businesses together?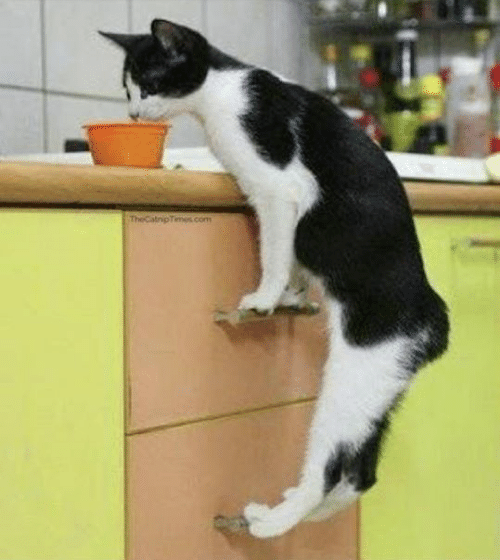 (Image Source)
---
🤏
Shot 9: HubShots Throwback of the Week
Via the HubSpot product updates blog.
This time a year ago HubSpot gave us the ability to add Contacts to a GoToWebinar with HubSpot Workflows! I wonder how many people are using this considering everyone we know uses Zoom!
---
📚 Shot 10: Resource of the Week
Zapier Transfer BETA
Zapier has launched a beta of their new Transfer service - which allows bulk data transfer between platforms. It's initially launching with a few partners (including Airtable, Facebook, Salesforce, Twitter, Shopify, LinkedIn, Slack, Google Apps and a few others) to use as a source, but can push to 1000s of destination apps.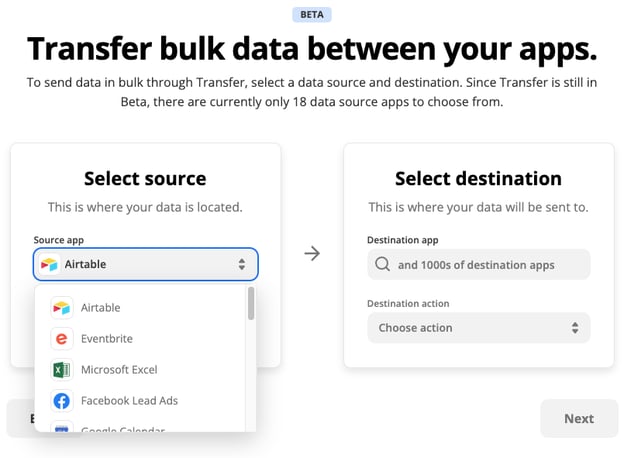 ---
Shot 11: Quote of the Week
Shared by one of our clients! Thank you Peter from FireMate.
"Our job is to give the client, on time and on cost, not what they want, but what they never dreamed they wanted; and when they get it, they recognize it as something they wanted all the time."
Dewys Lasdon, Designer.
(Quoted in Tom Peters', The Circle of Innovation: You Can't Shrink from Greatness, Knopf, 1997.)
---
Shot 12: Bonus Links of the Week
Google Allegations
Google is under the microscope (along with Facebook) over the way they have allegedly colluded to protect and promote their ad exchange. This thread on Twitter has the overview: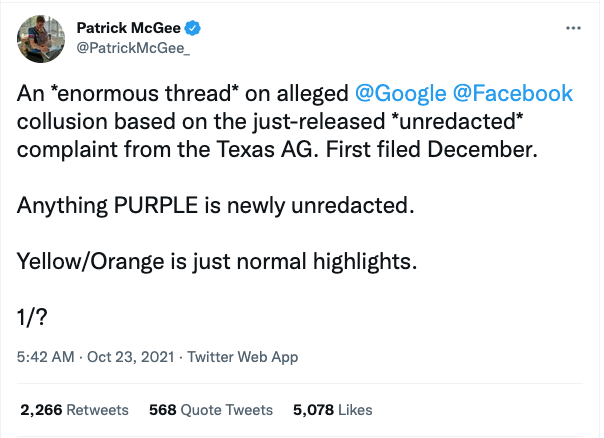 This is going to be big.
---
Shot 13: Upcoming Shots of the Week
iOS15 Email Engagement Effects
In a future episode, we're going to be diving into the effects of the iOS15 updates with respect to email engagement tracking (you may recall we alluded to this back in episode 249 . Here's a few resources to review in the interim:
---
Shot 14: Follow Us on the Socials
Connect with HubShots here:
Connect with Ian Jacob on LinkedIn and Craig Bailey on LinkedIn
---
HubShots, the podcast for marketing managers and sales professionals who use HubSpot, hosted by Ian Jacob from Search & Be Found and Craig Bailey from XEN Systems and XEN Solar.
HubShots is produced by Christopher Mottram from Podcastily.
Please share this with colleagues - it helps us improve and reach more marketers.