Welcome to HubShots Episode 268: Top 17 Favourite Features in HubSpot
This edition we dive into our favourite features in HubSpot including:
The timeline
Marketing contacts
Drag and drop page and email builder
Workflows
Popup forms
Layout flexibility on Contacts, Dealers, Objects
Custom Report Builder
Dashboards
Ads integration
Social reporting
Marketing attribution
Campaigns
Design Manager
Conversations Inbox
Snippets and Templates
Meetings
Task Queues
You can listen to this episode of the show
here
.
Did a colleague forward this episode to you? Sign up here to get yours every Friday.
Please forward this on to your work colleagues.
Recorded: Monday 22 November 2021 | Published: Friday 26 November 2021
🌱
Introduction
From Frustrations to Features
In last week's episode, we unpacked some of the top frustrations with HubSpot that we've experienced lately, with the goal of highlighting those that had solutions (many of them did) and those that didn't (so you can plan around them).
In this week's episode we're switching to the top features we see customers using (and loving). Some of these will be no surprise to you, but some are less well known - perhaps you'll find something new to add into your activities.
We'd also love to hear your favourites - what have we missed?
---
Favourite Feature 1: The Timeline
The timeline of activity that shows in the centre panel of every object is perhaps HubSpot's most distinctive differentiator - it shows all the different activities that a contact (or company or deal or ticket) has undertaken.
It includes all the interactions through email, page visits, ads, engagements and integrations, and can easily be filtered for the page:
---
Favourite Feature 2: Marketing Contacts
Last week I said that Marketing Contact Tiers were one of the biggest frustrations with HubSpot - but that doesn't mean that the marketing contacts concept itself is bad. Quite the opposite actually - marketing contacts are an efficient way to keep every single contact in your database, but only be charged for the ones that are meaningful in a marketing scope.
---
Favourite Feature 3: Workflows
Personally, workflows are probably my favourite part of HubSpot (especially compared to all the other marketing platforms I've used over the years). The ease with which you can build automated, time-saving workflows is very quick to learn.
I consider workflows to be one of the clearest examples of a particularly powerful feature being quite simple to use.
Improvements over the last few months include:
The Minimap
Adding the Goals Metrics to the main tabs at the centre top
The Go action
Value Equals branch
Integration actions with other tools
---
Favourite Feature 4: Drag and Drop builders
HubSpot's drag and drop builder is now the default experience in:
Emails
Landing pages
Website pages
Admittedly, it took a while for HubSpot to catch up to some of the other tools on the market (eg MailChimp's email builder was drag and drop for years before HubSpot's) but now that they have, it's gone on to surpass most (in my opinion).
Combined with the new Saved Layout features, building and editing pages is a very efficient process.
---
Favourite Feature 5: Popup Forms (Slide-ins)
We've often talked on the show about how simple it is to implement a converting Popup form on your site.
Here's my standard go-to Popup form approach:
Use the slide-in format (ie not an annoying popup that takes over the centre of the page)
Position in the bottom left (ie avoid bottom right because that's often where Chatbots show)
Use a nice image that explains the immediate benefit of submitting
Show on 50% scroll or after 7 seconds (I rarely use Exit intent)
Use behavioural targeting to exclude showing to people who have already submitted it
You can start really simple - we've even found just offering a beautifully formatted PDF version of the content that is on the very page they are currently viewing often converts well (ideal for a long blog post).
Forms also have really good reporting - you can dig into submissions, form field insights and more:
You can even drill into the form sources:
---
Favourite Feature 6: Layout flexibility on Contacts, Deals, Tickets, other objects, etc
The interface for objects (eg Contacts, Companies, Deals, Tickets, custom objects) has a consistent 3 column layout with:
Properties on the left
Timeline in the middle
Associated objects on the right
Each of these areas can be tweaked to best present the details you need, by:
Properties can be set up with defaults, as well as custom sections
Timeline can be filtered (see earlier Favourite Feature)
Associated objects can be ordered
This might not be obvious to most users - as evidenced by when we have calls with new customers and we see their contact layout is still the same as the initial default with a new portal.
Once we start showing them how they can move the properties around, create new custom sections (groupings of properties) and even make them conditional based on other criteria (this is an Enterprise feature) they get very excited!
---
Favourite Feature 7: Custom Report Builder
Hasn't reporting come a long way in the last few years. What started out as an optional add-on is now a core part of the product.
Recently the Custom Report Builder has stepped up the game and now presents more like a BI (business intelligence) tool than a simple reporting builder.
And it's just the beginning - HubSpot's reporting functionality is only going to get more powerful.
Admittedly there's a learning curve to getting up to speed with the custom report builder (which is why it was also one of our frustrations last episode), but once you're comfortable with it, it's a very efficient way to dig into data and gather insights. We covered the opportunity with reporting in episode 266 (Shot 7).
---
Favourite Feature 8: Dashboards
Dashboards have also come a long way in the past 2 years - and are now a favourite with our customers.
Some key features we love:
Easily pick from your own custom reports, or use the gallery of reports
You can add iframe embeds into them (eg embed a YouTube video, or a Google slidedeck)
You can schedule them to be sent regularly (eg every Monday morning)
You can share (or keep them private) with your teams
---
Favourite Feature 9: Attribution
Attribution reporting is popping up all throughout the product:
Contact and deal sidebars
Custom reports
Emails
Pages
Advertising
As well as feeding into dashboards.
There's also the dedicated Attribution reports themselves, which have a set of default scenarios to choose from, and support a number of different attribution models:
---
Favourite Feature 10: Ads integration
Being able to link advertising platforms (including Google Ads, Facebook Ads and LinkedIn Ads) into HubSpot provides a number of benefits including:
Easily report on ad campaigns and ROI
Sync audiences between HubSpot and the ad platforms
Insert pixels automatically into websites
See exactly which ads and keywords are getting you conversions
You can also create ad campaigns right within HubSpot, and the new HubSpot Ads Sequencing features allow complete funnels to be built.
---
Favourite Feature 11: Social reporting
The Social tool is OK for scheduling social posts, but really shines when it comes to reporting.
You can drill into audience and engagement metrics easily:
Can you spot the channel where we could be publishing more?
---
Favourite Feature 12: Conversations Inbox
Conversations is an underappreciated feature of HubSpot.
A Conversations Inbox can be populated from emails, forms or Facebook Messenger submissions - and gives you an easy process for responding.
Conversations can (optionally) create Support Tickets as well, and can also integrate with Slack.
And you can have multiple Conversations inboxes - for example in our portal we have four separate Conversations Inboxes.
---
Favourite Feature 13: Design Manager
One for the nerds - HubSpot's Design Manager is a very comfortable environment (any developers will feel right at home) for creating and editing templates used in your portal.
The drag and drop interface allows even non-developers to easily manage templates.
We've had many customers who aren't developers or programmers easily find their way around the designer manager and make updates to templates.
Another good example of simple but powerful.
---
Favourite Feature 14: Campaigns
HubSpot Campaigns are a handy way to group together assets (landing pages, emails, ad campaigns, workflows, CTAs etc) for a common objective and then report at a high level on the results (and ROI) of the campaign. Benefits are:
You can have a clear goal and understand all the elements that go into a campaign
Use it as a point of focus and reference for the sales and marketing teams
Measure how effective certain campaigns were over the year
---
Favourite Feature 15: Snippets and Templates
Snippets are short rich text blocks (up to 2500 characters) that can be used throughout the system eg in conversations, timeline activities such as notes, when writing emails, and in the mobile app (eg using the HubSpot keyboard)
Templates are essentially longer versions of snippets, but are used in emails.
We also use snippets for the default items (payment terms, comments to buyer, etc) we include in quotes:
---
Favourite Feature 16: Meetings
Meetings are one of those features that are often overlooked - when we show customers the functionality in meetings they are often amazed they never knew about it.
Meetings allow you to integrate your calendar (eg Google Calendar or Office 365) with HubSpot and then allow people to easily book time in your calendar to meet. You can easily embed the meeting widget into your website:
HubSpot takes care of everything - so that only times you are available actually show as options (plus you can set bands of time that you aren't available as well). HubSpot also allows you to add in buffers between meetings so that you don't get caught having to finish one meeting to immediately have another.
---
Favourite Feature 17: Task Queues
An often overlooked feature but one that can save you a lot of time and streamline your daily routine.
Benefits are:
Organise queues for teams to work through the important tasks
Organise yourself to work in a way that suits you, so if you like doing all your calls together and batching this is a great way to do it
Being taken directly to the contact with the right window, like email or call
Being easily able to skip and reschedule tasks
---
Honourable Mentions: Tasks, Sequences, CTAs, SEO Tool, Target Accounts, A/B Variations, Language variations
There's so many other useful features in HubSpot that didn't make it into our Top 17 list.
What's in your favourite list?
---
🧲 Follow Us on the Socials
Connect with HubShots here:
Connect with Ian Jacob on LinkedIn and Craig Bailey on LinkedIn
---
HubShots, the podcast for marketing managers and sales professionals who use HubSpot, hosted by Ian Jacob from Search & Be Found and Craig Bailey from XEN Systems and XEN Solar.
HubShots is produced by Christopher Mottram from Podcastily.
Please share this with colleagues - it helps us improve and reach more marketers.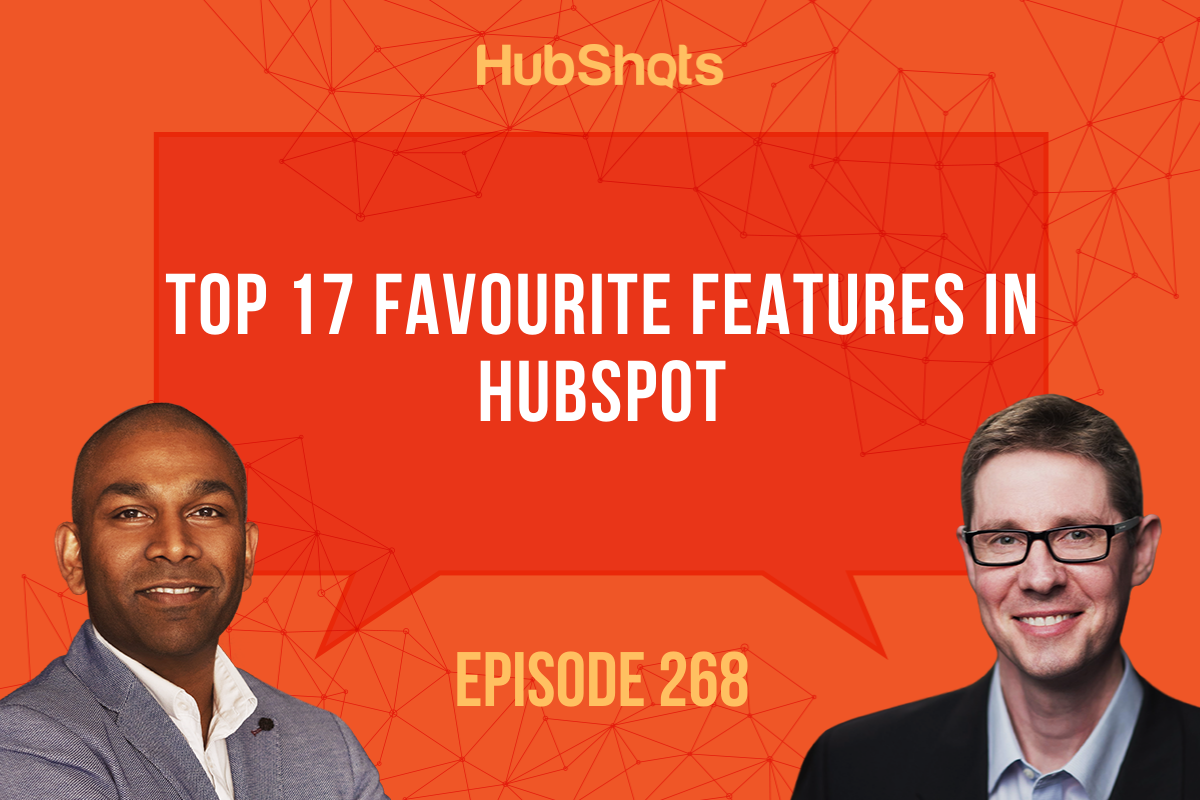 ---