Welcome to HubShots Episode 269:Tips for Using Lists, Deal Pipeline Properties, Shared Task Queues, and Staying Calm
This edition we dive into:
Systems over goals
The power of Active lists built on active lists
Making some deal properties mandatory
When to use multiple sales pipelines
When to use tagging on knowledge base articles
Tips for using Task queues with multiple users
Staying calm under pressure
A correction about email preference groups
Quote of the week
You can listen to this episode of the show
here
.
Did a colleague forward this episode to you? Sign up here to get yours every Friday.
Please forward this on to your work colleagues.
Recorded: Monday 06 December 2021 | Published: Friday 10 December 2021
🌱 Shot 1: Growth Thought of the Week
Planning for 2022 - Systems over Goals
As we record this episode, it's early December and the end of the year is on. In Australia most of the country shuts down for a week or two on 27 December - it's our time to relax and recharge, usually on some warm, sunny days (it's the middle of Summer down here).
Which means these last few weeks tend to be a mad rush as companies aim to get major projects finalised before the break. There's a big psychological barrier we like to overcome, so that our work list is all ticked off as the year ends.
The benefit of having a clean slate is that when we come back in mid January we are mentally clear to plan the year ahead. It's a nice fit with New Year's Resolutions as well.
In James Clear's excellent book 'Atomic Habits' he (famously states): "you don't rise to the level of your goals, you fall to the level of your systems."
So one key thing to consider in January is that whilst goals and resolutions are all well and good, the focus needs to be on systems.
As you rush to finish the year, make sure it is clearing you up to focus on systems in 2022. As you relax and recharge, and gain mental space to proactively plan, use this time to think deeply about processes and systems.
Thank You
A big shoutout and thank you to Chad Treadway for including us in his Top 12 Sales and Marketing podcasts blog post.
---
✨ Shot 2: Quick Shots of the Week
Here's a few quick items of interest we noticed:
Increased card limit on a dashboard from 20 to 30!
You can now place one report on multiple dashboards.
Advanced publishing, you can now schedule updates to pages that are already published.
Due to LinkedIn's data retention policy, HubSpot cannot store or display any page or post data (impressions, clicks, interactions) from LinkedIn after 1 year of page connection within a HubSpot portal.
By the way, here's an interesting community thread to do with Google Calendar permissions when integrating with HubSpot - feel free to vote it up (h/t to David who pinged me on LinkedIn about this).
---
🚀 Shot 3: HubSpot Marketing Feature of the Week
Active Lists of Lists
HubSpot's active lists functionality is very powerful - you can create lists on a large variety of criteria:
I've marked a few of the most common criteria options we use, including:
Contact properties
Marketing emails interaction
Form submits
List memberships
This last one - list membership - is one that is often missed (it doesn't help that it is way down the bottom of the options). But it is really powerful.
Part of our initial setup of new portals to prepare a set of standard 'base' lists - which we then use in other lists ie building lists from lists.
An example might:
Building up an exclusion list of contact, based on a number of criteria (eg sales might have marked them to be excluded, or perhaps they've previously received a number of emails etc)
Rather than have to create that filter each time you want to use it in a list, instead create the exclusion list initially
And then exclude that list in other lists
Another example:
An active list of all popup form submits (ie the list is built by selecting each of the form submissions from popup forms)
An active list of all internal staff members (ie the list is built by selecting anyone with the company email domain)
And then using lists together in a new list to show just the form submits from new contact outside the company
Here's an example of using a bunch of lists to include and exclude contacts in a new list (eg for reporting or putting a new workflow):
---
💰 Shot 4: HubSpot Sales Feature of the Week
Making fields Mandatory on Pipeline stages
We've been working with a few sales teams lately and this topic has come up - how to ensure that sales people are adding in required information on deals as they progress through.
HubSpot has a very elegant way to handle this - by being able to set mandatory fields on deal pipeline stages. Here's an example:
When to use different sales pipelines
Another topic that comes up regularly is whether to use a single pipeline versus multiple pipelines.
Here's the first thing I always ask: tell me about your reporting requirements.
If you absolutely need to report across all your pipelines in a single-view unified way then you are likely going to want to have as few pipelines as possible.
But if you have separate divisions or teams who each report separately then you have much more freedom to use multiple pipelines.
In an ideal world you'd be able to have multiple pipelines that had each of the pipeline stages mapped to an overall reporting pipeline, but that's not possible at the moment.
There above is perhaps an oversimplification, and the actual implementation in your portal likely depends on a number of other factors - feel free to reach out to discuss your situation further.
---
👨‍🔧 Shot 5: HubSpot Service Feature of the Week
How to use Tagging in Knowledge Base Articles
Knowledge base articles have a number of ways to mark up articles, including:
Categories
Subcategories
Tags
Categories (and sub-categories) are ideal for providing navigation in the Knowledge base (ie the left hand sidebar of available categories):
Where tags are powerful is in surfacing articles in the search results. By adding a tag on an article you can easily use it to show a list of articles (but without impacting the visual navigation that categories provide).
Start by tagging the articles:
And then use the tag in the search:
A little gotcha
Worth noting that when you tag articles it may take a few minutes for them to take effect on your portal.
If you aren't seeing your KB search results showing articles that have been tagged, come back a few minutes later and test again.
---
🔧 Shot 6: HubSpot Task Queues Gotcha of the Week
Multiple people working on the same queue
What we discovered is that if you start at the same time you may end up working on the same task. However if the next person is ahead then when you progress to the next task it will show as complete/rescheduled.
A solution would be to have a quick catchup before you start the session and assign the tasks to the individual before completing your tasks.
Knowledge Base on using task queues.
---
💡 Shot 7: Insight of the Week
Keeping calm under pressure
As you may know I (Ian) am a fan of F1. One thing that was highlighted to me is how leaders, both the team and drivers react to what's going on around them. This year's Formula 1 season has had its ups and downs and to see two great drivers from different generations fighting for the world championship has brought a lot of different emotions and reactions from both teams and drivers.
What has become apparent is:
How passionate the drivers and the team principles (bosses) are
How many people on the team it takes to get a driver to a race but also win races
All the countless hours we don't see behind the scenes, when things are not working
Strategy and teamwork required to win
Watching what you say as words have power
As we come to the end of the year and things get crazy around us and in our lives it can be very easy to lose it and not stop and think about our actions. So I wanted to encourage everyone who is listening and reading this to pause and ask yourself "how do I deal with situations when they are not working or going my way?"
As a young boy I used to be scared and get distressed when things were not working. My dream was to be a pilot. I recall my dad stopping me one day and telling me "if you behave like this you will never become a pilot". So I stopped at that moment and decided to make a change in my life at that very young age, because I always wanted to fly.
So I want to encourage you that you can make a change in your life and also stay calm under pressure.
Let me know what you think and if you liked this little story.
---
🏈 Shot 8: Sunset of the Week
Email Preference Groups
A few episodes ago we discussed how preference groups were finally awesome.
Turns out I got this slightly wrong - the functionality in my portal was based on the old style of preference groups which have now been sunsetted. Instead the preference groups are now part of Business Units functionality. Thanks to Elliott for alerting me to this!
Discuss business units
With business units, you can manage contacts, assets, and settings across multiple brands within HubSpot.
---
✍️ Shot 9: Quote of the Week
"Talent sets the floor, character sets the ceiling."
— Bill Belichick
Bill Belichick completed his 46th season as an NFL coach in 2020 and is in his 22nd season as head coach of the New England Patriots.
---
🏋️ Shot 10: Training of the Week
From HubSpot Academy
Building Custom Reports in HubSpot
---
🧲 Follow Us on the Socials
Connect with HubShots here:
Connect with Ian Jacob on LinkedIn and Craig Bailey on LinkedIn
---
HubShots, the podcast for marketing managers and sales professionals who use HubSpot, hosted by Ian Jacob from Search & Be Found and Craig Bailey from XEN Systems and XEN Solar.
HubShots is produced by Christopher Mottram from Podcastily.
Please share this with colleagues - it helps us improve and reach more marketers.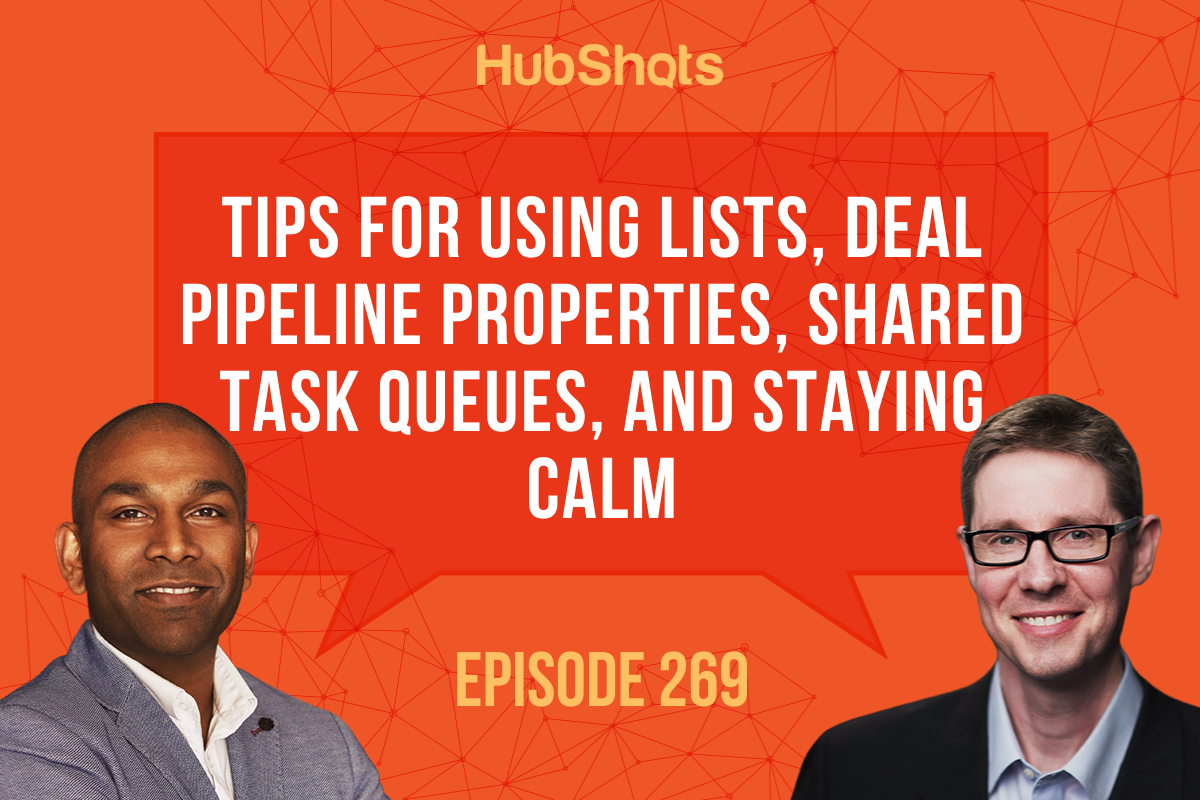 ---