Welcome to HubShots Episode 282:HubSpot CMS Free Quick Overview, Plus Improvements to CMS Starter
---
This edition we dive into:
Automation and Attribution
Last Referring Site property
Call Direction when logging calls
Menus on Customer portals
CMS Hub Free announced
CMS Hub Starter improvements
Bad pricing pages
You can watch this episode on our YouTube channel (or just listen to it on our YouTube audio channel)
Be an early subscriber to our YouTube channel.
We're also available on Spotify or Soundcloud if that's easier for you.
Did a colleague forward this episode to you? Sign up here to get yours every Friday.
Please forward this on to your work colleagues.
Recorded: Wednesday 28 June 2022 | Published: Friday 08 July 2022
---
Table of Contents
---
🌱 Shot 1: Growth Thought of the Week
The 2 'A' words: Automation and Attribution
There's a lot of clickbait in the news lately about economic conditions and the impact on businesses. There's no doubt this is a concern for businesses in the coming months (and years). It's going to be a long term discussion, and one we'll return to in future episodes.
But in this episode, I wanted to draw attention to the short term issue affecting just about every client we work with: their staff are getting sick.
And not just covid - the main productivity hits are coming courtesy of the 'plain old' flu.
As I write this a few of the XEN team are either off completely, or recovering, or still fighting 'something'... so we're not immune either (on Monday this week we had more than half of the team away).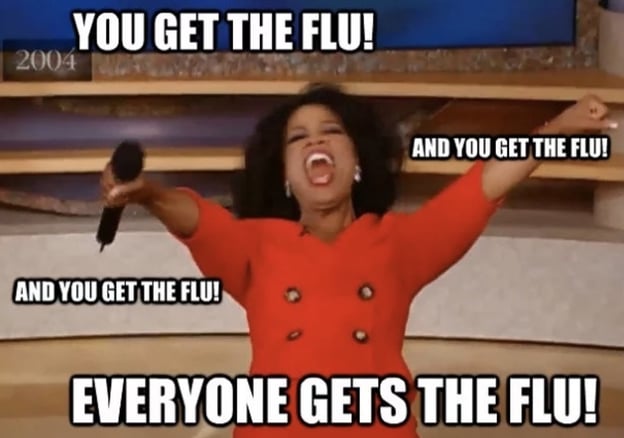 It's not just the loss of visible productivity though - there's also a 'hidden' impact we're seeing with clients: things getting missed.
Everything from simple sales follow ups, to customer support check-ins, to event preparations - each with its own variable cost and impact (what's the cost in $ if a lead isn't followed up quickly? Just how much does a few days delay cost… it's hard to quantify).
In recent months we've guided discussions with our larger clients to be more aware of these internal, manual processes, and preparing them to be automated as much as possible. The benefits (of course) aren't just about making sure things don't get missed. They also free up team members (when they aren't off sick) to focus on higher value tasks.
In the coming months we're going to see economic conditions demand more of our internal processes - requiring them to be automated as much as possible. This allows companies to unlock the 'more with less' approach (as much as that sounds like a cliche, it's now becoming a key, expected focus).
Automation enables efficiency.
What about effectiveness? It's all well and good to be efficient, as long as we're efficiently doing the right things. Which brings us to attribution. If there's one word that I'm hearing more this year than any year prior - it's attribution. In other words: what's working?
Attribution enables effectiveness.
Attribution is one of those things that is made to look easy in marketing software demos, but in practice requires careful analysis and planning.
So there's the two 'A' words to be embracing: Automation and Attribution.
We'll expand on both of these in future episodes.
---
✨ Shot 2: Quick Shots of the Week
Here's a few quick items of interest we noticed:
Google Analytics 4 integration in HubSpot settings (all versions)
New Quote templates (Sales Pro)
Conversations Inbox custom views are more flexible (Pro)
Line Items now support fractional quantities (up to 7 decimal places!)
Cloning campaigns now includes cloning assets (including Forms)

We'll have a whole episode on this in future

QR code scanner on the Mobile App - enables salespeople to quickly create and save new contacts in HubSpot
Simple eCommerce Recommendations for Product Module that can be used in emails
---
🚀 Shot 3: HubSpot Marketing Feature of the Week
Last Referring Site property
Handy field that can be used in conjunction with the Last Page Seen property to include as personalisation tokens on internal email notifications.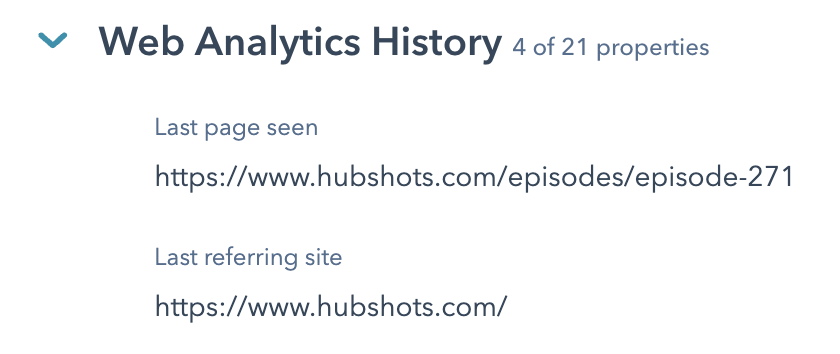 HubSpot's KB definition of the two properties:
Last page seen: the last page the contact saw on your website. This is automatically set by HubSpot for each contact.
Last referring site: the last website that referred the contact to your website. This is automatically set by HubSpot for each contact. This analytics property looks at the last page viewed, so this site can be internal or external.
My comments on how they differ:
The Last Referring Site property highlights the page that lead to the contact converting (eg when they last filled out a form). The Last Page Seen keeps track of the last page they visited (eg could be after they've filled out a form).
Important note: if the contact visits your site with an ad blocker enabled (increasingly common) then these fields can be unreliable.
---
💰 Shot 4: HubSpot Sales Feature of the Week
Call Direction on calls
It's the little things…
When logging a call against a contact you can now note the call direction (either Inbound or Outbound):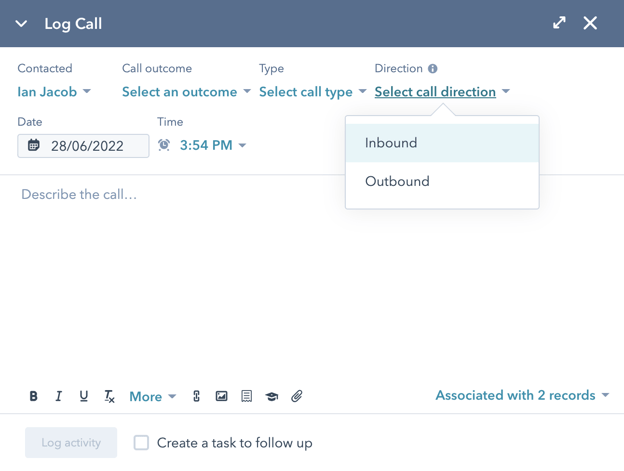 This is then available for reporting against in Custom reports (and used on dashboards):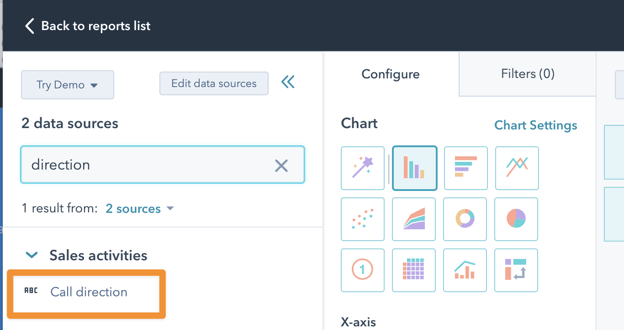 ---
👨‍🔧 Shot 5: HubSpot Service Feature of the Week
Customise your Customer Portal navigation menu
Kinda odd that this needs to be mentioned as a feature - but it is now easy to edit the menu used on your customer portal: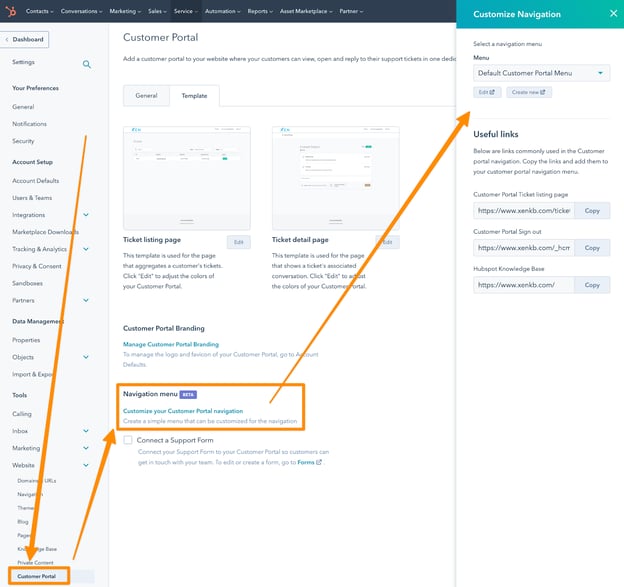 Editing the menu takes you to the usual navigation menu builder (ie that you use for websites).
---
🔧 Shot 6: HubSpot CMS Feature of the Week
HubSpot CMS Free
HubSpot announced a free version of their CMS Hub.
The free version is quite feature rich for what you get:
25 pages (that can be built using Marketplace Themes - choose from this list)
Unlimited landing pages using the simplistic inbuilt landing page templates
1 blog that can have upto 100 posts (yes, limited to 100)
Pages show basic analytics reporting
Drag and drop editing of page
Design Manager access
Navigation menu builder
Domain management (including redirects, XML sitemap, GA and GTM integration, etc)
We'll have a full episode covering the details of CMS Free in future weeks, but for now, our verdict: this gets a big thumbs up from us.
But it gets better…
HubSpot CMS Starter
Perhaps the biggest part of the announcement was the changes this influenced in CMS Starter - in particular the number of pages included.
Previously CMS Starter included 15 web pages. This has now been increased to 50. Which is much more appropriate.
One downside is that landing pages still cannot use the theme you use for the website pages 😞
Our recommendation if you are looking at CMS Starter - make sure you purchase it as part of CRM Suite Starter.
Comparing versions
Here's HubSpot's comparison table from the Pricing page - with a few key items highlighted:

---
🏈 Shot 7: Sunset of the Week
Non-user emails no longer working in form notifications
This is actually a good change.
Previously you could have form submissions send email notifications to email addresses that weren't necessarily HubSpot users. Which could be problematic. For example if notifications were sent to a team member's personal email address (who later leaves the company).
This change limits the notifications to only be HubSpot users ie the user leaves the company, once they are deactivated in Users, then the no longer receive notifications.
---
📚 Shot 8: Thought of the Week
An example of a bad pricing experience
One thing that frustrates us all is when we can't easily get pricing guidance for a product.
While things are improving, there's still plenty of sites that won't give you pricing details. In this post (on my personal blog) I recount a recent appalling experience.
Summary: give people the details they are after.
---
✍️ Shot 9: Quote of the Week
"True long-term thinking is goal-less thinking. It's not about any single accomplishment. It is about the cycle of endless refinement and continuous improvement. Ultimately, it is your commitment to the process that will determine your progress."
― James Clear, Atomic Habits: An Easy & Proven Way to Build Good Habits & Break Bad Ones
---
🏋️ Shot 10: Training of the Week
Building a Website in CMS Hub Starter
---
🧲 Shot 11: Follow Us on the Socials
Connect with HubShots here:
Connect with Ian Jacob on LinkedIn and Craig Bailey on LinkedIn
---
HubShots, the podcast for marketing managers and sales professionals who use HubSpot, hosted by Ian Jacob from Search & Be Found and Craig Bailey from XEN Systems and XEN Solar.
HubShots is produced by Christopher Mottram from Podcastily.
Please share this with colleagues - it helps us improve and reach more marketers.