Welcome to HubShots Episode 290: Setting Lifecycle stages on forms and deals, Re-engagement emails gone wrong, and Deal pipeline currency totals
This edition we dive into:
Outcomes versus Activities
Deal pipeline board view currency switcher on totals
Setting lifecycle stages on forms
Setting lifecycle stage when creating deals
Customer ticket portal settings
Re-engagement email campaigns getting accounts suspended
Stopping personal emails from getting logged in HubSpot
Gratitude reminder
The joy of unread books
You can watch this episode on our YouTube episodes playlist (or just listen to it on our YouTube audio channel)
Are you a subscriber on the HubShots YouTube channel?
We're also available on Spotify or Soundcloud if that's easier for you.
Did a colleague forward this episode to you? Sign up here to get yours every Friday.
Please forward this on to your work colleagues.
Recorded: Wednesday 02 November 2022 | Published: Friday 04 November 2022
---
Table of Contents
---
🌱 Shot 1: Growth Thought of the Week
Outcomes versus Activities
Ian was talking to a friend recently who recommended reading / listening to Predictable Revenue - the book reminded him that focussing on outcomes is far better than focussing just on activities. Here's a few takeaways he mentioned when discussing it yesterday:
Sure you can see this as leading indicators but all too often we hear from a sales manager where they want to see what a salesperson is doing every hour of the day.
It's a reminder to us that quality matters. So even in your outreach and what you do, taking the time to know more about the person you're talking to can make a big difference.
It is also a good reminder on the following items that we all know about using HubSpot:
Targeting - good segmentation
Tools - templates, snippets & sequences
Prospecting - customer and company insights
Qualification - lead scoring & playbooks
Follow-Through - nurture workflows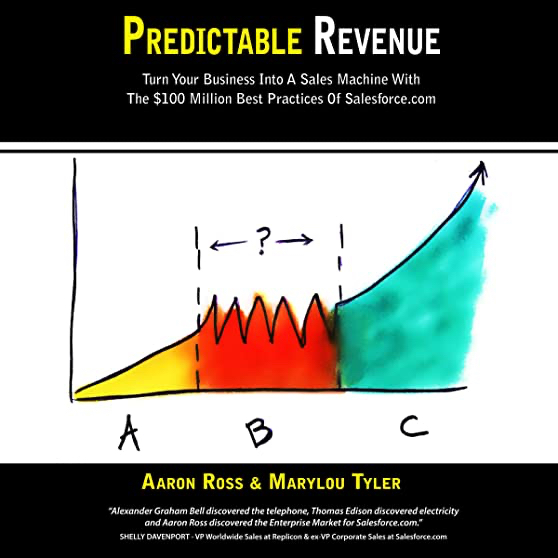 Listen to the book here on Audible.
Catching Up in Person
Ian and I finally caught up in-person again after far too long (years?)...
Here we are having a burger at Burger Patch in Chatswood - the burgers are still fantastic!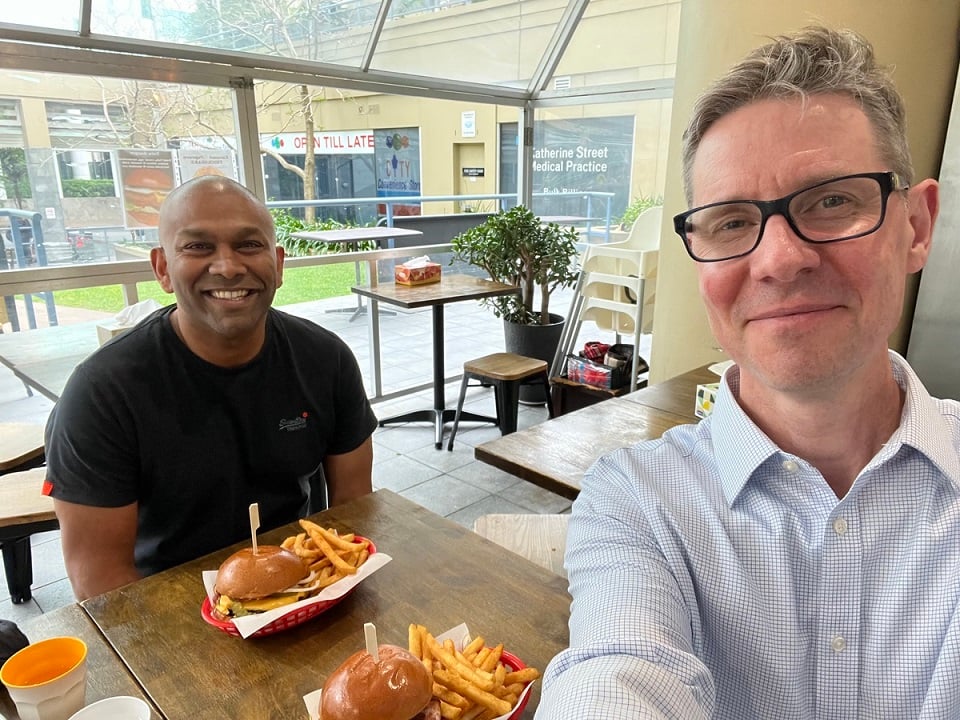 One thing that I really valued when catching up in person - after years of zoom - is that we spent a lot of the time not talking, instead just reflecting on things the other said. It's not awkward when you're together - you can happily make a comment and then have periods of silence contemplating and cogitating. It's very hard to do that on zoom.
I think we came up with more quality ideas that afternoon than we have in months via zoom.
Takeaway: it's not the people, it's the medium.
---
✨ Shot 2: Quick Shots of the Week
Here's a few quick items of interest we noticed:
Custom Journey Analytics reports
Visibility of all Meetings Scheduling Pages
HubSpot Calls from Mobile (iOS & Android) now available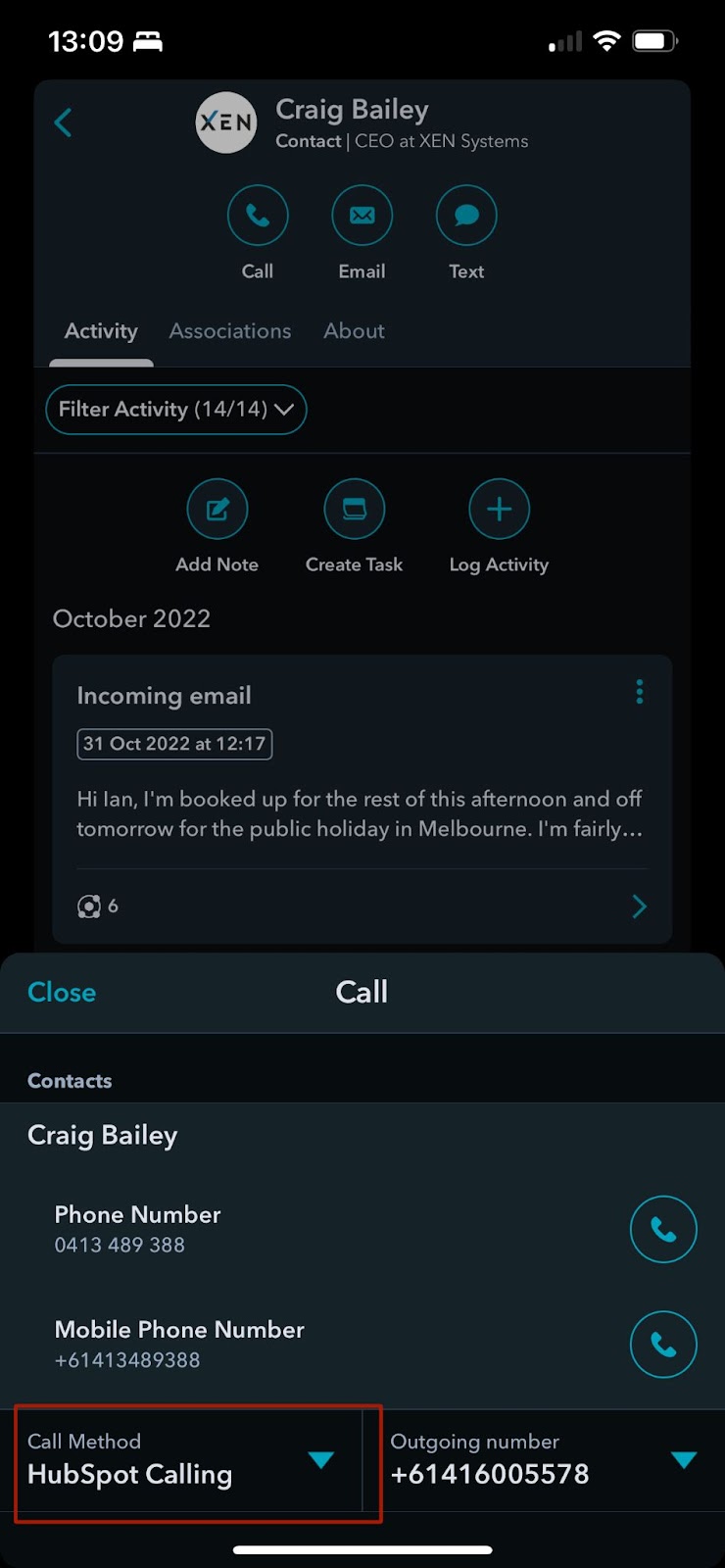 Owners will now sync in data sync apps
New Task Priority Options for Mobile
Deal Pipeline Totals Currency Switching
You can now switch the currency used on Deal pipeline stage totals (ie at the bottom of the Board view columns)
This has been a highly requested feature on the community threads for a while - so good to see it now available: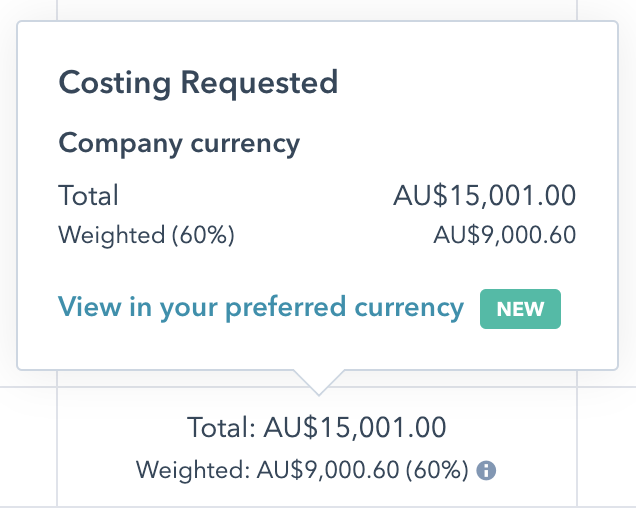 Here's the same total from above, but displaying in USD - hovering over will show you the default company currency: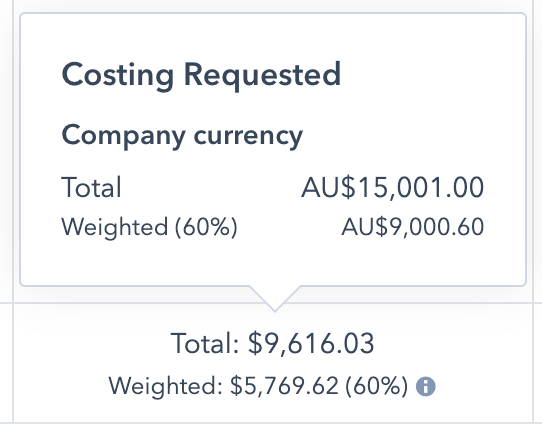 You can set this from the Board actions dropdown (top right)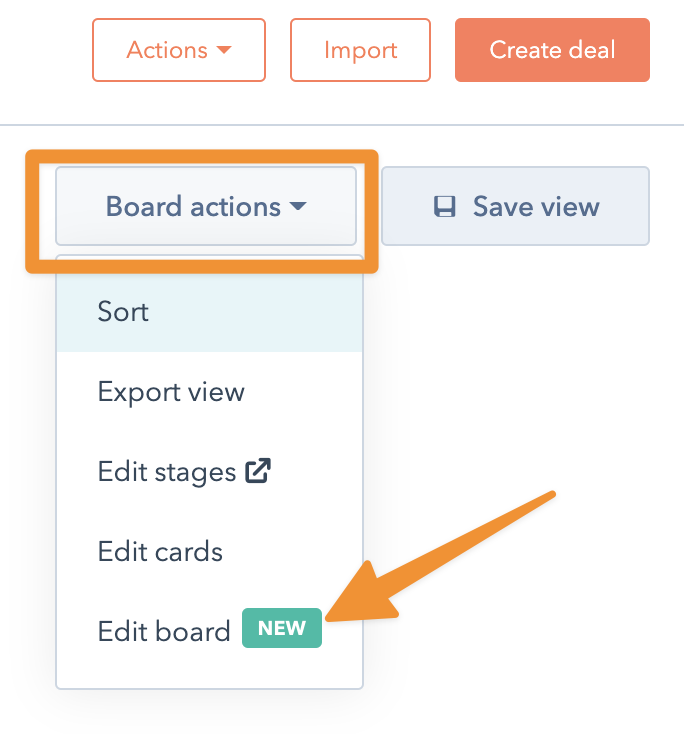 ---
🚀 Shot 3: HubSpot Marketing Feature of the Week
Setting Lifecycle Stage on Forms
You can set the lifecycle stage of a contact right from the form: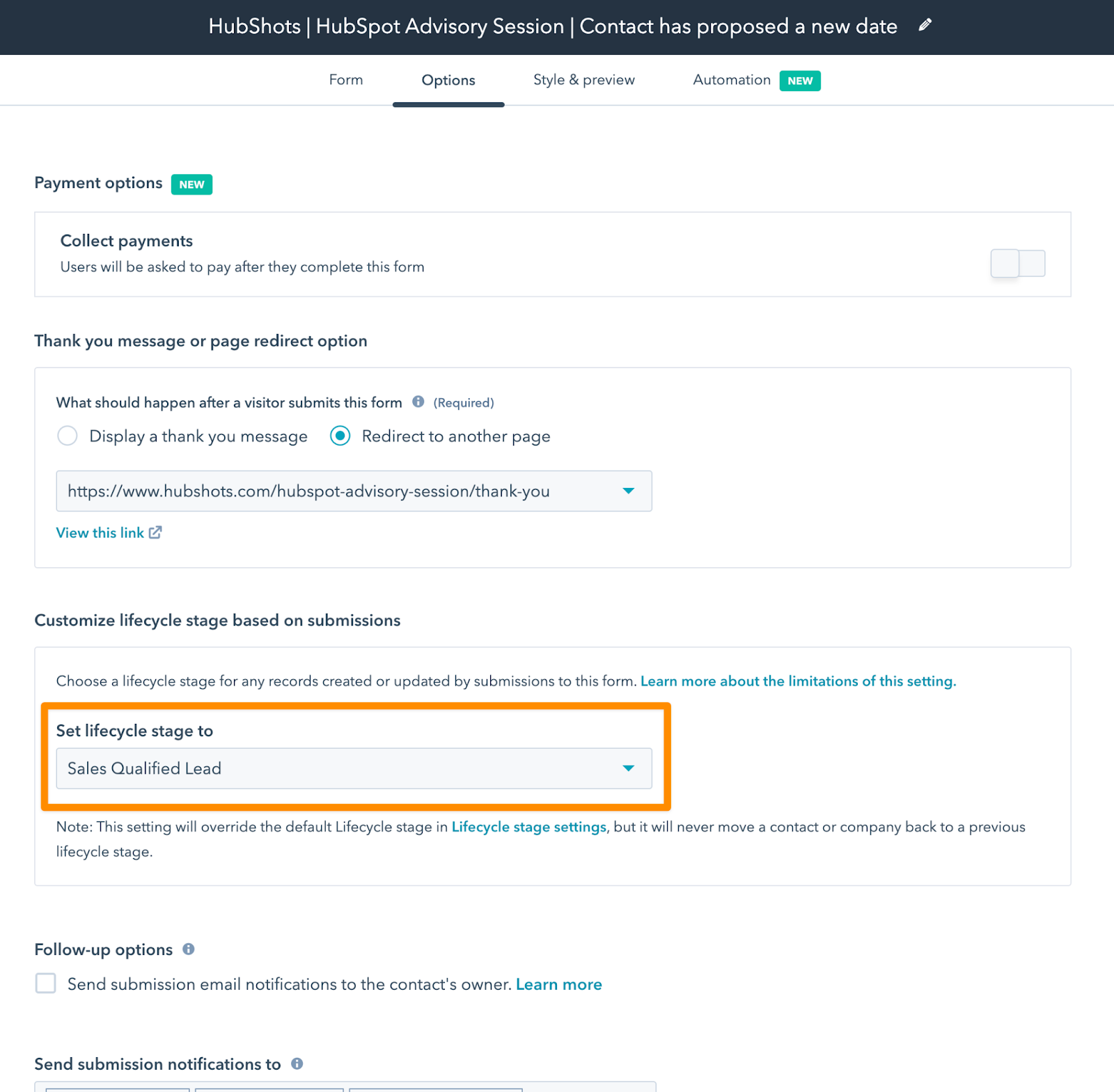 Example:
You have a form that shows higher intent (eg a Demo request), you can set the lifecycle stage to be Sales Qualified
This saves you having to create a workflow to do this automatically (which is what we used to have to do).
---
💰 Shot 4: HubSpot Sales Feature of the Week
Default Lifecycle stage for new deals
Speaking of lifecycle stages, there's a new option in Settings to let you set the lifecycle stage for a contact when a Deal is created.
The default is Opportunity, but you can change this to fit your processes. For example, a common scenario is only setting the lifecycle stage to Sales Qualified when creating a deal. This is ideal for when sales teams create deals as part of their qualification process ie they create a deal and then work with the contact to determine whether it is in fact an opportunity.
This is our actual preferred process: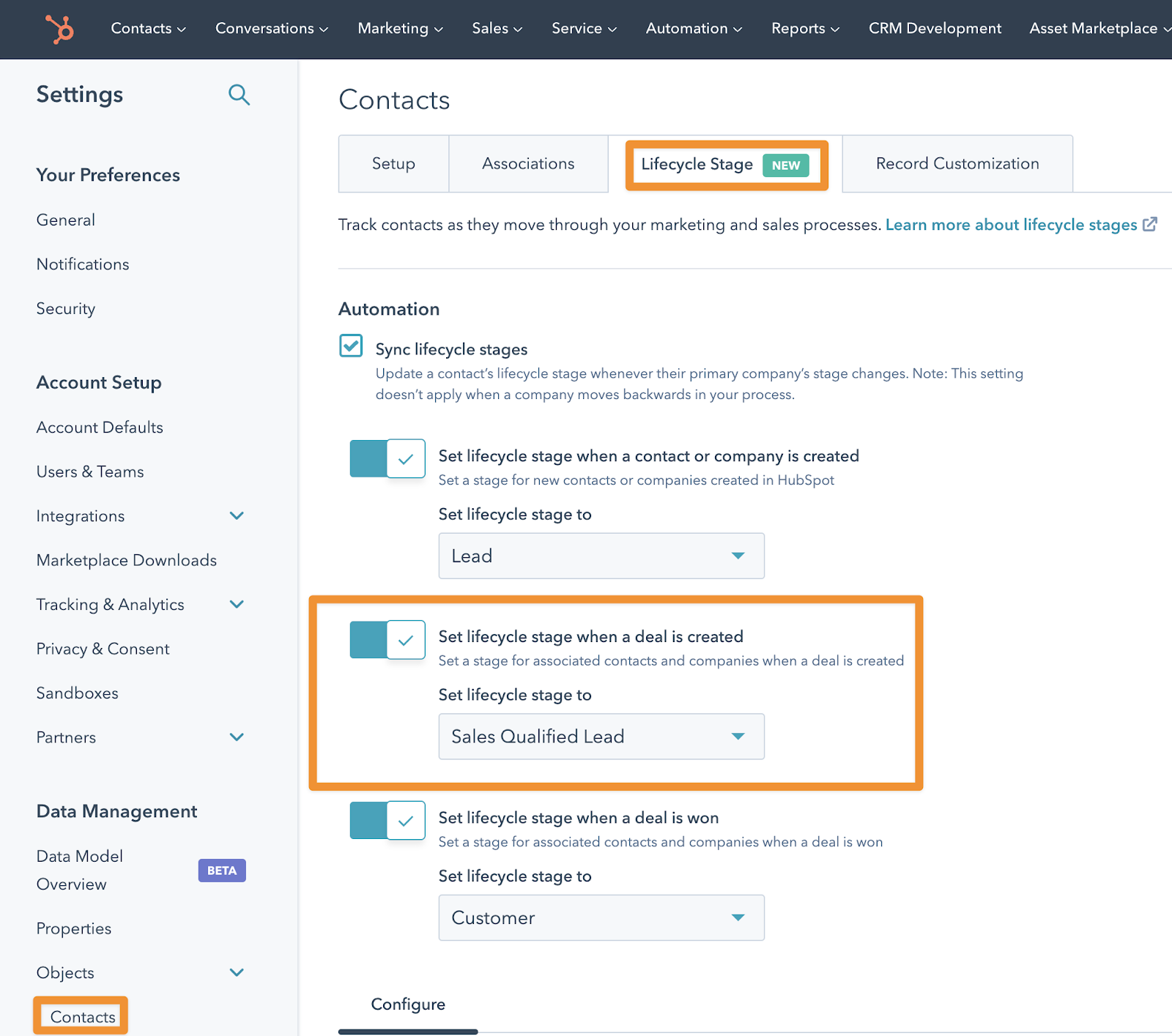 You can also set default for Contact creation and Deal won. For example you may not want to set a contact to be a Customer when a Deal is won. Instead you may have an internal process with accounts that requires the contact to pay a deposit before they are marked as a customer.
---
👨‍🔧 Shot 5: HubSpot Service Feature of the Week
Ticket Portal settings
You can control whether a contact who logs into your customer portal can see all the tickets for their company (or just their own).
You can set this easily enough: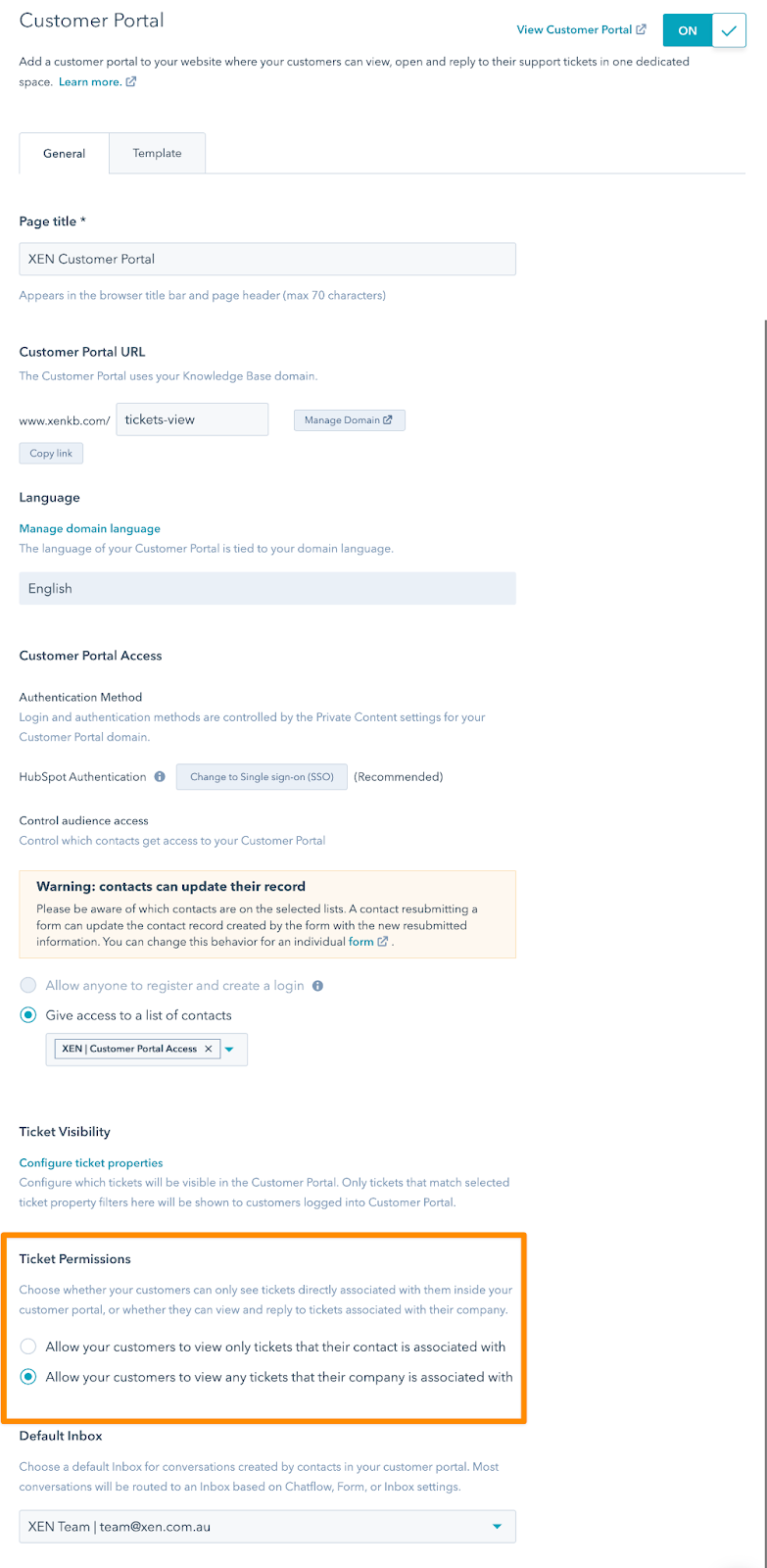 However, note that this is a global setting - it is not per pipeline.
Ideally this would be set at the Ticket pipeline level, as it is common for companies to have internal and external support queries.
For external clients, giving them access to all their company's tickets likely makes sense.
But for internal team member support pipelines, it can be problematic.
---
🔧 Shot 6: HubSpot Gotcha of the Week
Re-engagement Campaigns getting accounts suspended
Learn from my mistake!
We started running some re-engagement campaigns for clients (ie as per HubSpot's re-engagement guidance blog post).
The process was really simple - send an email to contacts we haven't emailed for a few months, asking them if they'd still like to hear from us.
The contacts were all legit contacts (ie form submits on the site - nothing imported, purchased etc).
All contacts were less than a year old - most were 3-6 months old (ie nothing from years ago)
The email we sent was really simple - and included a nice big Unsubscribe link - making it easy to unsubscribe.
We even split up the list of contacts into lists of 100 or so - we wanted to make sure they didn't get marked as spam.
Guess what, a bunch of contacts unsubscribed. Exactly as we wanted.
But HubSpot then suspended the accounts for having high unsubscribe rates! Doh!
Here's an example from one account:

Note: there wasn't a single spam complaint. Only unsubscribes.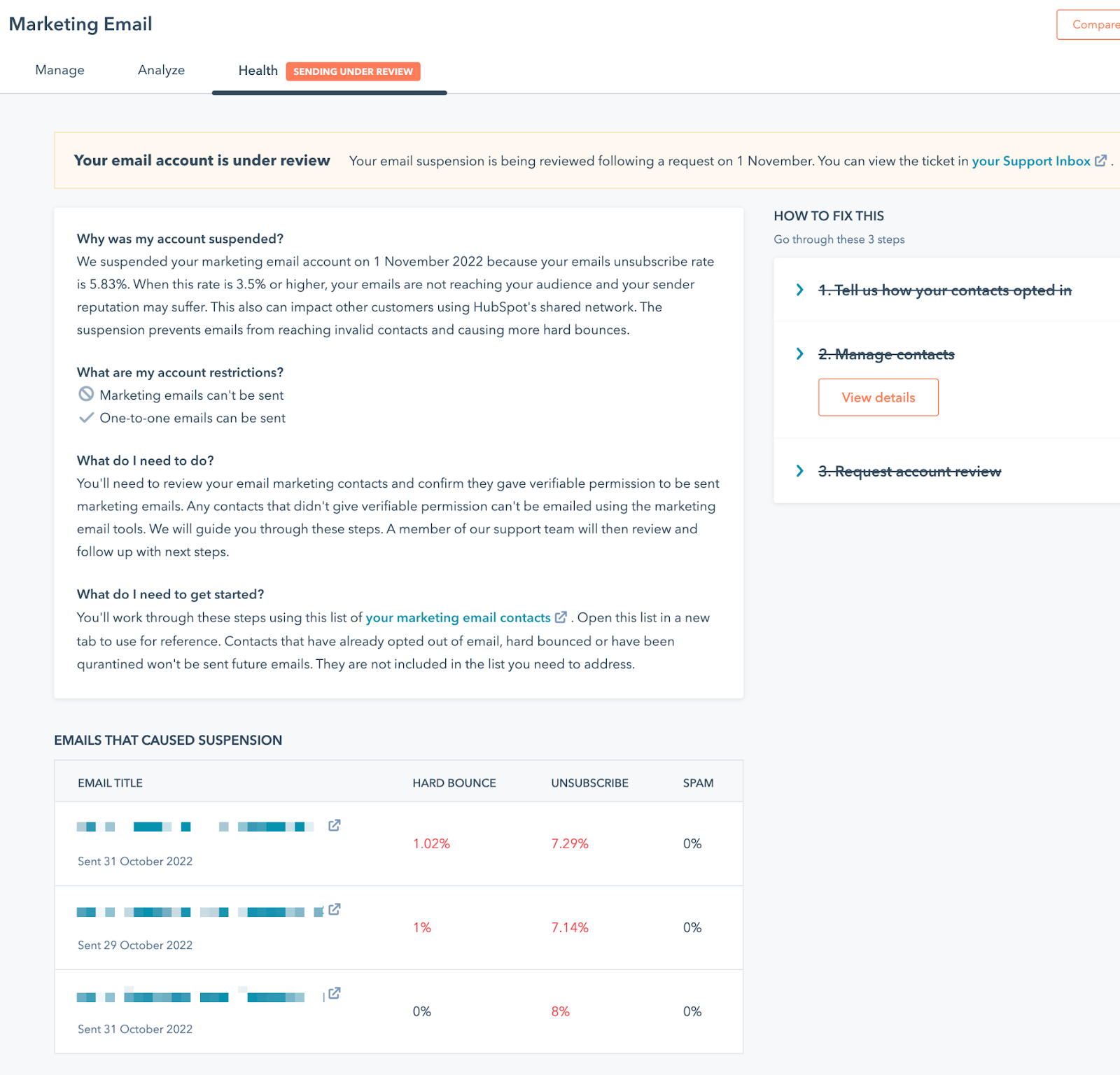 The accounts are currently getting reviewed by HubSpot and the portals will likely have the suspension lifted.
But it shows how easy it is to get yourself in trouble - even when you're doing things correctly.
Here's the takeaways:
Yes, do run an engagement campaign
But instead of making the call-to-action to Unsubscribe, flip it to be a call-to-action to Confirm their interest (ie a Permission Pass email)
Start with a small list, and if the unsubscribe rate on the first email you send is higher than 5% think twice about continuing
What's your experience with sending re-engagement campaigns?
UPDATE: Adding this note after we recorded the episode - HubSpot Support did unsuspend the accounts quickly once we put in a Review request. So that's a relief. Thanks HubSpot!
---
💡 Shot 7: Insight of the Week
Gratitude Reminder
If you've been reading the news headlines lately you could be forgiven for thinking the world is a disaster (floods, fires, wars, people getting trampled in Halloween celebrations, school shootings, musicians dying and it goes on and on).
This is a reminder to take a step back, turn off the news headlines for a few days, and instead focus on being thankful for the good things in your life. Your friends, your family, your work colleagues.
Challenge: write it down in your journal/paper and stick it up on the wall or bathroom mirror so you see it all the time!
And yes, I'm preaching to myself here.
---
🏈 Shot 8: Listener Question of the Week
How Can I Stop My Personal Emails Getting Logged into HubSpot?
Here's the scenario:
"I love the option in Outlook and Gmail to automatically log my emails into HubSpot, but sometimes I accidentally log personal emails that I send my partner into HubSpot - is there any way I can stop this?"
Answer: Yes, HubSpot's Never Log settings are your friend
You'll find these in your Profile settings: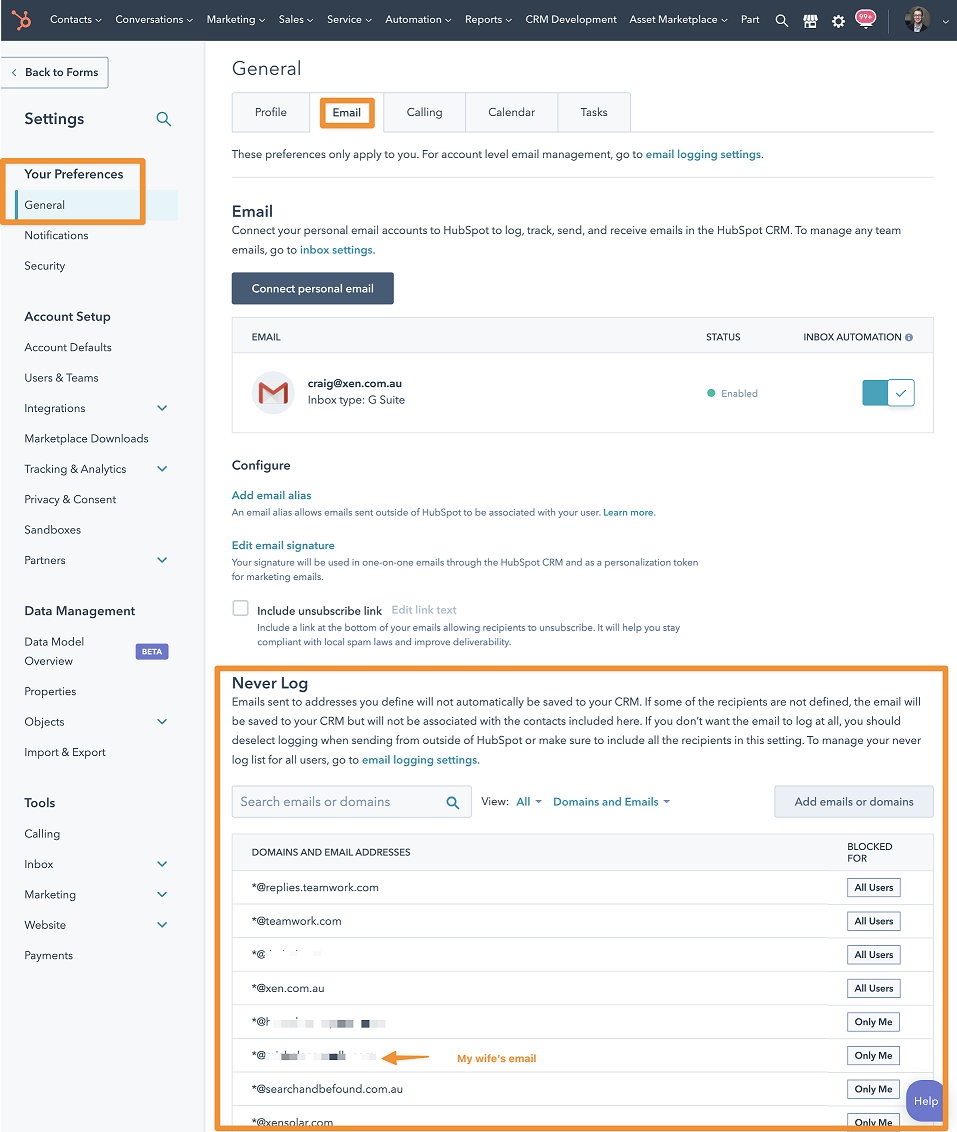 Here's some of the email domains I set (ie so that nothing is ever recorded in HubSpot when I email them):
My wife
Family members
Personal finance related emails
As well our own domains (ie Team members)
Other system notification based (eg Teamwork)
You can also set up global domains that apply to all users in your portal - this is managed from the email settings: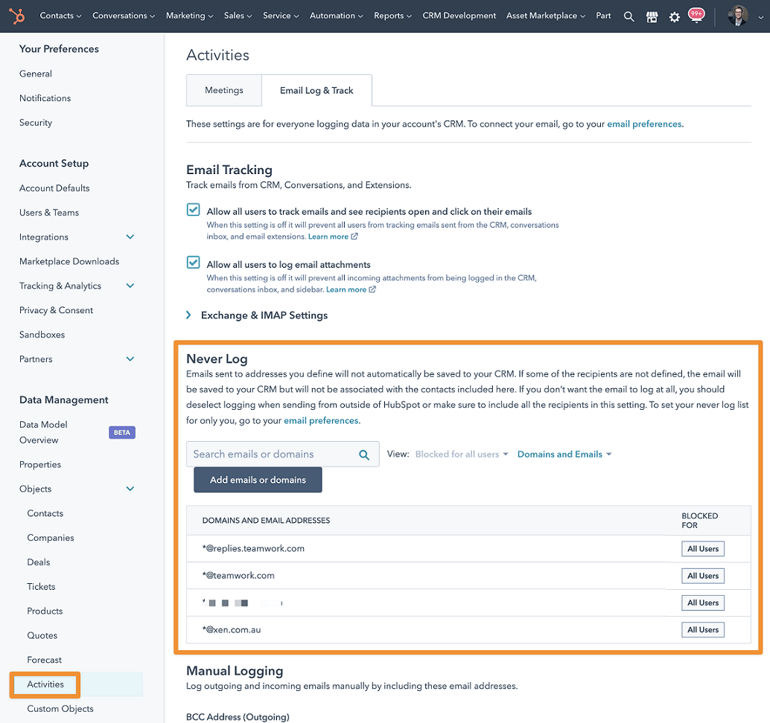 ---
📚 Shot 9: Thought of the Week
The Joy of Unread Books
This started as a conversation between us as we reflected on the books we were reading and going back to.
You might think that buying a book and not reading it is a waste… and what about a library full of books you've never read - what a massive waste!
Some thoughts:
Having a pile of unread books is a visual reminder of how little you know - a reminder to be constantly learning
It's also a reminder that you have choices - choose only those things that will help you grow (ie growth is better than obligation)
There's a time for each book - I've started many books over the years, but then left them, only to return when the time was right
Are you proud of all the books you have read, or curious about all the books you haven't?
My wife wrote about this here, and this article on farnam street is also worth reading.
---
✍️ Shot 10: Quote of the Week
"Money doesn't mean anything to me. I've made a lot of money, but I want to enjoy life and not stress myself building my bank account. I give lots away and live simply, mostly out of a suitcase in hotels. We all know that good health is much more important". - Keanu Reeves
---
🏋️ Shot 11: Need help with your HubSpot Portal?
HubShots HubSpot QuickCheck
Our new HubSpot QuickCheck service has been popular with companies who are looking for a quick review of their HubSpot portal to understand:
Are there parts of HubSpot I'm not using yet that I should be?
Am I using best practices in the key parts of HubSpot (eg Workflows, Forms, Emails, Landing Pages, Lists, Deals, Reports)?
Are there any ways I'm using HubSpot that are cause for concern that I need to address?
Are my processes efficient (eg qualifying new leads, creating tickets, managing Marketing Contacts, etc)?
My renewal is coming up - is my HubSpot subscription giving me good value?
Should I consider upgrading my Hub or adding new Hubs into my portal (eg I'm using Marketing Hub, should I consider Service Hub)?
If you're asking yourself any of these questions, our QuickCheck call might be ideal. Here's the details:
We organise a 90 minute Zoom or Teams call with you
On the call we start by getting a brief overview of your business, your goals and how you currently use HubSpot
We then guide you through our 50 point checklist through your portal, to gain a high level understanding of how well you are using your portal
We provide recommendations for improvements, features to use, and processes for increasing efficiency
Pricing is available on the site
You can view more details and book in your session here.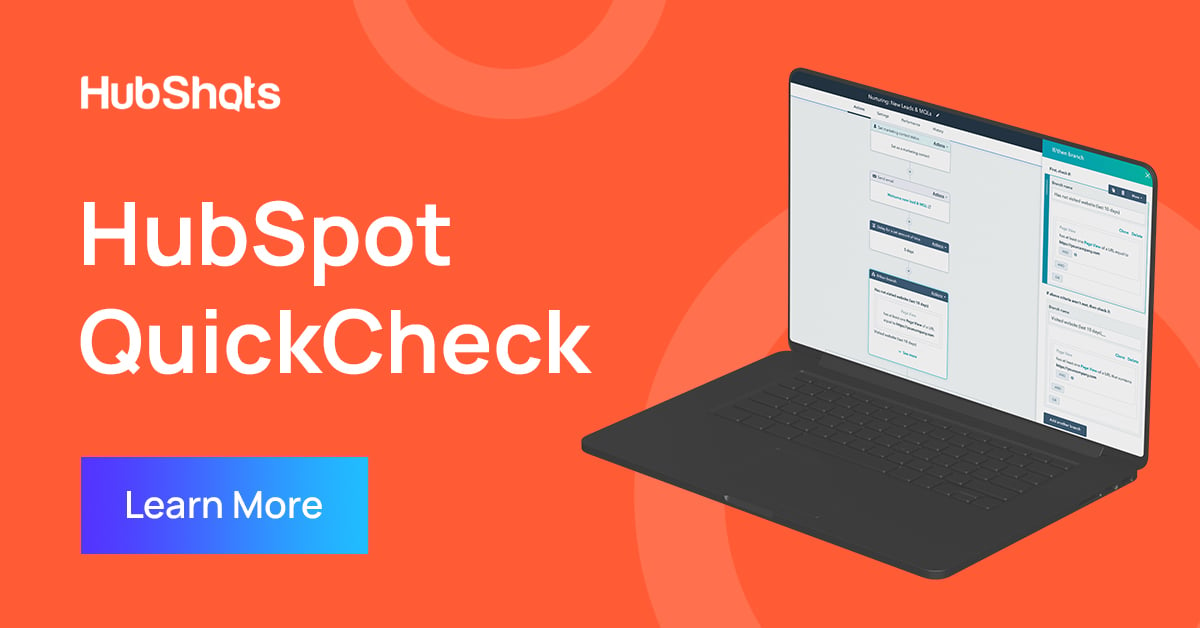 ---
🧲 Shot 12: Follow Us on the Socials
Connect with HubShots here:
Connect with Ian Jacob on LinkedIn and Craig Bailey on LinkedIn
---
HubShots, the podcast for marketing managers and sales professionals who use HubSpot, hosted by Ian Jacob from Search & Be Found and Craig Bailey from XEN Systems and XEN Solar.
HubShots is produced by Christopher Mottram from Podcastily.
We record using Riverside.fm (<= affiliate link)
Please share this with colleagues - it helps us improve and reach more marketers.
---