Welcome to Episode 30 of HubShots!
Recorded: Tuesday 19 April 2016
Welcome
We made it to episode 30 - here's to producing episode 50 before we get to Inbound...!
How many days to INBOUND16 > https://hubshots.com/inbound-countdown/
Shot 1: Inbound Tip of the Week
HubShots Inbound16 Meetup
Nervous about not knowing anyone at Inbound? Don't worry - we're organising a meet up on the first night so you can meet a friendly face.
Inbound prediction: Bill and Melinda Gates will be speakers
Alec Baldwin has just been announced as a keynote speaker: https://www.inbound.com/
Shot 2: HubSpot Feature/Tip of the Week
Add both a link and an image CTA in emails - otherwise Google Apps might sometimes not show images.
Action item: Get Feedback from recipients about whether your CTA images are showing in emails
Using HotJar with HubSpot: http://docs.hotjar.com/docs/using-hotjar-with-hubspot
Action item: If you are using HotJar (click tracking tool) with HubSpot make sure you use the integration
Shot 3: Challenge of the Week
Understanding what is important to clients and not to us.
Action item: Get Feedback about what is *really* working (use data and subject matter expertise, not ignorance)
Shot 4: General Tip of the Week
Using Facebook page promotion - going old school :-)
Just because something stopped working a while back, doesn't mean it hasn't changed since them.
Action item: Retest old tactics again to see if they've changed in their effectiveness
Shot 5: State of Inbound Item of the Week
Feedback about what Buyers want from Sales: https://research.hubspot.com/reports/buyers-speak-out-how-sales-needs-to-evolve
3 Key Takeaways:
1: demos are part of the awareness stage
Interesting behaviour trend:
"Our data shows that a third of buyers want the opportunity to see a product in action very early on. They want a very tangible understanding of what they're potentially buying, and they want it right away."
How you can respond:
"Most teams can't spare valuable sales time on a early product demo before a buyer is properly vetted. A pre-recorded video demo that is clearly visible on a vendor's website can satisfy the buyer's content needs and has the potential to be an useful prospecting and qualifying tool for companies that have products that require demonstrations."
2: what buyers want versus what sales want to discuss on the first sales call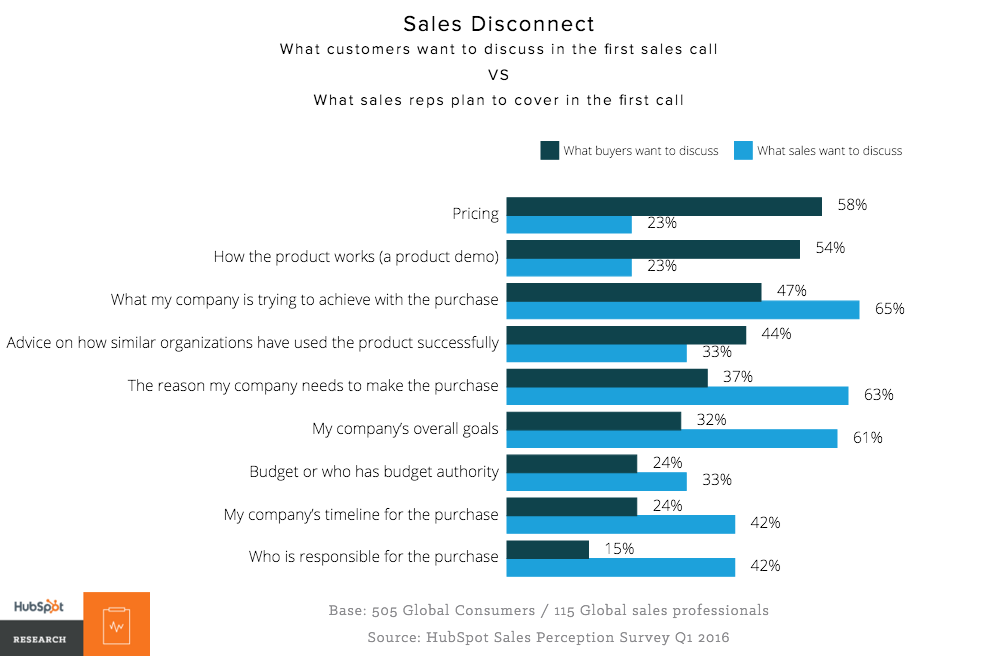 Action item: use this feedback about the sales disconnect to help change your approach to sales calls
3: Customer service generate the most trust, marketing content is next, ahead of sales, PR and advertising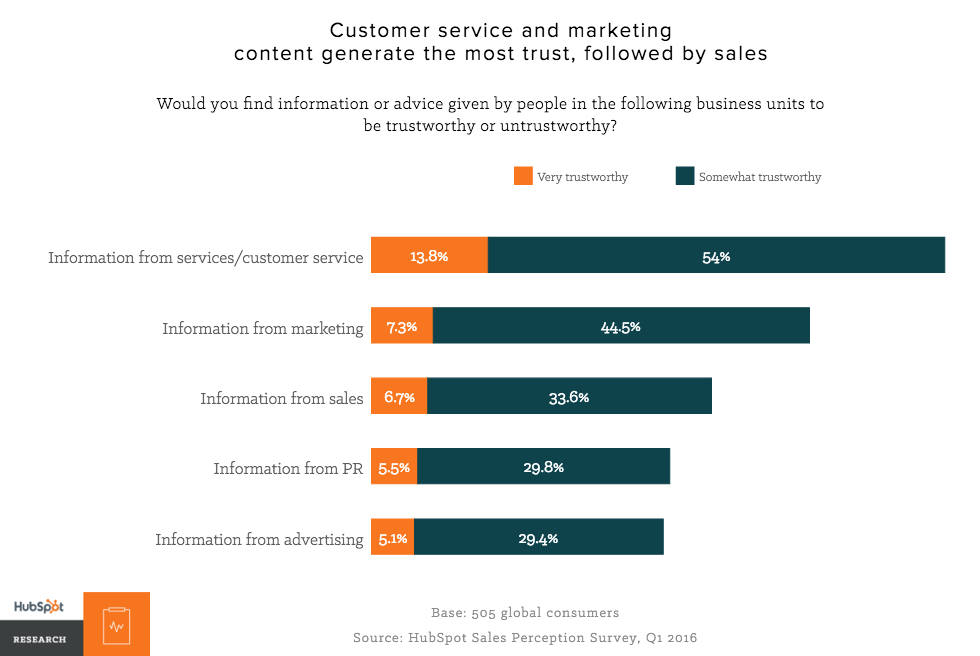 This is really useful feedback!
Action item: Incorporate the Customer Service team into your Buyer's journey
Take 15 minutes to do the State of Inbound Report: http://www.stateofinbound.com/
Direct link to the survey: https://soi2016.questionpro.com/
Shot 6: Motivation of the Week
Feedback from a customer.
Web site grader - customer sent me their bad grader with SEO: https://website.grader.com
Need help improving your website grader score? fill out this form: https://hubshots.com/website-grader-help/
Shot 7: Resource of the Week
HubSpot Connect partner - Beacon: www.beacon.by
@beacon_by
Available on App Sumo for $25 - use AppSumo for testing and getting feedback: http://www.appsumo.com/beacon/
Shot 8: Podcast of the Week
Caught up on my HubCast listening - some good tips from George and Marcus: http://www.thesaleslion.com/the-hubcast-86-smart-content-cost-articles-hubspot-favicons/
Helpful feedback on how to write a cost article: http://www.thesaleslion.com/how-to-write-cost-article-template-tips-instructions/
Leave us your feedback - how can we improve the show to give you more value? Leave us a comment or use our Contact Us page: https://hubshots.com/contact/
[one_third_first]


[/one_third_first][one_third]

[/one_third][one_third_last]

[/one_third_last]