Welcome to Episode 36 of HubShots!
Recorded: Monday 30 May 2016
Welcome
Shot 1: Community Item of the Week
Facebook Q+A:
A good discussion by Facebook Marketing experts discussing both B2B and personal Facebook advertising: https://inbound.org/discuss/we-are-facebook-marketing-experts-ask-us-anything
Facebook Strategy:
Lots of people asking if Facebook is good for B2B - some really good answers there. Summary: if done well, YES!
Lots of people suggesting LinkedIn is better - but the point is to:
Test both
They aren't mutually exclusive (ie you don't need to choose just one)
Facebook Tactical (example answer from the Q+A):
What strategy would you suggest for generating leads for B2B business through Facebook?
I would suggest using the Facebook as a "horn" for your blog and not to use it as TOFU channel and directing traffic to landing pages.
Try directing the traffic to your relevant blog posts using "Post Engagement" ad type or "Website Clicks".
Once the users are on your blog - convert them using Calls to Action that lead to a premium content offer on a landing page.
As for the targeting - try using the interest and demographics targeting options - especially the roles and industry they are in.
If you have a solid user base try creating a lookalike audience and target that. (Using the lookalike audience requires at least 1000 contacts from the same country to get good results).
users that hadn't converted from your blog posts (hadn't clicked the CTAs) - try remarketing to them the premium content offer directly from facebook.
This time try to use the Website Conversions campaign.
It's vitally important to measure the results, especially through to leads and customers, not just engagement and vanity metrics.
HubSpot has a source in their sources report called Paid Social, because they've seen how important social is as a channel for companies.
Now, onto some HubSpot items:
Shot 2: Inbound Thought of the Week
We're organising a meetup with Moby - let us know your prefered App to use: Facebook, WhatsApp, Inbound, Twitter, etc by answering this poll on Twitter: https://twitter.com/HubShots/status/738260681711980544
Prediction: Whitney Johnson as a speaker: http://whitneyjohnson.com/
Author of Disrupt Yourself: http://disruptyourselfbook.com/
She talks about the S curve of personal improvement.
How to process failure, removing entitlement hurdles, avoiding comfort, etc
Shot 2: HubSpot feature/tip of the Week
Minor Navigation Change - Contacts
To provide a better user experience and create consistency across our different apps, we are making a minor change to the HubSpot navigation. The Contacts menu is moving to the second item in the nav (just to the right of Dashboard) on all portals.
This change is only meant to provide a consistent experience and doesn't change how the product works in any way.
Previous navigation:

New navigation:

Craig likes this change because it is an example of improving the user experience but also shows how the update was communicated to users. There would have been a full campaign around rolling this out and informing users.
Shot 3: Challenge of the Week
Marketing joke of the week: http://blog.hubspot.com/blog/tabid/6307/bid/33983/10-Cheesy-Marketing-Jokes-to-Tickle-Your-Funny-Bone.aspx
How many marketers does it take to screw in a light bulb?
None -- they've automated it.
Shot 4: State of Inbound Item of the Week
Highly recommended if you are in Sydney: http://offers.hubspot.com/grow-with-hubspot-sydney
Shot 5: Motivation of the Week
Google future thinking: https://googleblog.blogspot.com.au/2016/05/io-building-next-evolution-of-google.html
The assistant is an ambient experience that will work seamlessly across devices and contexts. So you can summon Google's help no matter where you are or what the context. It builds on all our years of investment in deeply understanding users' questions.
Shot 6: Resource of the Week
http://www.journalism.org/2016/05/26/news-use-across-social-media-platforms-2016/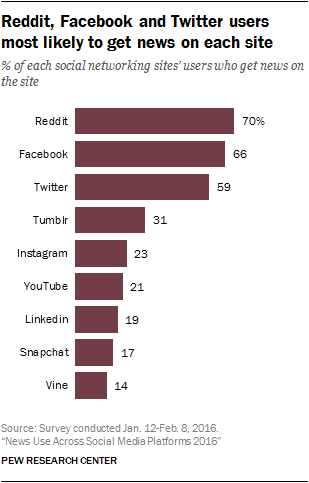 My comments: http://www.craigbailey.net/instagram-news-source-apparently/
Shot 7: Community Item of the Week
For the more technically minded or geeky amongst our listeners - Tom has a few hacks for adding Facebook messenger onto your website as a chat option: http://tomcritchlow.com/2016/05/10/facebook-livechat/
Craig has implemented this on his personal blog: http://www.craigbailey.net/
and agency site: http://xen.com.au/
Shot 8: Podcast of the Week
Seeking Wisdom podcast: http://seekingwisdom.io/
Latest episode covers the power of focusing on one big goal
Shot 9: App of the Week
Pages - Facebook Pages Manager
Facebook Groups app is also quite useful if you want to avoid the distractions of the main news feed :-)
And finally:
How much does a hipster weigh?
An insta-gram.