Welcome to Episode 90 of HubShots!
Welcome to HubShots, the podcast for marketing managers who use HubSpot hosted by Ian Jacob from Search & Be Found and Craig Bailey from XEN Systems.
Listen to it here: https://soundcloud.com/hubshots/090-hubspot-social-tools-facebook-ad-hacks
Join our WhatsApp group here: https://hubshots.com/whatsapp/
Join the Facebook group here: https://www.facebook.com/groups/1608138752821574/
Recorded: Thursday 08 June 2017 | Published: Monday 26 June 2017
Shot 1: Inbound Thought of the Week
Google getting closer to understanding the complex paths (Google Attribution) people take on their purchasing journey
https://adwords.googleblog.com/2017/05/powering-ads-and-analytics-innovations.html
Store Visit Conversions (initially started back in 2014)
https://support.google.com/adwords/answer/6100636
Now getting a lot smarter:
https://adwords.googleblog.com/2017/03/new-measurement-innovations-unlock-more.html
Shot 2: HubSpot Marketing Feature of the Week
New Social Media Tools
This looks like the first update in the line of many. Overall I think it is an update that was long overdue and has certainly made it easier to do social publishing. There are a few things like the calendar chooser that does not update pointing to items that are already scheduled.
https://www.hubspot.com/product-updates/now-live-opt-in-the-new-social-media-tools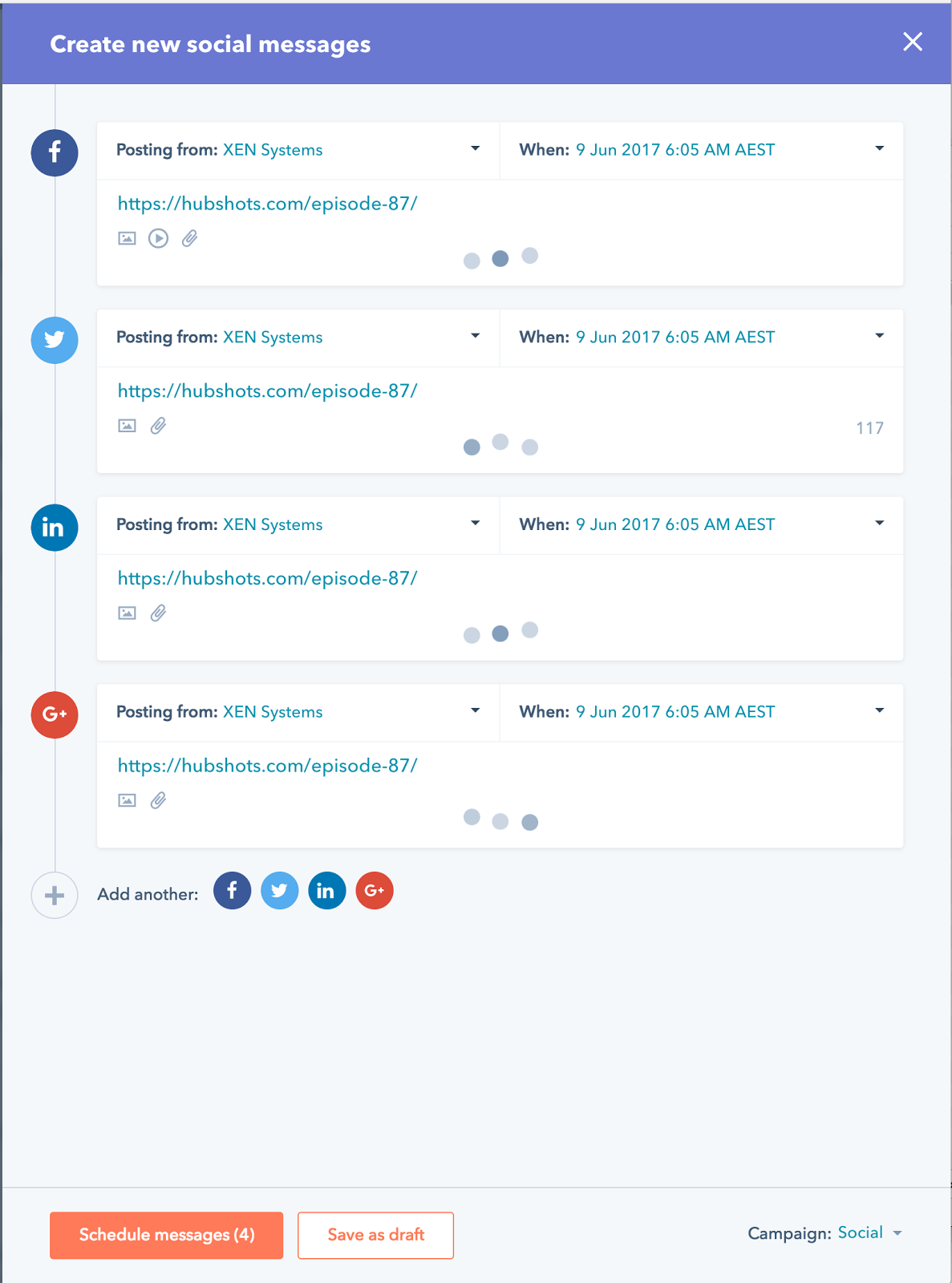 Shot 3: Marketing Tips of the Week
1. Blog post PDF downloads
Use HubSpot Lead Flows to offer a PDF of the blog post the visitor is on.
2. Language testing: Waste versus Save
Save on your electricity bill versus Don't waste money on your electricity
Shot 4: HubSpot Sales Feature of the Week
Creating a Contacts View to see all contacts that have had no activity on them since they have submitted a form. We created a view where the Last Activity Date is unknown.
Why? So we can see make sure people are followed up and CRM is updated appropriately.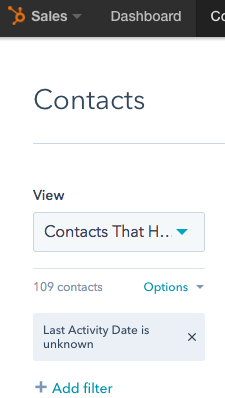 Shot 5: Opinion of the Week
Is Marketing a part of the Sales Team?
If Sales understand inbound marketing, then yes, having marketing as a part of sales works well.
The litmus test is if sales understand the sales/marketing alignment approach, the value of SLAs and the are able to commit to closing the loop on marketing results via sales.
Shot 6: Podcast of the Week
Evolving SEO
Excellent interview with Corey about the geekier parts of SEO
http://www.evolvingseo.com/2017/05/30/070-corey-eulas/
Shot 7: Resource of the Week
Bookmark this one - Facebook ad hacks:
https://copyhackers.com/2017/05/36-facebook-ad-hacks/
Here's the first hack - to whet your appetite:
Facebook ad hack #1:
Add your value prop to the image.
By adding your unique value proposition right in the ad image, it will get noticed the moment someone looks at your Facebook ad.
If you're unsure where to start, read the guidelines by ConversionXL. A good value proposition:
Explains how your product solves your customers' problems or improves their situation (relevancy)
Delivers highly specific benefits (quantified value)
Tells the ideal customer why they should buy from you and not from the competition (unique differentiation)
Make sure your UVP is customer-focused, not just showcasing your product's features. A good USP is not easy to pull off.
Shot 8: Quote of the Week
"Something happens when you feel ownership. You no longer act like a spectator or consumer, because you're an owner. Faith is at its best when it's that way too. It's best lived when it's owned."
― Bob Goff
Shot 9: Bonus Links of the Week
Other stuff we've been reading and recommend, but had to cut from the show:
https://moz.com/blog/should-seos-care-about-internal-links-whiteboard-friday
https://blog.hubspot.com/customers/get-started-with-lead-flows
https://m.signalvnoise.com/if-youre-reading-this-you-probably-don-t-do-hard-work-41585c1c16a7
http://labs.openviewpartners.com/hubspot-saas-growth-strategy/?#.WTkNMBOGN45
Tool to investigate:
https://thenextweb.com/google/2017/05/26/google-data-gif-maker/#.tnw_PwExtM5T
https://datagifmaker.withgoogle.com/edit
Some of Craig's reading:
https://getpocket.com/@craigbailey
Please rate and leave us some feedback as this helps us.