Welcome to Episode 55 of HubShots!
Welcome to HubShots, the podcast for marketing managers who use HubSpot hosted by Ian Jacob from Search and Be Found and Craig Bailey from XEN Systems.
Recorded: Monday 17 October 2016 | Published: Thursday 20 October 2016
Welcome
Shot 1: Inbound Thought of the Week
http://inboundcountdown.com - 22 days left!
If you could meet one speaker and chat with them, who would it be?
Shot 2: HubSpot Feature/Tip of the Week
The new dashboard offers more robust performance graphs to track the success of emails over time, and provides actionable tips to help boost your email metrics.
Easily manage your emails.
More comprehensive email performance data at a glance.
Tips to improve your emails.
Easily make comparisons across multiple emails.
Discover emails with the highest bounces, unsubscribes, and spam reports.
More control over your reporting timeframe.
http://www.hubspot.com/product-updates/new-email-dashboard
Moving to the familiar Manage and Analyze format of having two tabs for viewing email details
Now Officially Live > HubSpot Projects - listen to episodes 50, 51 and 52 for examples of using the Project tools
Shot 3: Challenge of the Week
Delivering the WOW.
Shot 4: Stat of the Week
Nathalie Nahai - Conversions@Google 2016
https://www.youtube.com/watch?v=Z0JQtCJI84U&app=desktop
A rating of 3.9 and above leads to higher conversions, 3.8 or less can impact conversions
https://www.nathalienahai.com/
Shot 5: Opinion of the Week
The One Email Tactic That Publishers Shouldn't Ignore
https://contently.com/strategist/2016/10/14/better-newsletter/
Consider using newsletters to test exclusive content, as well as testing ideas before they make it into a formal offering.
Shot 6: Pro Tip of the Week
Also our Podcast of the Week: http://www.superfastbusiness.com/list-all/
10 Classic Facebook Advertising Mistakes ( And How To Fix Them)
http://www.superfastbusiness.com/business/501-10-classic-facebook-advertising-mistakes-and-how-to-fix-them/
02:07 – Are you tracking conversions?
03:18 – You NEED this pixel
06:18 – Target with dedicated audiences
08:52 – What's a Lookalike Audience?
10:23 – Not all interests belong together
11:42 – Why you have to exclude
12:59 – Do you really need all those placements?
15:32 – Too broad or too large
17:16 – You have to have a strategy
19:28 – What you need to test
22:27 – Social proof defined
23:08 – The role that images play
24:53 – How to carry over social proof
Shot 7: State of Inbound Item of the Week
http://www.stateofinbound.com/
Content
Marketing teams today use a wide range of resources to write their blog content. From what we see the majority of the heavy lifting is done by staff, but executives, freelancers and even guest posters help fill the blog queue.
The participation rates across the board are higher in 2016, pointing to continued investment in creating blog content.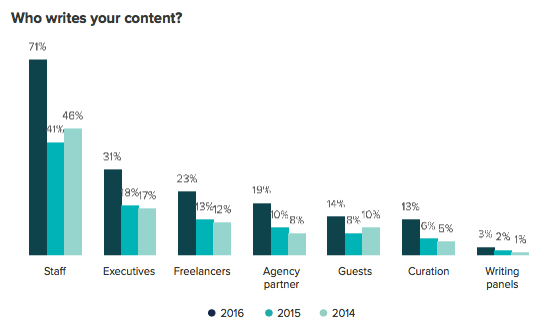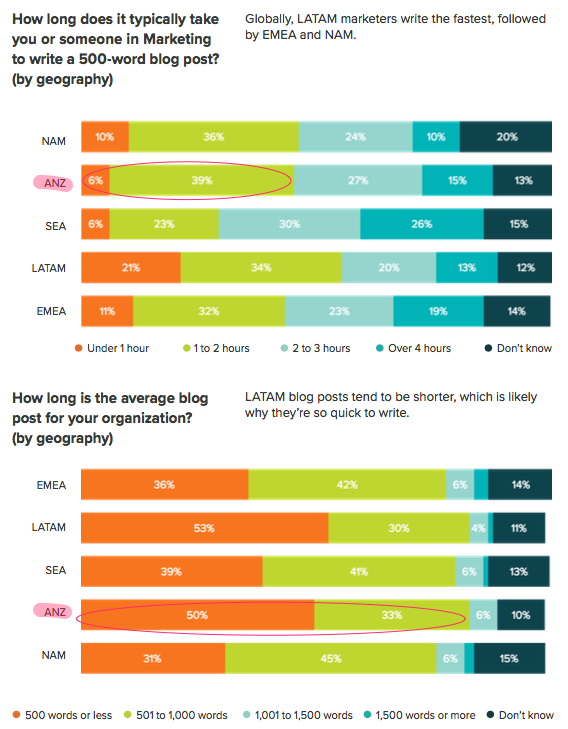 In terms of time taken to write a 500 word blog post in ANZ is looks on par with North America.
Average blog post length is under a 1000 words with a high percentage being 500 words or less.
Shot 8: Resource of the Week
https://inbound.org/article/how-to-calculate-the-cac-of-content-marketing-spreadsheet-model-included
https://www.growandconvert.com/content-marketing/customer-acquisition-cost/
Shot 9: Podcast of the Week
Moby Siddique interviews George B Thomas on Inbound Buzz:
https://www.redpandas.com.au/ep33/
https://twitter.com/georgebthomas
Shot 10: Thought of the Week
What a Decade of Working in Digital Marketing Has Taught Me
https://moz.com/ugc/what-a-decade-of-working-in-digital-marketing-has-taught-me
"Each channel has unique traits that make it right for different purposes. The point is to simply look at your goals and work backwards to see which channel(s) are better for achieving them."
~ Gabriel Goldenberg
Shot 11: Quote of the Week
"I learned a lesson I'd never forget. The lesson was that, when you have setbacks and failures, you can't overreact to them."
― Angela Duckworth, Grit