Welcome to Episode 72 of HubShots!
The 20th Anniversary Edition!
Welcome to HubShots, the podcast for marketing managers who use HubSpot hosted by Ian Jacob from Search & Be Found and Craig Bailey from XEN Systems.
Join our WhatsApp group here: http://hubshots.com/whatsapp/
Join the Facebook group here: https://www.facebook.com/groups/1608138752821574/
We're also testing a new Facebook Messenger HubShots Room: https://www.messenger.com/t/1099519836821248
https://m.me/g/AbYPyswc4gtK5d5c
Recorded: Wednesday 15 February 2017 | Published: Saturday 18 February 2017
Shot 1: Inbound Thought of the Week
#growthbotwisdom
Hat Tip to Justin Theng (@justintheng)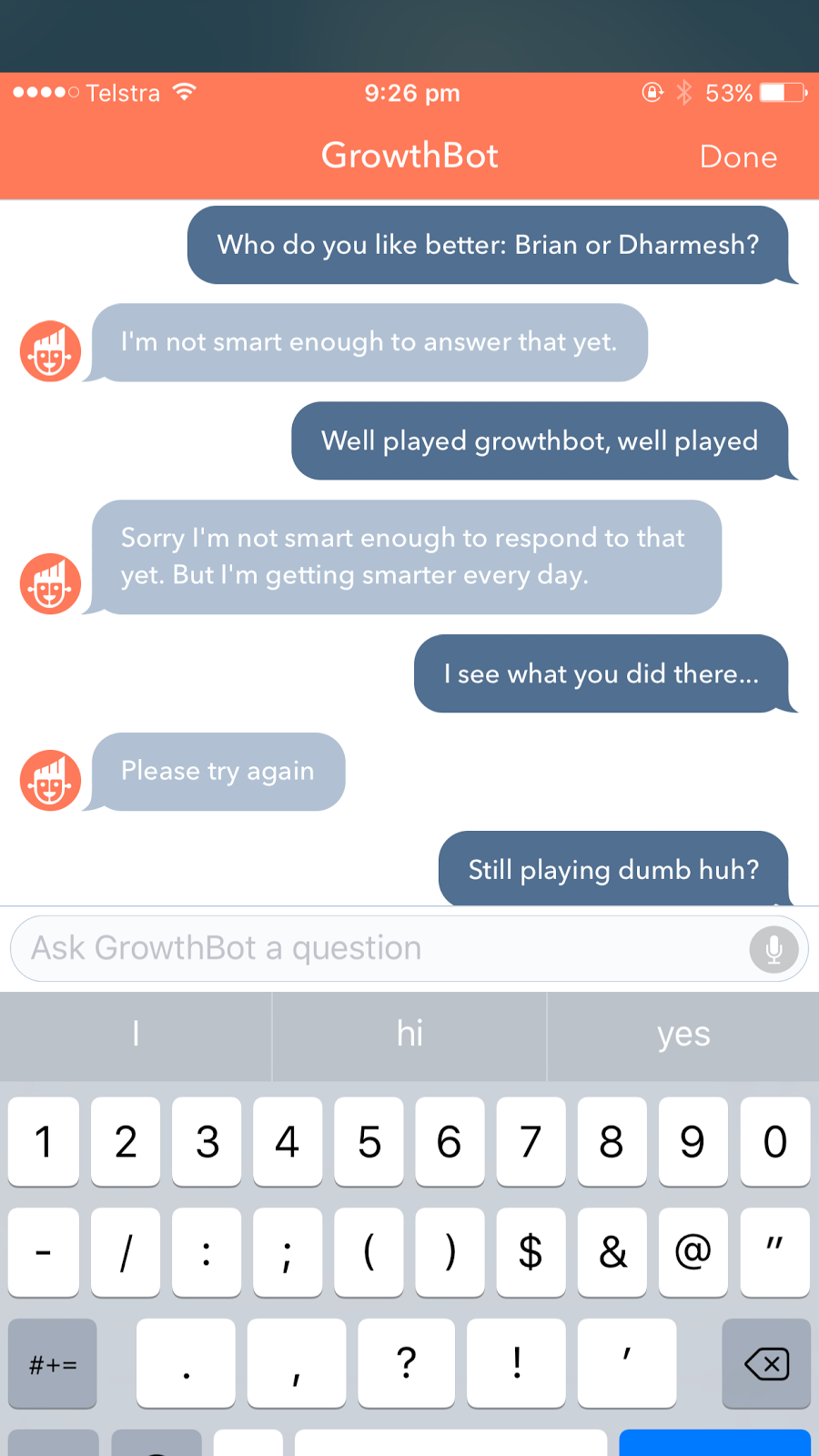 Shot 2: HubSpot Marketing Feature of the Week
Setting the HubSpot Owner on contacts
From the Marketing side, make a smart list of all the contacts who don't have an Owner set: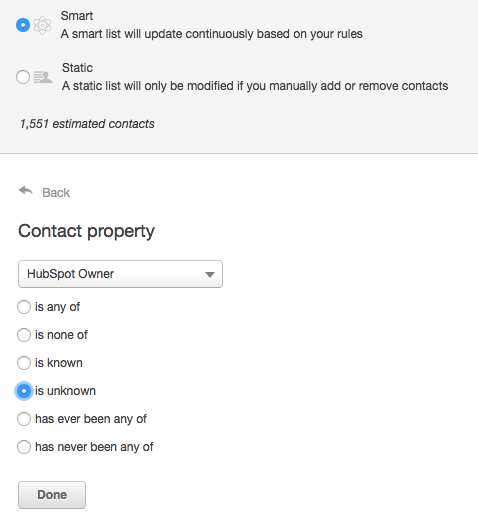 Then, you can do any of the following:
Individually edit each contact
Enrol contacts into a workflow to set their Owner: https://knowledge.hubspot.com/articles/kcs_article/contacts/how-to-set-an-owner
Rotate owners in a Workflow when the contact is created: https://knowledge.hubspot.com/articles/kcs_article/workflows/how-can-i-automatically-distribute-my-leads-evenly-to-different-hubspot-owners
From the Sales (CRM) side, create a filter of contacts who are missing the Owner: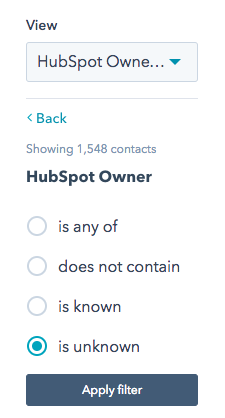 And then you can either:
Individually edit each contact
You can also:
Set HubSpot Owner when importing: https://knowledge.hubspot.com/articles/kcs_article/contacts/can-i-import-a-hubspot-owner-for-contacts-in-hubspot
Sync with Salesforce to set the owner (if you use Salesforce)
https://www.craigbailey.net/setting-hubspot-owner-contact-records/
Shot 3: HubSpot Sales Feature of the Week
You can add child companies to a company in HubSpot CRM:
https://www.hubspot.com/product-updates/introducing-parent-child-relationships-in-hubspot-crm
Note: a parent can have many children, but a child can only be attached to one parent ie there's no many-to-many relationships allowed.
Also, there's no data rollup – ie deals against a child company won't show against the parent.
Good use case: Government departments, divisions in big companies & franchises - because you can set the HubSpot owner on child companies
Shot 4: Cafe Consulting
Upcoming Cafe Consulting
Book in 30 minutes with us on 08 March in Sydney to discuss any HubSpot feature or topic. Book here:
https://hubshots.com/cafe-consulting/
Shot 5: Opinion of the Week
More on popups (from HubSpot last October):
https://blog.hubspot.com/marketing/pop-up-forms-analysis
Studies show 9.3% increase in conversions when using popups
Consider: Lead quality from popups
Moving past just the conversion %
I'd like to see some analysis of lead quality in these types of reports, I suspect lead quality is pretty low for these interruptive popups, but have no way to know.
Just anecdotally based on all the Lead Flows we've been running, we found that just asking for First Name and email got a much higher conversion rate (eg 5%+) but quality was low. We added Last Name and Company and quality is much better, but overall conversion rate is down (eg 3%).
Depends on what the goal is that the customer needs of course, but I'm more inclined to push for better quality, rather than clogging up the database with low quality leads.
Shot 6: Creative Top 10 of the Week
Craig's challenge to Ian:
Come up with 10 headlines for a blog post about employee onboarding using an Intranet
7 ways your intranet can help with onboarding new staff.
Want to know the most effective employee onboarding tool we use?
3 ways we use an intranet to onboard staff quicker
Want to know how to onboard staff in half the time?
How to 2x staff engagement when onboarding them.
Want to know how we avoid problems when onboarding new staff?
Managers, here is how to save time with employee onboarding.
Save yourself $11000 per employee when using this tool to onboard them.
Want to save time and have a consistent process with employee onboarding?
See how we transformed staff onboarding with this system.
Shot 7: Podcast of the Week
Listener tip
Recommended to us by Suellen - interesting opportunities with Facebook Messenger:
http://www.digitalmarketer.com/podcast/how-to-use-facebook-messenger-ads/
Shot 8: Resource of the Week
Demand Generation Statistic
Nearly 80% of companies not meeting their revenue goals attract 10,000 monthly website visitors or less. For those exceeding their revenue goals, 70% report attracting more than 10,000 visitors per month. (HubSpot, 2015)
Selling
Only 29% of people want to talk to a salesperson to learn more about a product, while 62% will consult a search engine. (HubSpot, 2016)
https://www.hubspot.com/marketing-statistics
Shot 9: Quote of the Week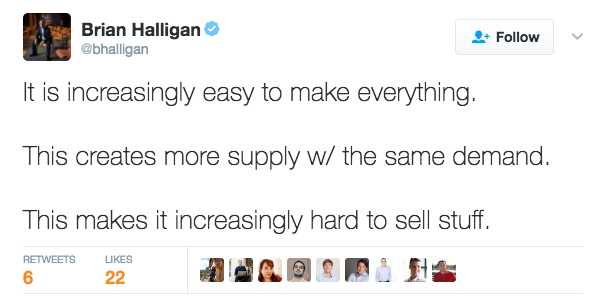 https://twitter.com/bhalligan/status/828819291734736896
Shot 10: Random Thought of the Week
Google is sooooo smart - I got the lyric wrong and Google still found the song that was in my head: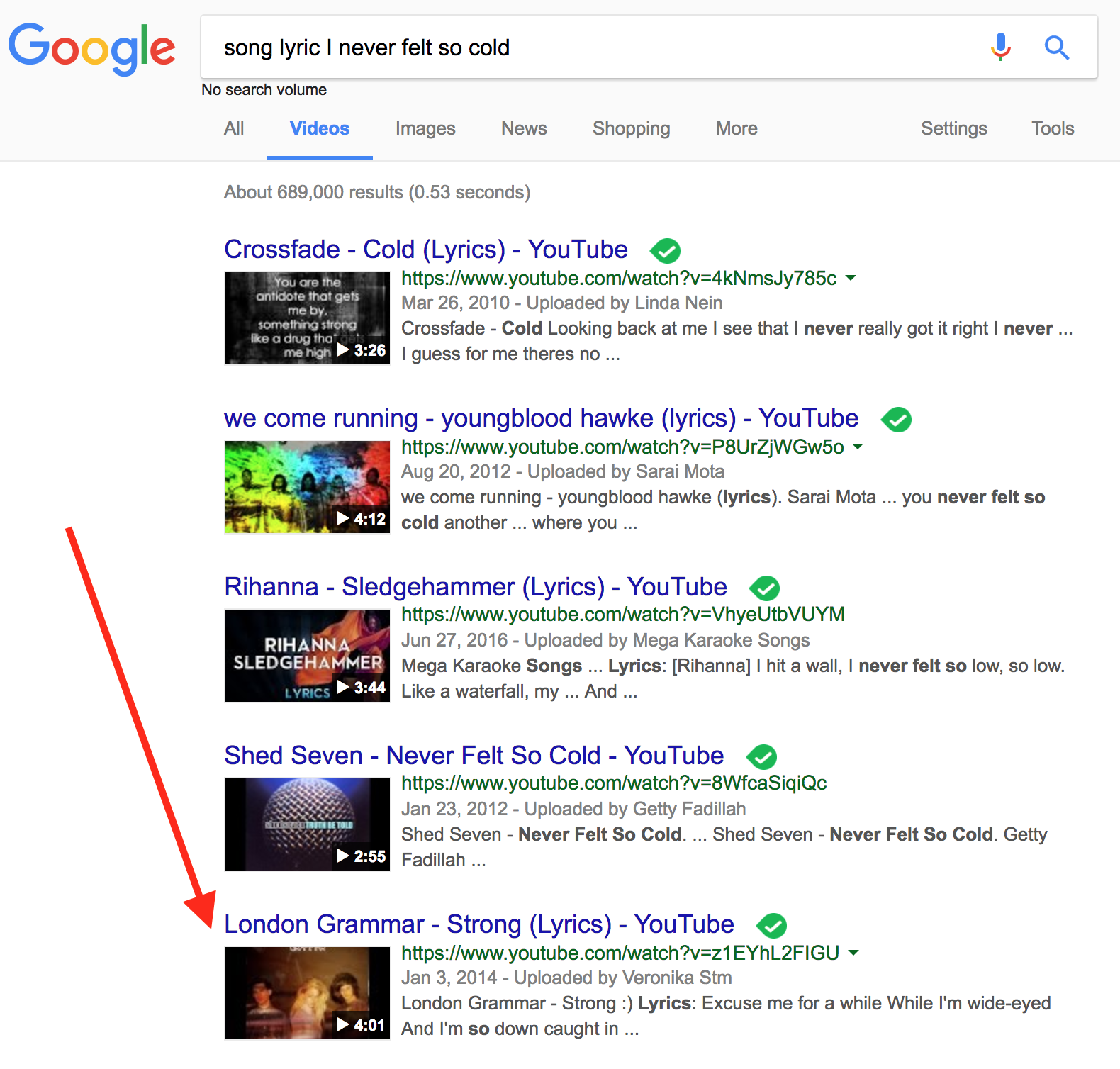 Shot 11: Bonus Links of the Week
Other stuff we've been reading and recommend, but had to cut from the show:
https://developers.googleblog.com/2017/02/whats-in-amp-url.html
https://warfareplugins.com/how-to-measure-social-media-roi-using-google-analytics/
https://bothsidesofthetable.com/mark-cuban-on-why-you-need-to-study-artificial-intelligence-or-youll-be-a-dinosaur-in-3-years-db3447bea1b4#.61iyclhut
http://kaiserthesage.com/enterprise-link-building/
https://medium.com/digital-vault/senior-marketing-execs-virtually-no-proof-social-media-ads-are-working-df3e0d41ef92#.4qjw9o8n1
https://medium.pjrvs.com/the-difference-between-tactics-and-strategy-in-marketing-28ac3aaa55cd#.ufmbhlsoj
"So before you start trying (or keep trying) random marketing tactics you read on industry blogs, think about why you're doing them. Are they a part of your overall strategic plan? If you don't have an answer for that, start thinking about your strategy first."
http://online-behavior.com/analytics/search-console-data-studio
I love contrarian thinking:
https://m.signalvnoise.com/why-the-hell-not-27c3fa735157#.8hfm8vsgj
Some of Craig's reading:
https://getpocket.com/@craigbailey
Craig' book recommendations
Disrupted by Dan Lyons - book review coming in the next few weeks
Please rate and leave us some feedback as this helps us.
Book in for Cafe Consulting here:
https://hubshots.com/cafe-consulting/