Welcome to Episode 85 of HubShots!
Welcome to HubShots, the podcast for marketing managers who use HubSpot hosted by Ian Jacob from Search & Be Found and Craig Bailey from XEN Systems.
Listen to the episode here: https://soundcloud.com/hubshots/085-hubspot-sub-workflows-hubspot-messages-targeting
Join our WhatsApp group here: https://hubshots.com/whatsapp/
Join the Facebook group here: https://www.facebook.com/groups/1608138752821574/
Recorded: Wednesday 03 May 2017 | Published: Friday 19 May 2017
Shot 1: Inbound Thought of the Week
Landing page optimisation guide from Talia Wolf:
http://getuplift.co/landing-page-optimization-complete-guide/
Step #5 Content and Design Analysis
Part #2 Call to Action Optimization:
Does the call to action fit the state of awareness your prospect?
For example, the call to action "Subscribe Now!" won't work well if your prospect has started looking for a solution but isn't convinced yet. For this type of prospect you may want to have the call to action "Learn More about our Solution", "Schedule a Demo" and other calls to action that help customers take the next natural step to choosing your solution.
Continue reading: http://getuplift.co/landing-page-optimization-complete-guide/#call-to-action-optimization
Check out Shot 6 where we discuss 10 newsletter subscribe CTA ideas.
Shot 2: HubSpot Marketing Feature of the Week
See episode 84 for our beginner discussion on using workflows.
Calling workflows from workflows
Consider these as Main workflows and Sub workflows
Workflows have the option to call other workflows - referred to as 'Enrolling in a workflow':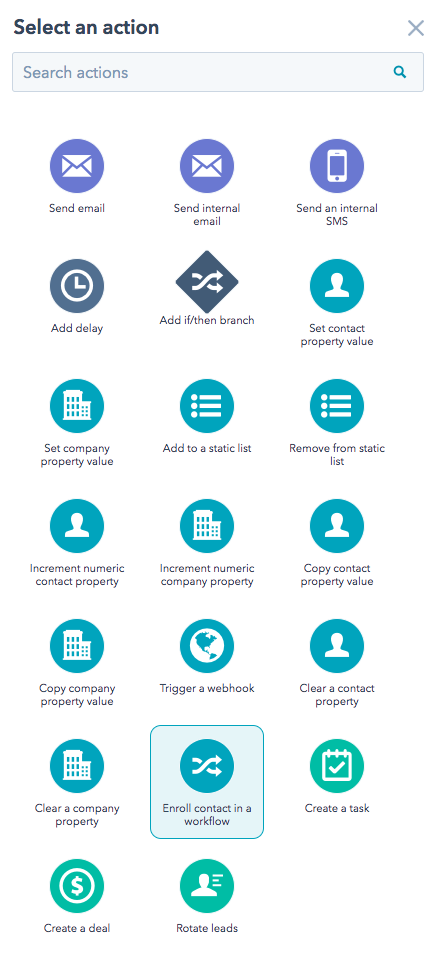 You simply choose the workflow to enroll the contact in:

These then get fired off completely independently. I refer to these as sub-workflows.
Tip: Use the Goal settings in the sub-workflow to control whether a contact will progress though it. If a contact meets the goal they immediately drop out.
So you can make the sub-workflows completely self-controlling, and potentially send any contact into them, and the sub-workflow works out (by the Goal) whether they progress or not.
Really useful for Nurture campaigns.
Next episode we go through a practical example of using sub workflows
Shot 3: Marketing Tip of the Week
Tips for using Databox
Rotating datawalls: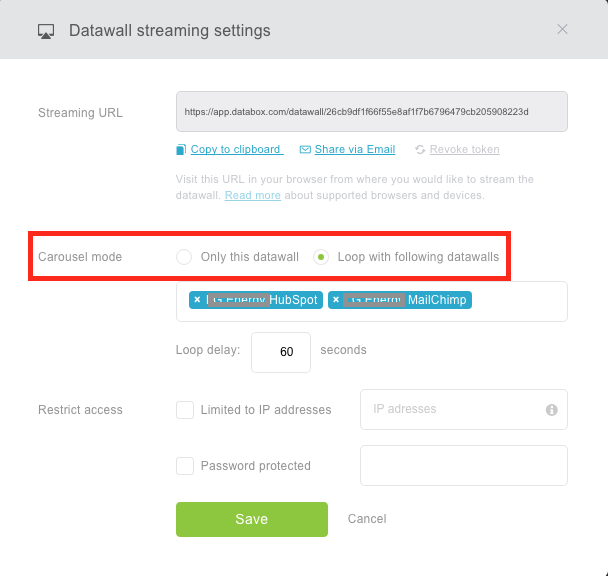 Shot 4: HubSpot Sales Feature of the Week
Messages is now live for everyone that uses Sales Pro > https://www.hubspot.com/product-updates/messages
Try messages out on hubshots.com
Shot 5: Opinion of the Week
Faux Outrage is selfish - it sucks the air/attention away from the real 'victims'. These could be other causes that are actually important.
Media Watch (show that shines a light on Australian Media) had a good example recently:
http://www.abc.net.au/mediawatch/transcripts/s4661913.htm
Takeaway: it is best to ignore the faux outrage, since responding to faux outrage further sucks attention away from real causes.
Shot 6: Creative Top 10 of the week
Riff on: Do you ever sign up for newsletters?
10 ideas for: Call To Action buttons on a newsletter signup form
Send me your newsletter
Sign Me Up
I'm In
Hit My Inbox
Get Started
I'd Like To Receive Your Weekly Newsletter
I Welcome Thee Into My Inbox Each Week
See you on Friday
Just Make Sure I Can View It On My Mobile
Subscribe
Shot 7: Podcast of the Week
Authority Hacker Podcast
https://www.authorityhacker.com/podcast-2/
Shot 8: Resource of the Week
Duplicate content recap:
http://www.hobo-web.co.uk/duplicate-content-problems/
"...it is NOT a penalty if Google discovers your content is not unique and doesn't rank your page above a competitor's page.
Also, as John Mueller points out, Google picks the best option to show users depending on who they are and where they are. So sometimes, your duplicate content will appear to relevant searchers."
Shot 9: Quote of the Week
"Many companies have forgotten they sell to actual people. Humans care about the entire experience, not just marketing or sales or service. To really win in the modern age, you must solve for humans. Every process should be optimized for what is best for the customer—not your organization."
Shot 10: Bonus Links of the Week
Other stuff we've been reading and recommend, but had to cut from the show:
https://sumo.com/stories/quora-traffic
Tool to investigate:
Some of Craig's reading:
https://getpocket.com/@craigbailey
Please rate and leave us some feedback as this helps us.