Welcome to Episode 43 of HubShots!
Recorded: Wednesday 20 July 2016
Click here to join the HubShots WhatsApp group.
Shot 1: Inbound Thought of the Week
Only 111 days until Inbound 2016: http://inboundcountdown.com
Inbound Training > http://www.inbound.com/inbound16/trainings
Agendas: https://www.inbound.com/inbound16/agendas
Executive Leadership agenda has an image of Daenerys Targaryen - lol
Some good tips starting to appear in this Inbound.org thread: https://inbound.org/discuss/what-should-be-a-must-do-when-attending-inbound-2016
Prediction:
Shot 2: HubSpot Feature/Tip of the Week
Using the Keyword Tool: https://app.hubspot.com/keywords/
A quick tip for people who may have forgotten about it
The XEN agency site ranks #27 for the term 'ryan bonnici'

Check the difficulty score for Ryan - 97!
Shot 3: Challenge of the Week
Too many HubSpot updates to choose from :-)
Page Performance updated - now labels External versus COS pages clearly
Contacts (and Companies and Deals)
Property history - now clearly see all a full log of property changes eg: https://app.hubspot.com/contacts/306227/contact-beta/10723127/history
Inline editing of notes in the timeline
Review email interactions in the timeline, including sent, delivered, opened, clicked, but doesn't show what they clicked - but the next items in the timeline will show if they are on the site (but external links you won't see)
Shot 4: General Tip of the Week
Dealing with HubSpot bounced email contacts
Fix the email, and then contact HubSpot support
Create a new contact and merge the bounced one's timeline history the new contact
Shot 5: Opinion of the Week
Is content as a strategy ultimately doomed?
https://inbound.org/discuss/is-content-sharing-the-same-fate-as-links
Take away: need to have content strategy in place, depends on the industry you are in.
Shot 6: State of Inbound Item of the Week
https://research.hubspot.com/reports/the-future-of-content-marketing
Based on a survey of 1091 global internet users.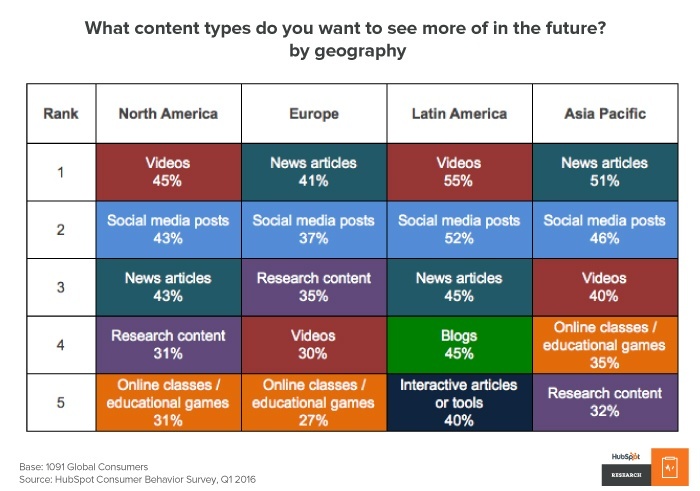 Latin America likes Interactive Articles or Tools, but it's not in the top 5 for any other region.
Take away: Focus on news articles, social, video and research content. Research content can often get synthesised and then presented to ultimate end users.
Shot 7: What's Coming in HubSpot Item of the Week
In BETA currently:
Is it really updated??
Shot 8: Listener Tip of the Week
Social media tools - what other options are there
Shot 9: Podcast of the Week
The Andrew Hansen Show: https://itunes.apple.com/au/podcast/the-andrew-hansen-show/id1120687982?mt=2
Shot 10: Lol of the Week
Behold the rise of Marketing with Pokemon related blog posts…
Shot 11: App of the Week
Canva for iPhone: https://about.canva.com/iphone/
https://www.instagram.com/p/BIEqcITgCN_/