Welcome to Episode 76 of HubShots!
Welcome to HubShots, the podcast for marketing managers who use HubSpot hosted by Ian Jacob from Search & Be Found and Craig Bailey from XEN Systems.
In this episode there are a lot of learnings lol. Seriously though, the Moz analysis of Google Search User behaviour is fascinating, and we spend a ton of time going through some HubSpot marketing and sales items in detail. Plus a few tips around sales calls and some ecommerce optimisation recommendations.
Join our WhatsApp group here: http://hubshots.com/whatsapp/
Join the Facebook group here: https://www.facebook.com/groups/1608138752821574/
We're also testing a new Facebook Messenger HubShots Room: https://www.messenger.com/t/1099519836821248
https://m.me/g/AbYPyswc4gtK5d5c
HubShots Facebook Chatbot: http://m.me/HubShotsPodcast
Recorded: Wednesday 15 March 2017 | Published: Thursday 16 March 2017
Shot 1: Inbound Thought of the Week
The Search Opportunity
https://moz.com/blog/state-of-searcher-behavior-revealed
#3: What percent of users perform one or more searches on a given day?
"This one blew my mind! Of the millions of active, US web users Jumpshot monitored in October 2016, only 15% performed at least one or more searches in a day. 45% performed at least one query in a week, and 68% performed one or more queries that month. To me, that says there's still a massive amount of search growth opportunity for Google. If they can make people more addicted to and more reliant on search, as well as shape the flow of information and the needs of people toward search engines, they are likely to have a lot more room to expand searches/searcher."
Shot 2: HubSpot Marketing Tip of the Week
Tip for controlling the META author used on HubSpot webpages
Ever wondered where HubSpot gets the author it uses on meta author tag on website pages (ie not blog posts)?

Surprise! It is taken from the Email Footer Information settings: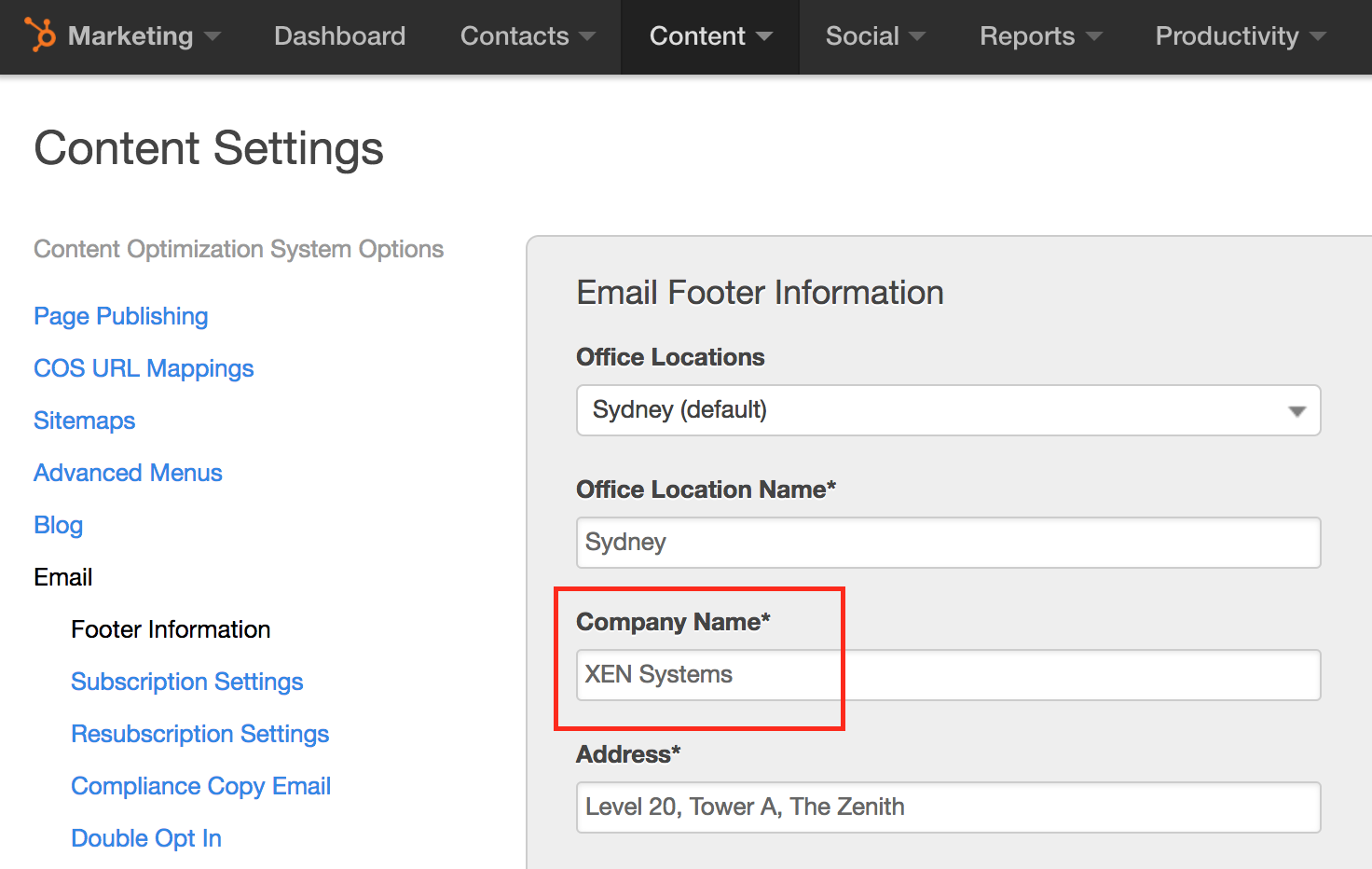 HubSpot Marketing Gotcha of the week
Lead Flow styling - if you use slide-ins it is impossible to override the styling that is applied. Even using your own CSS in global stylesheets won't work - the Lead Flow built in calculation of styles will override yours.
Vote for improvements to Lead Flow styling capability here:
http://ideas.hubspot.com/forums/76407-general-hubspot-ideas/suggestions/17264174-lead-flow-call-out-customization
BTW speaking of ideas - here's one George highlighted on The Hubcast this week:
http://ideas.hubspot.com/forums/76407-general-hubspot-ideas/suggestions/6967959-enable-a-b-testing-on-site-pages
BTW2: speaking of Lead Flows and George B Thomas, he has a nice quick video on how to hide Lead Flows on some pages - by pasting in a bit of CSS into your page (or global module):
https://www.youtube.com/watch?v=2AFXvAuz7-Q
However, what we really want: to be able to exclude pages in Lead Flow options.
Shot 3: HubSpot Sales Feature of the Week
HubSpot Sequence Library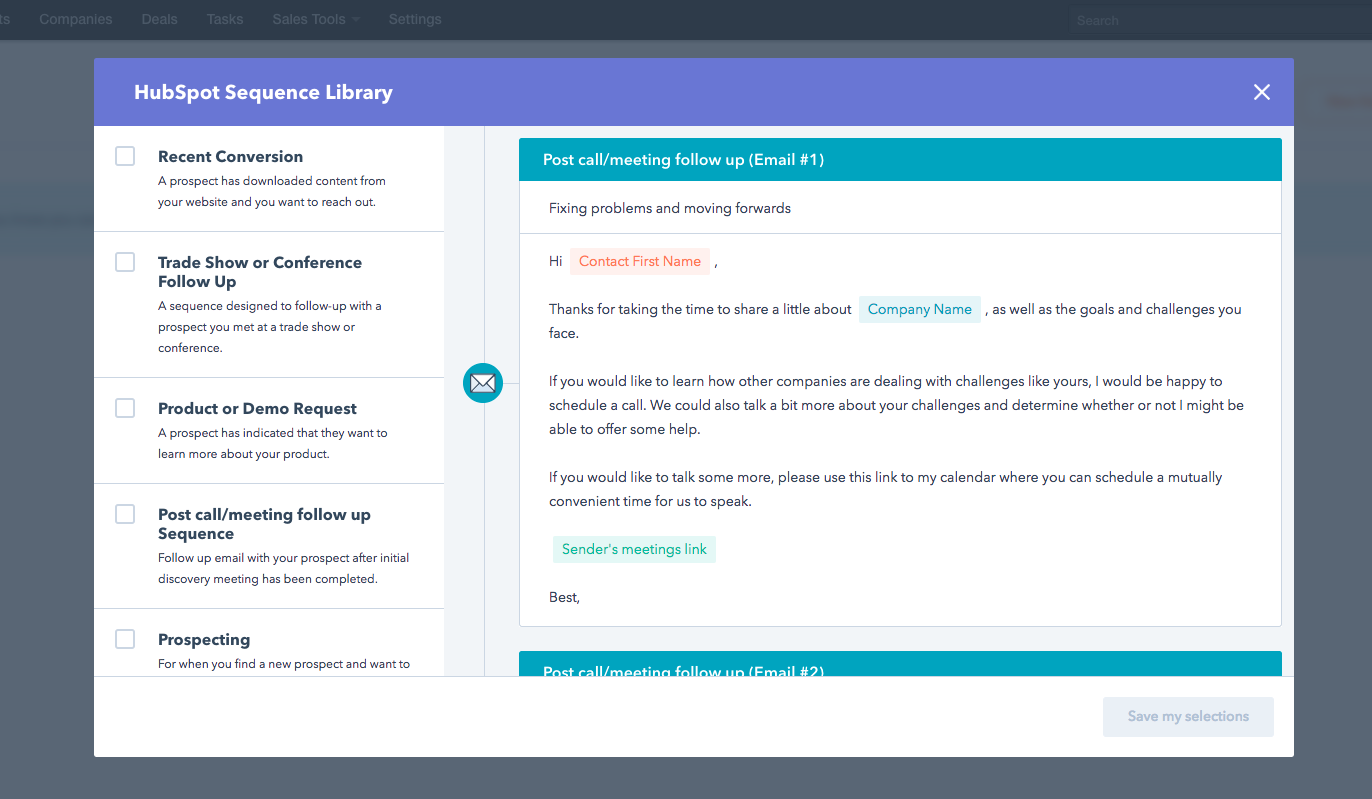 Think about starting with one from the library. We are testing this with each other and we will report back in the next few weeks.
Also:
https://medium.com/marketing-and-entrepreneurship/10-cold-email-tips-i-used-to-get-60-000-app-signups-dd928d86ca21#.w9ffukdvn
Speaking of outreach...
Customer Service follow ups instead of Sales Reps follow ups
Example:
"Hi, this is Sarah from Blue Widgets Company. I noticed you downloaded one of guides earlier today. I work in the customer service team - I'm not in sales - and the reason for my call is just to check if you were able to download and view the guide, and if it was useful."
Get off the call quickly:
If yes, they got it: "Excellent, glad to hear it. Have a great day - if there's anything else you need, just let me know"
If no, they didn't, or they haven't bothered to read it" "No problem, would you like me to send it to you again"
In both cases, send personal email after the call
Shot 4: Sydney HUG Reminder of the Week
BTW Sydney HUG coming up on 30 March 2017:
https://www.linkedin.com/groups/6501165
Shot 5: Opinion of the Week
Netflix testing new content consumption formats:
http://www.digitalspy.com/tv/news/a822865/netflix-confirms-experiment-interactive-tv-shows-you-can-choose-your-own-adventure/
Action item: brain storm how you can engage with your audience in new and interesting ways...
Buzzword Bingo Word of the Week
"Learnings"
Usage: there were a lot of useful learnings from the last campaign
Translation: what we did didn't work, so we're pretending we learnt something from it
Shot 6: Creative Top 10 of the Week
Craig's challenge to Ian:
10 ways to target the HR Manager of a large enterprise
Find them on LinkedIn through search and create a target list.
Find mutual connections and ask for an introduction, through LinkedIn or other networks.
Do display advertising targeted to sites and audiences in Google where HR Managers would read content.
Join groups in LinkedIn where HR Managers would be in. Like https://www.linkedin.com/search/results/groups/?keywords=HR%20Manager&origin=SUGGESTION&suggestedEntities=%5B%22TITLE%22%5D
Research a particular HR Manager and see what their interest is. Find a toy/object that they would want and send it to them minus something to get them onto a call. Best example of this is sending a remote control car to the person and then only sending the controller once they booked a meeting to talk to you!
Find everyone on Facebook in a corporation with the job title of HR Manager.
Find events to sponsor that are run by the Australian HR Institute or similar https://www.ahri.com.au/conferences-and-networking
Contribute content to blogs that HR Managers would read like https://www.ahri.com.au/resources/ahri-blog
Sponsor content to HR Managers in LinkedIn & Facebook.
Specialise content directly to HR Managers to target pain that they are experiencing.
BONUS: Co-author and promote an offer with a complementary partner that has access to HR Managers.
Shot 7: Podcast of the Week
Hola (shoutout) to George and Marcus:
https://www.thesaleslion.com/hubcast-130-video-revenue-hubspot-engagement-reporting-the-cap-show/
Shot 8: Resource of the Week
Fantastic guide to optimising ecommerce sites - a 20 minute read, but well worth it - tons of useful ideas:
http://getuplift.co/ecommerce-optimization-product-pages/
BTW notice that this post - incredibly detailed, painstakingly researched and presented - has only one comment. And the comment is pretty useless. Point to consider: always be reviewing what is working and not working on your site - this is why some companies are turning off comments on their blogs and instead sending people to social channels to comment.
Shot 9: Quote of the Week
"Failure is an option here. If things are not failing, you are not innovating enough."
"It's OK to have your eggs in one basket as long as you control what happens to that basket."
~ Elon Musk
Shot 10: Random Thought of the Week
A fun look at how ScreamingFrog played with Google results and were able to highjack a listing for a few days:
http://searchengineland.com/googles-seo-guide-search-rankings-hijacked-270362
Summary: a combination of some redirects and canonicals not being set fully by Google allowed the mixup
Additional resource for geeks: https://support.google.com/webmasters/answer/139066
Shot 11: Bonus Links of the Week
Other stuff we've been reading and recommend, but had to cut from the show:
http://www.stateofdigital.com/automating-google-analytics-reporting-via-google-sheets/
https://www.slideshare.net/RossHudgens/link-building-strategies-that-increase-monthly-revenue-by-240740-engagepdx
https://contently.com/strategist/2017/03/14/artificial-intelligence-marketing-revolution/
http://seoauv.com/seo-case-study/
Tool to investigate:
Some of Craig's reading:
https://getpocket.com/@craigbailey
Craig' book recommendations
Disrupted by Dan Lyons - book review coming in the next few weeks
Please rate and leave us some feedback as this helps us.