Welcome to Episode 97 of HubShots!
Welcome to HubShots, the podcast for marketing managers who use HubSpot hosted by Ian Jacob from Search & Be Found and Craig Bailey from XEN Systems.
Listen to the post here: https://soundcloud.com/hubshots/097-marketers-ruin-everything-how-to-be-responsible-marketers
In this episode Ian and Craig discuss:
the need to be responsible marketers based on Kipp Bodnar's recent post on how marketers ruin everything.
Next up are the cool HubSpot tips including viewing field history, and the new HubSpot Teams setting in Settings.
Then the news of P&G slashing their advertising spend and yet increasing sales.
They provide a strategic overview of how accounting practices can use Facebook for marketing.
There's a good post from Databox featuring Inbound podcasts, plus a bunch of great resources including the new HubStrap landing page builder.
Join our WhatsApp group here: https://hubshots.com/whatsapp/
Join the Facebook group here: https://www.facebook.com/groups/1608138752821574/
Make sure you join our mailing list: https://hubshots.com/notify/
(So we can notify you if the audio feed changes - we may have to move off SoundCloud)
Recorded: Wednesday 02 August 2017 | Published: Sunday 13 August 2017
Shot 1: Inbound Thought of the Week
Flogging a horse to death:
https://blog.hubspot.com/marketing/marketers-this-is-why-we-cant-have-nice-things
"The enemy of remarkable marketing is impatience.
There is so much competition for attention these days that the moment a blue ocean channel or new marketing strategy opens up, marketers flock to make the most of it. At the root of the problem is the channel-based mentality that causes us to obsess over hacks and mechanics more than a great message and engaging experience.
Early adoption is a good thing. It can be the breath of fresh air marketers and consumers alike are looking for. And typically the early days leveraging a new channel or format in your marketing strategy are as pure and innovative as they should be.
But then something happens. We cross the line into a sort of scorched earth marketing mentality where we forget the reason consumers were drawn to that channel to begin with -- and we beat the living daylights out of it. We start to solve for our own goals, instead of our customers'.
New channels emerge in part because we marketers ruin old ones."
We've ruined written content, email, social posting… let's not ruin Messenger, video, and each new channel as it comes on board.
Summary: Be responsible
Also: listen also to our Shot 5 opinion of the week back in Episode 92 where we chat about being responsible marketers
Shot 2: HubSpot Marketing Feature of the Week
Field change history: eg a contact's email address: click the See History button: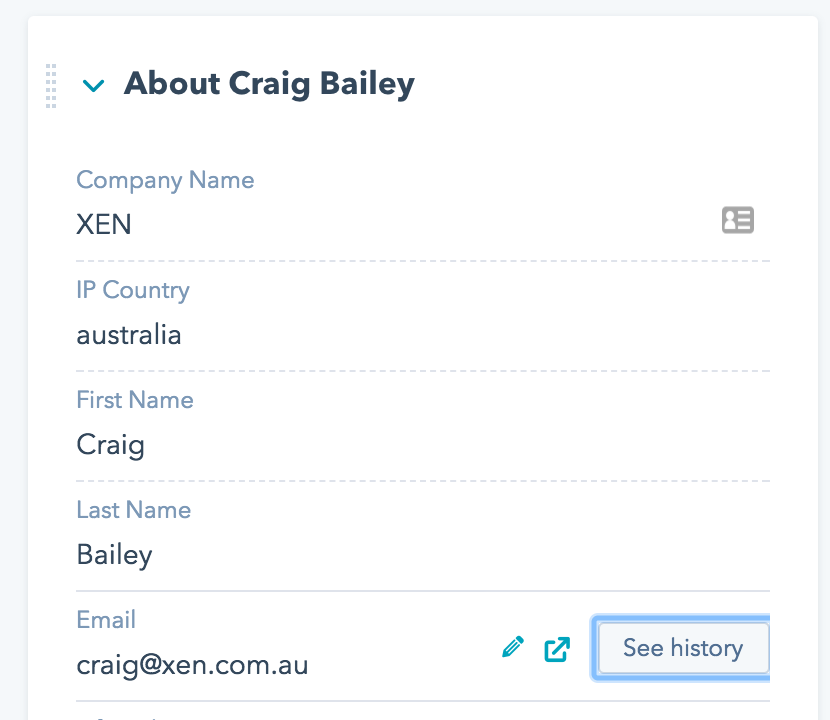 And you'll see a history of the contact's emails used: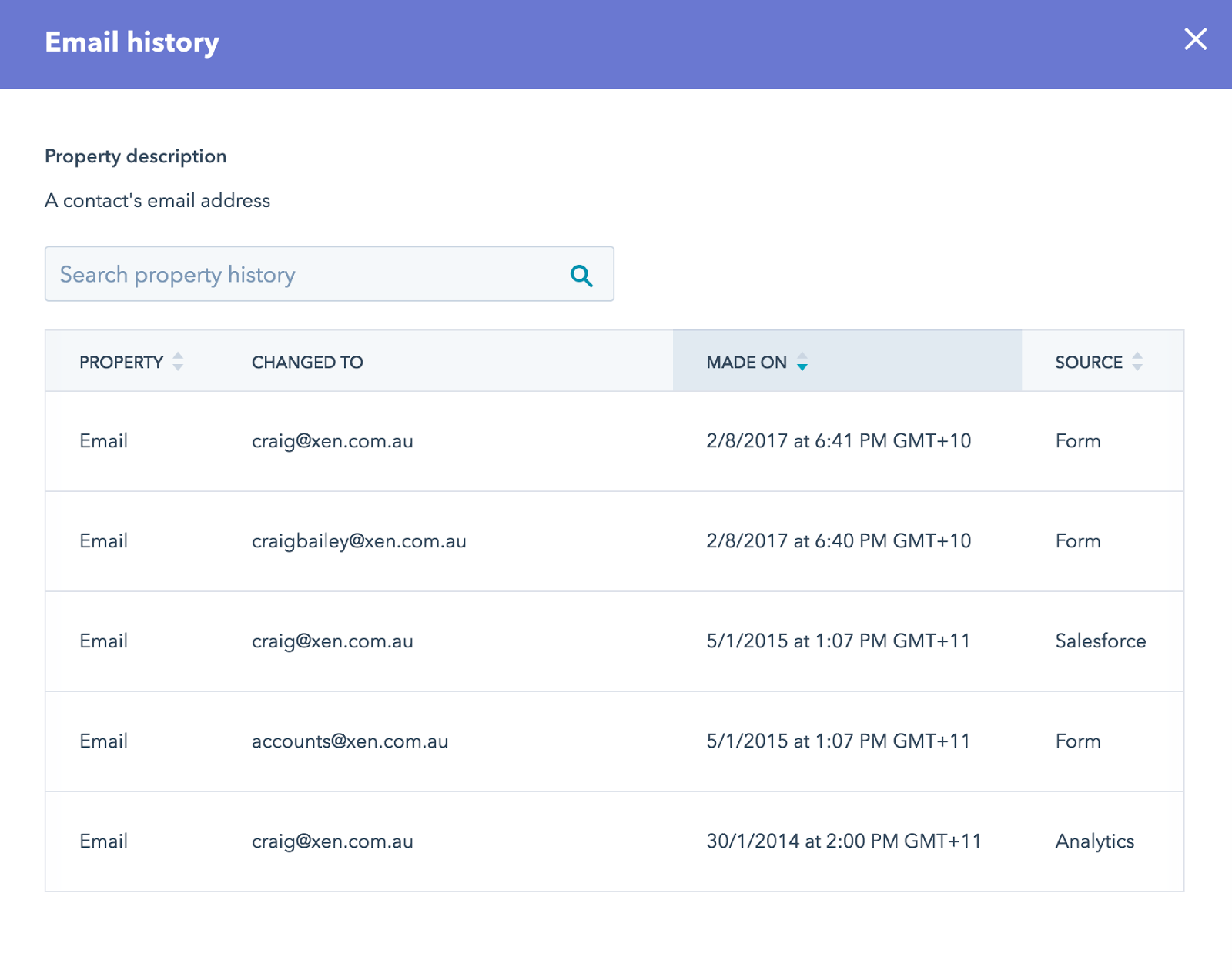 Interesting example, a contact comes back and uses a different email address when filling in a form.
Shot 3: Marketing Tip of the Week
Databox dashboards are getting better and better:
https://databox.com/10-google-analytics-dashboards-helped-550000-people
We love Databox!
Shot 4: HubSpot Sales Feature of the Week
HubSpot Teams - setting up Teams in HubSpot for easy allocation of leads etc
https://blog.hubspot.com/customers/july-2017-hubspot-product-updates
Shot 5: Opinion of the Week
P&G slashed digital marketing, especially ad spend and saw no side effects:
http://adage.com/article/cmo-strategy/p-g-slashe/309936/
Test and measure - if it isn't working, cut it out. But make sure you are measuring correctly.
Asked whether P&G sees any need to put that money back into digital media in the future, Moeller said, "Clearly we don't need to be spending money that is seen by a bot and not a person. Clearly we don't need to be spending money on ads that are placed in inappropriate places, and that's why you see a significant reduction."
Shot 6: Creative Top 10 of the Week
Tip for reducing Facebook ad prices - engage with your page. Higher engagement is correlated with reduced click (and CPA) prices. Source: http://www.digitalmarketer.com/facebook-ad-updates-july-2017/
10 creative ideas for: using Facebook to attract visitors for an accounting firm
1. Implementation:
2. Facebook Channels:
Page: forget this
Groups: engage here
Paid: focus here
3. Paid placements:
Facebook news feed
Instagram
Messenger
4. Audiences:
Specific interest audiences
Retargeting
Engagement based
5. Content types:
Pain point solutions (eg tax, saving, reductions)
Aspirational (eg investing)
Seasonal (eg end of year tax deadlines)
Upsell (new services)
6. Audience example: Load existing client list as an audience to promote upsell content to
7. Audience example: Create lookalike audiences to promote pain point content
8. Channel example: provide help in Groups, don't just share your updates. Share things that engage with people. Think related content from suppliers (like Xero, MYOB) and clients.
9. Placement example: Take advantage of using Messenger as a placement (available in Australia at the moment) to push seasonal content (eg super deadlines)
10. Content example: Share video (especially live video) to both your Page and Group with tax tips
11. Context example: If sharing video, do it directly to Facebook and make sure there are captions. You can use a service called Rev (https://www.rev.com/caption)
Shot 7: Podcast of the Week
Thanks to Databox for compiling a list of Inbound Marketing podcasts, and for featuring us (HubShots) and Moby (inbound Buzz):
https://databox.com/ranking-the-worlds-most-popular-inbound-marketing-podcasts
Shot 8: Resource of the Week
Interesting example of formatting an entire blog series:
https://academy.hubspot.com/contacts-a-growth-stack-story
Inbound.org have an iPhone app now:
HubStrap landing page builder:
http://www.hubstrap.pro/p/hubstrap-introduction
Shot 9: Quote of the Week
"Success is making those who believed in you look brilliant."
― Dharmesh Shah
Shot 10: Tool of the Week
We have been using this as a different way to communicate using video directly from your Chrome browser.
Shot 11: Bonus Links of the Week
Other stuff we've been reading and recommend, but had to cut from the show:
The Death of Field Sales
https://content.inbound.com/content/the-death-of-field-sales
Some of Craig's reading:
https://getpocket.com/@craigbailey
Please rate and leave us some feedback as this helps us.