Welcome to Episode 120 of HubShots!
Welcome to HubShots, APAC's number 1 HubSpot focused podcast, where we discuss HubSpot tips and tricks, new features, and strategies for growing your marketing results.
This episode we think through buyer profiles and buyer personas. Plus a bunch of HubSpot tips and tricks.
Listen to the episode here: https://soundcloud.com/hubshots/120-buyer-profiles-versus-buyer-personas
HubShots, the podcast for marketing managers who use HubSpot, is hosted by Ian Jacob from Search & Be Found and Craig Bailey from XEN Systems.
Join our WhatsApp group here: https://hubshots.com/whatsapp/
Join the Facebook group here: https://www.facebook.com/groups/hubshots/
Recorded: Thursday 26 April 2018 | Published: Saturday 05 May 2018
Shot 1: Inbound Thought of the Week
Caught up with Mads Nielsen and Varun Bhandarkar at HubSpot this week.
Good reminder from Varun about building your buyer profile and ideal client avatar (aka persona)
Resource 1: HubSpot blog
See also this article from Lauren Hintz:
https://blog.hubspot.com/sales/how-to-define-your-ideal-buyer-profile
"Buyer personas define the different buying patterns of companies within your ideal buyer profile. Sometimes buyer personas are referred to as marketing personas; they are fictional, generalized representations of your ideal customers.
For example, your ideal buyer profile may be health care companies with less than 10,000 employees. Within that ideal buyer profile, you probably work with multiple buyer personas. Various roles may be involved in the buying decision at those companies. Perhaps one buyer persona is a leader of the IT department and another is the head of operations. Differentiating between these buyer personas will help you formulate a message that resonates with the goals and challenges they are each uniquely facing."
Resource 2: Seer Interactive blog
Btw a good article from Kia Street at Seer about personas, and defining them in terms of behaviour, rather than personal traits:
http://www.seerinteractive.com/blog/behavior-driven-marketing-personas/
Resource 3: Further suggestions: Facebook Audiences
Craig thoughts - some other ideas for building personas:
I've started building some personas purely around pain points. Eg a person who needs leads for their business.
Facebook audiences - which are usually interest based and behaviour based - use these as a basis for your persona
Example: how we drive more than 1500 leads for LG in the solar space: we test audiences in Facebook, and then build content around the interests in those audiences.
In Facebook you can then further analyse those audiences for demographic details, but note that this is coming after your testing, not before. So it is counter to how a lot of articles will tell you to prepare personas.
Shot 2: HubSpot Tip of the Week
Where to find the Personas tool in HubSpot.
Go to Contact Settings, start typing in 'persona' and then you'll see the list of personas you can edit, or add to.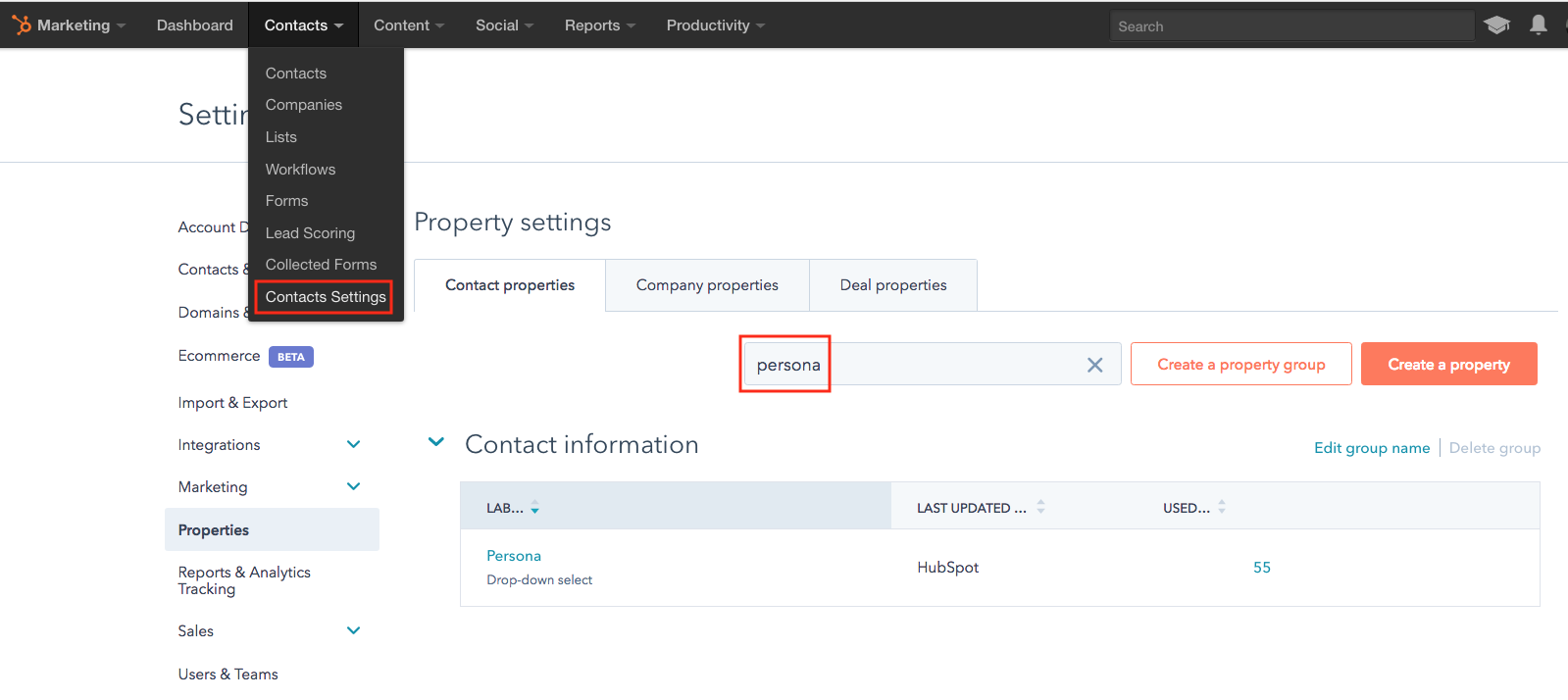 Shot 1: HubSpot Marketing Feature of the Week
Ability to set featured image for landing pages and web pages within HubSpot.
Why? So when you share these pages on social there is an image to go with it. For example, Facebook posts with images see 2.3 times more engagement than those without images.

https://www.hubspot.com/product-updates/set-a-featured-image-for-web-and-landing-pages
Bonus Tip: Facebook debugger: https://developers.facebook.com/tools/debug/
Shot 4: Marketing Tip of the Week
Check your website speed using https://www.webpagetest.org/
We use this on a regular basis to check sites and see if there is anything at all that is causing poor site performance.
Make sure your test location is where people will be most accessing your site from.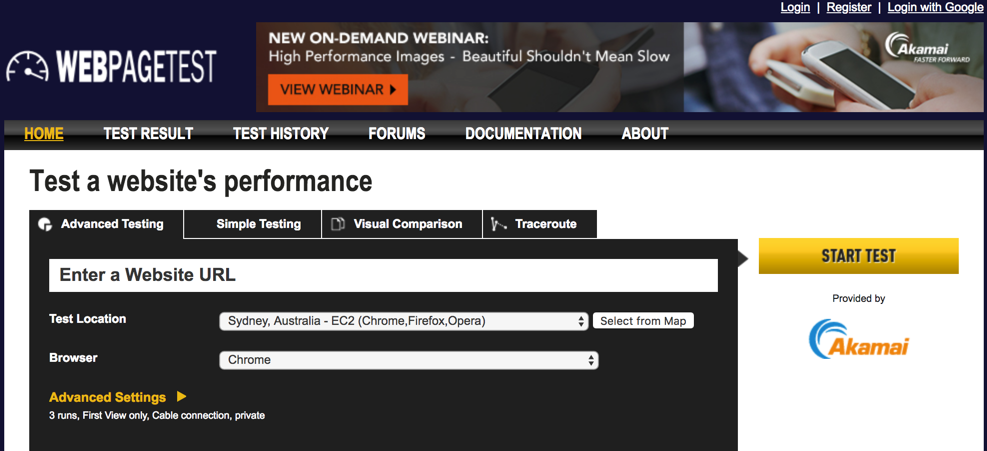 Shot 5: HubSpot Sales Feature of the Week
You can take Control of Your Log and Track Email Settings
This is especially great when you don't want everyone in your CRM.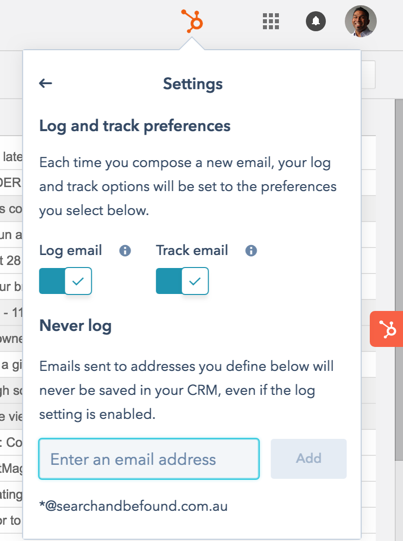 https://www.hubspot.com/product-updates/take-control-of-your-log-and-track-email-settings
Shot 6: Opinion of the Week
http://sethgodin.typepad.com/seths_blog/2018/04/powerful-metrics-with-hidden-variables.html
Powerful metrics with hidden variables
What factors lead to a search result showing up on page 1 or page 5 of Google?
What about the popularity bar in iTunes? How does it work?
Who decides what your salary is compared to the person down the hall?
On this road, in this town, what's the threshold before you'll get a speeding ticket?
In that magazine article, what's the methodology for ranking these semi-famous people?
How did this image show up in recommended?
There are ratings and rankings that ostensibly exist to give us information (and we are supposed to use that information to change our behavior).
But if we don't know what variables matter, how is it supposed to be useful?
Just because it can be easily measured with two digits doesn't mean that it's accurate, important or useful.
[Marketers learned a long time ago that people love rankings and daily specials. The best way to boost sales is to put something in a little box on the menu, and, when in doubt, rank things. And sometimes people even make up the rankings.]
Shot 7: Podcast of the Week
Justin on Inbound Agency Journey:
https://www.doinbound.com/inbound-agency-journey/how-to-use-agency-partners-to-grow-your-business
"There's a lot of noise where agencies gain the tools and buy into the training, but they aren't real marketers.
They don't understand the nuances of lead scoring, generation leads, etc. They're better at following the party line delivered by a toolset or method. They're trained on a platform but not good at actual marketing."
Shot 8: Resource of the Week
Growing your YouTube Channel:
https://backlinko.com/grow-youtube-channel
Brian Dean chats about how he helped grow Buffer's YouTube channel.
Shot 9: Quote of the Week
"Perhaps your challenge isn't finding a better project or a better boss. Perhaps you need to get in touch with what it means to feel passionate. People with passion look for ways to make things happen."
― Seth Godin, Linchpin: Are You Indispensable?
Shot 10: Bonus Links of the Week
ManyChat course on using Chatbots:
Please rate and leave us some feedback as this helps us improve and reach more marketers.