Welcome to Episode 123 of HubShots!
Welcome to HubShots, APAC's number 1 HubSpot focused podcast, where we discuss HubSpot tips and tricks, new features, and strategies for growing your marketing results.
This episode we look at HubSpot's Slack integration, some tips for using Google Search Console, plus the importance of user experience (UX) for… everything! Product usage, Facebook ad relevance, Google rankings.
Listen to the post here:
https://soundcloud.com/hubshots/123-why-user-experience-matters-for-marketers
Welcome to HubShots, the podcast for marketing managers who use HubSpot hosted by Ian Jacob from Search & Be Found and Craig Bailey from XEN Systems.
Join our WhatsApp group here: https://hubshots.com/whatsapp/
Join the Facebook group here: https://www.facebook.com/groups/hubshots/
Recorded: Thursday 24 May 2018 | Published: Monday 28 May 2018
Shot 1: Inbound Thought of the Week
We have around 100 days to #INBOUND18 > http://inboundcountdown.com/
Where are all the speakers?
Have you gone the extra? #gotheextra
One person who has gone the extra…
Shout out to Jason Ong from HubSpot Support. Was in a meeting with a client and they asked about HubSpot Support. Fired up a chat with HubSpot Support to demonstrate how responsive they are. Jason Ong was on the chat in an instant and guided us through. The client was amazed.
Shoutout to Nick Bayliss in the Sydney office. Nick is an all round great guy and one of the Customer Success Managers. https://www.linkedin.com/in/nick-bayliss/
A final shoutout to Adam and Louisa, regular listeners, who are holidaying in Florence at the moment. Lucky duckies!
Shot 2: HubSpot Marketing Feature of the Week
Slack Integration with HubSpot:
https://www.hubspot.com/product-updates/slack-integration
https://knowledge.hubspot.com/articles/kcs_article/integrations/how-do-i-use-the-slack-integration
You can now add a task directly into HubSpot from Slack!
The HubSpot task form appears directly within Slack, which makes it easy to include task details like:
due date (we wish this was a date picker)
task type
Association
and more with the original context close at hand.
Any task you create within Slack is automatically synced with your HubSpot CRM -- exactly where you want it later without any extra work for you now.
Here is a great video on how to install and use it.
[youtube https://www.youtube.com/watch?v=UFAC130TEJY?rel=0&w=560&h=315]
Shot 3: HubSpot Gotcha of the Week
Re-enrollment triggers on workflows
Make sure you have this enabled else they will not get any notifications etc with your workflow.
Shot 4: Marketing Tip of the Week
Brian Dean delivers the goods on using Google Search Console:
https://backlinko.com/google-search-console
A quick favourite tip - using the Fetch as Google option. It's a quick way to get a new page indexed, or if you've done some updates to a page, a quick way to get them recrawled.
Shot 5: HubSpot Sales Feature of the Week
Creating tasks from Slack in HubSpot.
The Slack integration is so good we had to mention it twice in the show!
Craig still can't get it to work. [sad face]
Shot 6: Opinion of the Week
User Experience is becoming even more important for advertisers.
Perpetual Traffic episode 149:
https://www.digitalmarketer.com/facebook-ad-updates-may-2018/
Facebook now has manual rating teams who check pages that ads send traffic to, to check the user experience. Poor experiences result in high ad prices.
Ralph mentioned that FB has confirmed that an outside agency checks ads to rate the user experience.
See also:
https://newsroom.fb.com/news/2017/05/reducing-links-to-low-quality-web-page-experiences/
Btw I find it annoying that the podcast has a special offer for people who text a message to a US number. Why do podcasts only cater to US audiences? Not a very good user experience…
Btw more on User Experience in Shot 8, when it comes to SEO ranking factors.
Shot 7: Checklist item of the Week
Chrome is removing the Secure message in September and instead highlighting Not secure:
https://venturebeat.com/2018/05/17/chrome-will-remove-secure-label-on-https-sites-in-september/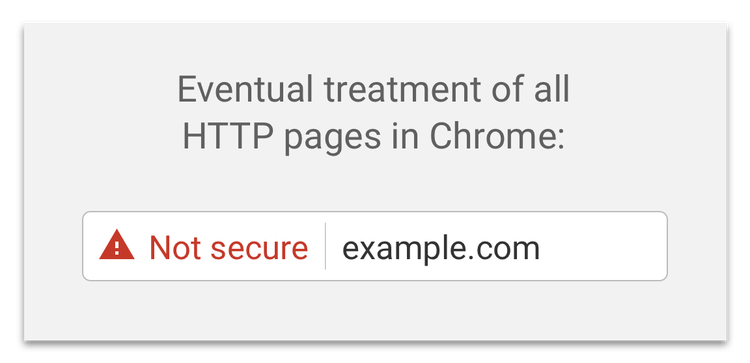 Shot 8: Resource of the Week
https://www.kevin-indig.com/the-10-seo-ranking-factors-we-know-to-be-true/
Content
External and internal links
User Intent
CTR
User Experience
Title tag
Page speed
Freshness
E-A-T
SSL encryption
The 10 SEO ranking factors we know to be true
Good example of getting more than one link - I simply copied the table of contents from the post, straight into our show notes. Helpful for you, lots of links for the site.
Shot 9: Podcast of the Week
Akimbo: Networks, Lock In and Pathways
This is a must listen.
https://www.akimbo.me/blog/episode-13-networks-lock-in-and-pathways
http://hear.sethpodcast.com/?_branch_match_id=528088354257225038
Shot 10: Quote of the Week
"Life itself is a race, marked by a start, and a finish. It is what we learn during the race, and how we apply it, that determines whether our participation has had particular value. If we learn from each success, and each failure, and improve ourselves through this process, then at the end, we have fulfilled our potential and performed well."
~ Ferdinand Porsche
Shot 11: Bonus Links of the Week
https://alistapart.com/article/content-modelling-a-master-skill
https://www.siegemedia.com/marketing/advanced-prospecting-techniques
https://moz.com/blog/how-to-optimize-your-google-my-business-listing
Please rate and leave us some feedback as this helps us improve and reach more marketers.