Welcome to Episode 124 of HubShots!
Welcome to HubShots, APAC's number 1 HubSpot focussed podcast, where we discuss HubSpot tips and tricks, new features, and strategies for growing your marketing results.
This episode we look at HubSpot's State of Inbound report for 2018, plus the importance of 'Insight'.
Listen to the show here:
https://soundcloud.com/hubshots/124-state-of-inbound-2018-is-kinda-hard-to-know
Welcome to HubShots, the podcast for marketing managers who use HubSpot hosted by Ian Jacob from Search & Be Found and Craig Bailey from XEN Systems.
Join our WhatsApp group here: https://hubshots.com/whatsapp/
Join the Facebook group here: https://www.facebook.com/groups/hubshots/
Recorded: Thursday 07 June 2018 | Published: Monday 11 June 2018
Shot 1: Inbound Thought of the Week
Daniel Bertschi at Sydney HUG - presented on Service Hub:
https://sydney.hubspotusergroups.com/blog/video-marketing-fundamentals-hubspot-service-hub
Amazing demo - you can view it here:
https://youtu.be/6EVwCR-MtTs
Moby goes through his video tips in the latest version of his podcast: https://www.redpandas.com.au/ep91
You can view his presentation here:
https://youtu.be/cyD4tcW9tJw
btw Why does nobody ever sit in the front row? The HUG was pretty full, all except the front row of seats.
HubSpot's State of Inbound 2018 report is out:
http://www.stateofinbound.com/
More on that later in the show
Shot 2: HubSpot Marketing Feature of the Week
Set business hours on Chat windows
https://knowledge.hubspot.com/getting-started-with-sales-tools-user-guide/how-to-use-messages#availability
Note: if you have Service Hub you may find it harder to get to the Messages settings: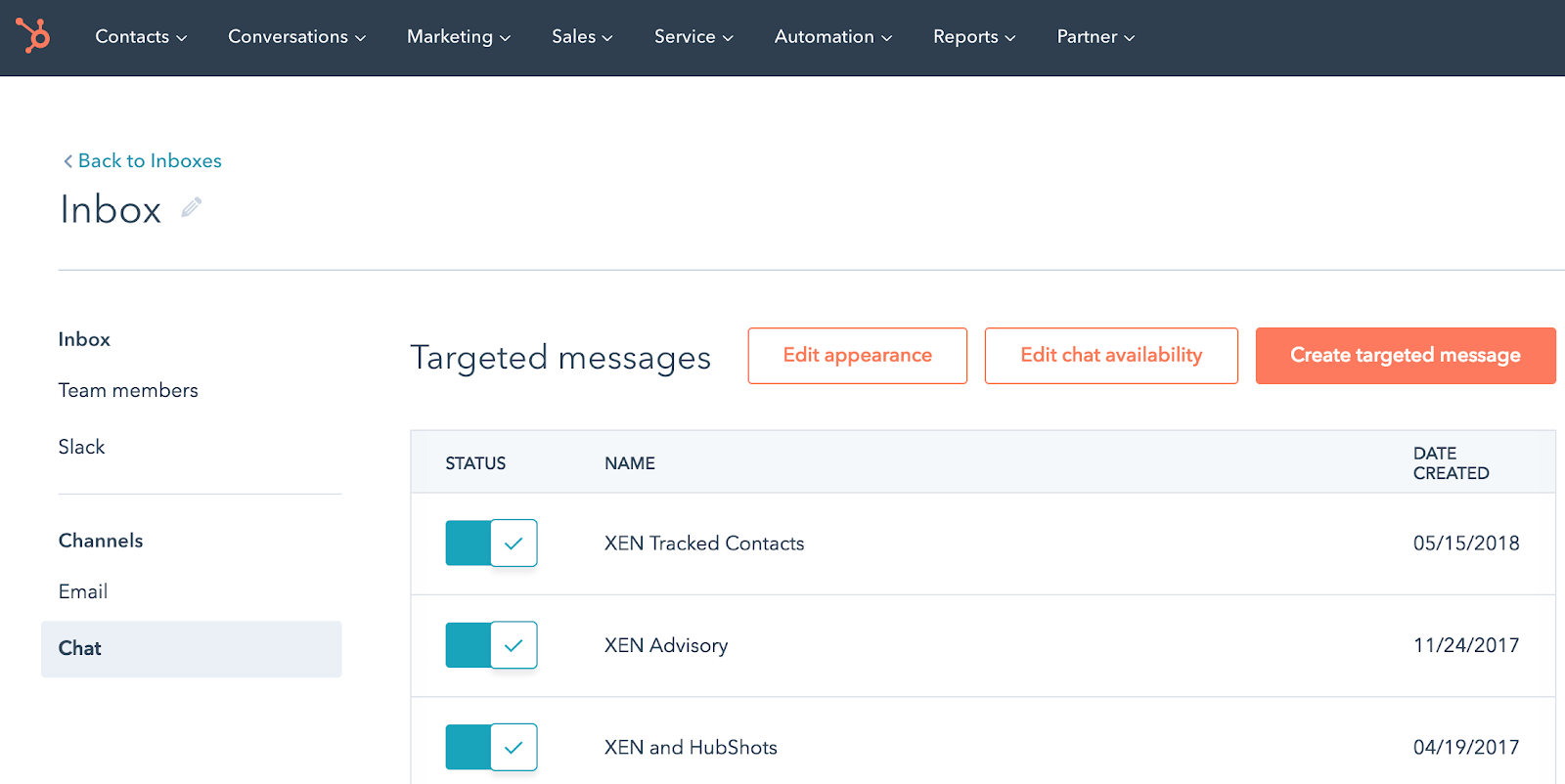 Get to it from Inbox settings
Shot 3: HubSpot Gotcha of the Week
Workflows can't add tasks into Task Queues
https://community.hubspot.com/t5/HubSpot-Ideas/Workflows-assign-task-to-Task-Queue/idi-p/15426
Hat tip to Steve Hambleton for this one.
Shot 4: Marketing Tip of the Week
The demand for insight:
https://www.davidcbaker.com/why-no-one-wants-to-read-your-newsletters
People who open and read emails do it for insight, not general news or company content.
Are you providing insight? Or just news.
Some newsletters that are interesting to read:
CBinsights:
Shot 5: HubSpot Sales Feature of the Week
We now have the ability to restore deleted contacts, companies, and deals from a recycle bin in your HubSpot CRM within 90 days of the original deletion.
https://www.hubspot.com/product-updates/restore-deleted-contacts-companies-and-deals-with-recycle-bin-in-hubspot-crm
Shot 6: Opinion of the Week
State of Inbound report - the value is getting less.
http://www.stateofinbound.com/
Some of the results this year aren't that helpful...
Consider this:
Slide 51: 64% of respondents had 25 staff or less - on 11% of respondents had 200 staff or more…
Slide 52: Only 14% of respondents had revenues of more than $10M
Thus the results are going to be skewed towards smaller business strategies and tactics.
Which is why results such as slide 19 are pretty useless:

Most of the companies have probably never done any offline paid advertising (eg TV, outdoor, etc) so no wonder they think it is overrated.
This is further indicated by the small size of their marketing budgets:

Most of the respondents are spending less than half a million on marketing each year. TV isn't an option for any of these companies.
And in companies with small marketing budgets, the ability to test new things is often severely constrained.
Shot 7: Podcast of the Week
Marketing School - does their take on HubSpot
https://marketingschool.io/the-genius-of-hubspots-marketing-ep-672/
Another good one after talking about the marketing spend you can hear "Where do Neil and Eric Spend Their Marketing Dollars"
https://marketingschool.io/where-do-neil-and-eric-spend-their-marketing-dollars-ep-668/
Shot 8: Resource of the Week
91% of content gets no traffic from Google:
https://ahrefs.com/blog/search-traffic-study/
Due to:
Lack of backlinks
No specific topic targeting
Lack of interest (ie people aren't searching for the content on those pages)
Action items:
Need to conduct proper keyword research
Need to get links to your site
Shot 9: Quote of the Week
The best or nothing at all.
Craig's comment: Not sure if this was the best quote...
Shot 10: Bonus Links of the Week
https://zyppy.com/seo-success-factors/
https://www.discosloth.com/beginners-guide-to-ppc/
Please rate and leave us some feedback as this helps us improve and reach more marketers.