Welcome to Episode 75 of HubShots!
Welcome to HubShots, the podcast for marketing managers who use HubSpot hosted by Ian Jacob from Search & Be Found and Craig Bailey from XEN Systems.
Join our WhatsApp group here: http://hubshots.com/whatsapp/
Join the Facebook group here: https://www.facebook.com/groups/1608138752821574/
We're also testing a new Facebook Messenger HubShots Room: https://www.messenger.com/t/1099519836821248
https://m.me/g/AbYPyswc4gtK5d5c
HubShots Facebook Chatbot: http://m.me/HubShotsPodcast
Recorded: Wednesday 08 March 2017 | Published: Thursday 09 February 2017
Shot 1: Inbound Thought of the Week
From Brian Halligan's keynote on sales:
Context is King in sales
Always be helping.
Advice for sales:
Less is more for emails.
No cold calls.
Trials. Add value before they purchase the product
What it looks like and how people decide 2006 vs 2016

Shot 2: HubSpot Marketing Feature of the Week
LeadsBridge Integration:
https://www.hubspot.com/integrations/leadsbridge
Connects your HubSpot lists into Facebook as Facebook Audiences.
Strongly recommend LeadsBridge - we use it with all our customers.
BTW It has sold out now, but try contacting AppSumo about this offer they had a little while back - lifetime LeadsBridge account for $49: http://www.appsumo.com/leadsbridge/
Shot 3: HubSpot Sales Feature of the Week
New and Improved Engagement Reporting for HubSpot Sales
Which is basically them making HubSpot CRM much better for telemarketers…
The latest improvements bring more detailed engagement tracking and reporting to HubSpot CRM and Sales. These updates come in three distinct flavors.
All HubSpot Sales users can now set call dispositions. Track the outcome of every call made via HubSpot Sales.
All HubSpot Sales Professional users now have access to sales content report templates. Seven new canned reports for HubSpot dashboards that provide deep analytics on calls, meetings, and sequences.
Reporting Add-on users can now utilize engagement report filters when building custom reports. Run reports on how many calls, emails, meetings, and tasks your team is logging. Now, filter those reports by owner and type, to zoom in on the data you actually care about.
Today's updates enable you to get a clearer view of your reps' productivity. Implement a more consistent call-logging process with call dispositions, and zero-in on specific engagement data to identify the parts of your reps' process that need the most work using the new reporting functionality.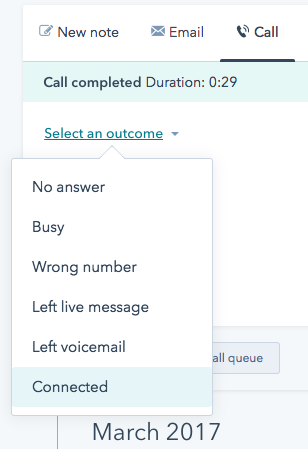 Btw good opportunity for HubSpot (attention: Matt Barby) to try to rank for the term 'call disposition' - currently this is the top ranking result: http://www.ringdna.com/blog/what-is-call-disposition-how-to-measure-it
Which says:
"Call disposition" is a call center term for a label that describes the outcome of a call.
Here's a screenshot of the reporting after Craig made 3 calls to Ian to test it out: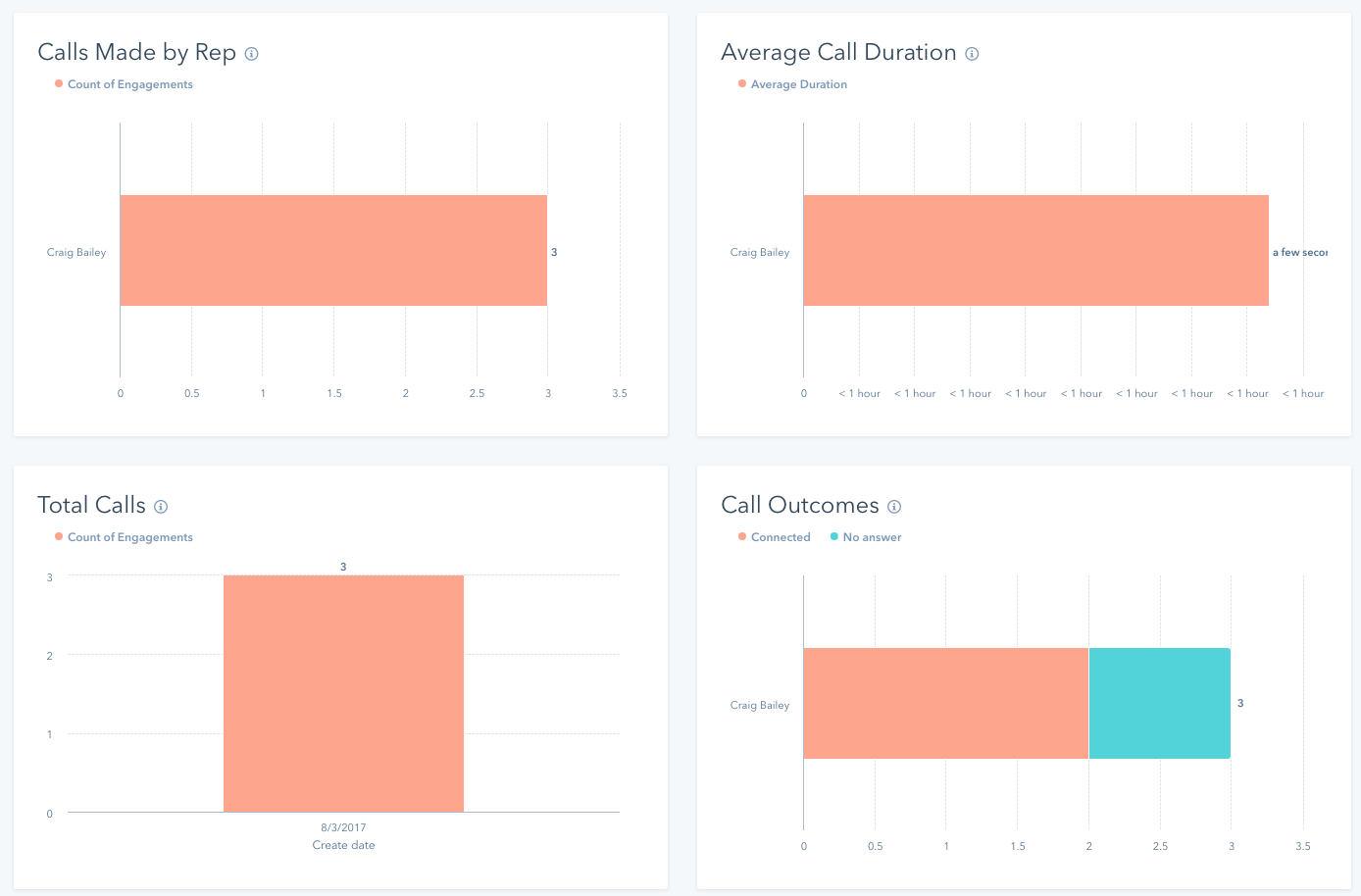 Shot 4: Sydney HUG Reminder of the Week
BTW Sydney HUG coming up on 30 March 2017:
https://www.linkedin.com/groups/6501165
Shot 5: Opinion of the Week
http://www.bradfordcross.com/blog/2017/3/3/five-ai-startup-predictions-for-2017
Bots go bust
Deep learning goes commodity
AI is cleantech 2.0 for VCs
MLaaS dies a second death
Full stack vertical AI startups actually work
"While business process automation will of course continue to play out for decades to come, the current mania around 'bots' defined as conversational interfaces over voice and chat will begin its collapse in 2017. "
Shot 6: Creative Top 10 of the Week
Ian's challenge to Craig:
10 ideas to promote an industrial modular & flexible ducting company on a starting budget
This is definitely a case of having to identify where the target market 'hangs out'. First step is to understand the main types of buyers and then work out where they congregate eg online forums, review sites, building related community websites, etc
AdWords - specific key terms targeting (focus on least competitive first to check ROI)
AdWords - competitor brand terms targeting (brand jacking)
Use BuzzSumo to analyse topics, follow the top shared content and look for commenting or advertising opportunities, including using them as placements in AdWords Display Advertising
Industry directories eg https://www.industrysearch.com.au/search?q=flexible+ducting
Industry forums eg a member on https://www.acif.com.au/construction-industry-news and be able to promote the business (bonus: full dofollow link for members!)
Use Q+A sites to find other forums eg a tool such as Bloomberry: https://app.bloomberry.com/questions;q=metal%20ducting
Target industry sectors eg Air conditioning installation companies via LinkedIn - Target titles: Manager, Companies: Air conditioning installers
Target topics eg related to workplace safety
Target large food franchises eg to promote food industry ducting needs
Create specific landing pages related to specific problems eg pillar content page on 'industrial dust extraction'
Promote points of difference eg speed of installation, or speed of delivery of ducting to factory sites
Shot 7: Podcast of the Week
No podcast this week, because we're way behind on our listening. Need to get back to our listening.
Shot 8: Resource of the Week
CEO of the world's largest advertising group, WPP's Sir Martin Sorrell, discussing what keeps him up at night. Summary: Amazon
https://www.businessinsider.com.au/wpp-ceo-sir-martin-sorrell-amazon-keeps-me-up-worrying-at-night-2017-3?r=US&IR=T
Sorrell thinks Amazon is a huge threat to Google when it comes to search. If you're a sneaker brand, the most valuable place to advertise is when someone is actively searching to buy a pair of sneakers. On Google they might just be researching, but with Amazon it's likely that consumer is in the market to make a purchase right away.
BTW here's WPP's trends overview for 2017 - useful reading: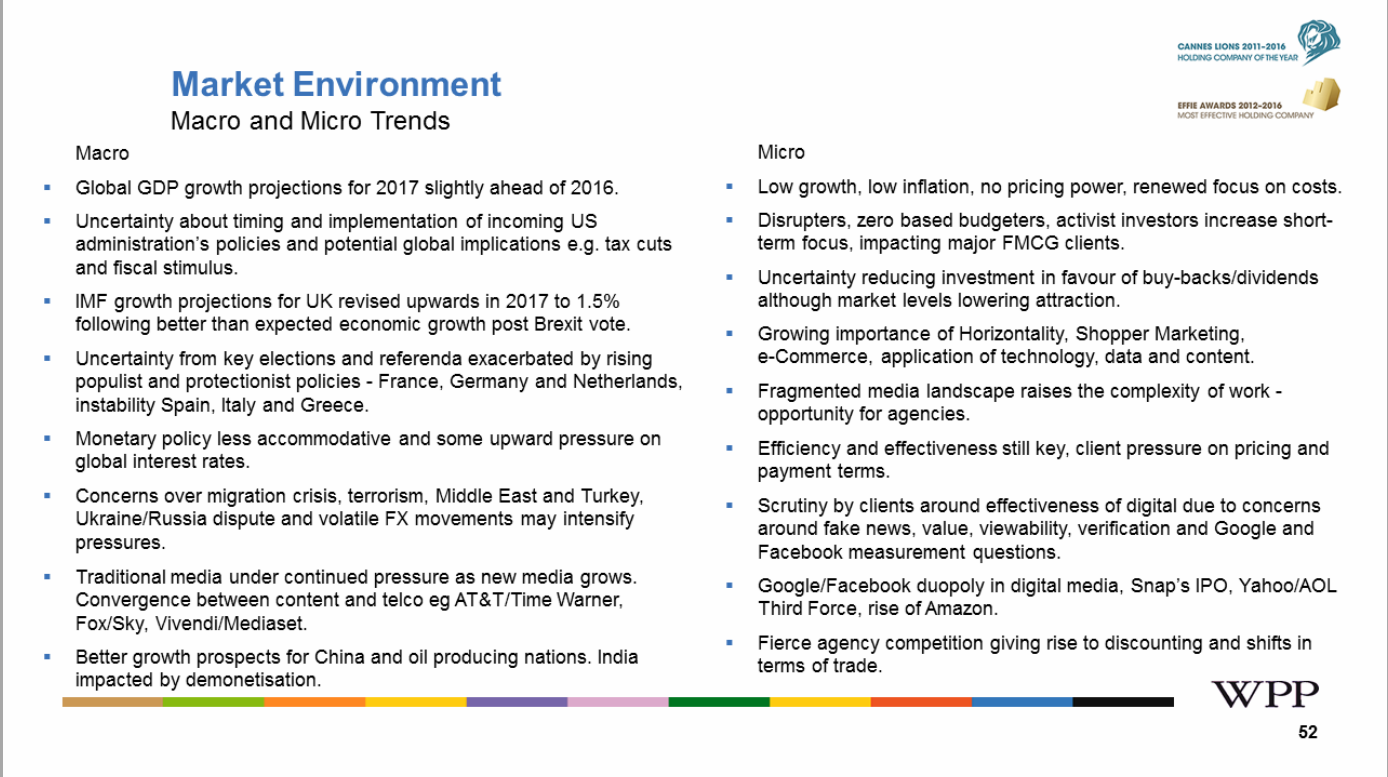 Shot 9: Quote of the Week
"If you're walking down the right path and you're willing to keep walking, eventually you'll make progress."
Shot 10: Random Thought of the Week
Make readers pass a quiz before they can comment:
http://www.niemanlab.org/2017/03/this-site-is-taking-the-edge-off-rant-mode-by-making-readers-pass-a-quiz-before-commenting/
Shot 11: Tip of the Week
B2B Startup Idea Matrix:
https://medium.com/the-mission/the-startup-idea-matrix-b2b-edition-3973894d47dd#.fnz9tqmbc
With Google Sheet:
https://docs.google.com/spreadsheets/d/1xafwdQyWczCwPDGsGoiCSe8SdlbgN-QHjktLemqRo7s/edit#gid=1298089993
Especially like the idea of Column M: Enterprise software that can be used as Consumer software
Shot 12: Bonus Links of the Week
Other stuff we've been reading and recommend, but had to cut from the show:
https://moz.com/blog/how-to-uncover-hidden-keyword-level-data-using-google-sheets
https://blog.hubspot.com/marketing/first-100-days-inbound-marketer
Tool to investigate:
Some of Craig's reading:
https://getpocket.com/@craigbailey
Craig' book recommendations
Disrupted by Dan Lyons - book review coming in the next few weeks
Please rate and leave us some feedback as this helps us.