Welcome to Episode 84 of HubShots!
Welcome to HubShots, the podcast for marketing managers who use HubSpot hosted by Ian Jacob from Search & Be Found and Craig Bailey from XEN Systems.
Join our WhatsApp group here: https://chat.whatsapp.com/09R0ogqg6ipI61YQRWPDtr
Join the Facebook group here: https://www.facebook.com/groups/1608138752821574/
BREAKING NEWS: There's a new version of No Pong released!
https://www.nopong.com/products/
Listen to the episode here: https://soundcloud.com/hubshots/084-hubspot-workflows-databox-dashboardsdatawalls-creative-business-ideas
Recorded: Wednesday 03 May 2017 | Published: Friday 12 May 2017
Shot 1: Inbound Thought of the Week
Landing page optimisation guide from Talia Wolf:
http://getuplift.co/landing-page-optimization-complete-guide/
Step #5 Content and Design Analysis
Part 1: #1 Headline Optimization
Does the headline address the current state of awareness of your prospect? For example, if your customer is unaware of the problem they have, the title "The #1 SAAS Communication Platform" won't work.
Does the headline clearly state the promise to your prospect?
Is the headline about the customer? Remember, customers don't buy into features, pricing or products, they buy better versions of themselves. Once your prospects understand the WHY, they will read on to figure out the WHAT.
Continue reading: http://getuplift.co/landing-page-optimization-complete-guide/#headline-optimization
Shot 2: HubSpot Marketing Feature of the Week
HubSpot Workflow of the Week
Using HubSpot Workflows:
https://knowledge.hubspot.com/workflows-user-guide-v2/a-quick-tour-of-workflows
The simplest type of workflow is a Standard workflow eg for sending a Thank you email.
A contact fills out a form
When they fill out a form they are entered into a workflow
In the workflow they are sent a Thank You email
And also an internal email notification (eg to the sales team) is sent
Next episode we're going to start looking into some interesting Workflow features.
Shot 3: Marketing Tip of the Week
Using Databox to view HubSpot stats in an easily shareable Dashboard:
They have a free level - gives you access to 3 sources and 3 datacards
Use your HubSpot Marketing Free account as a data source and then use the 'HubSpot Free Essentials - Inbound Dashboard' template from their template gallery
Here's an example built from one of our customer sites: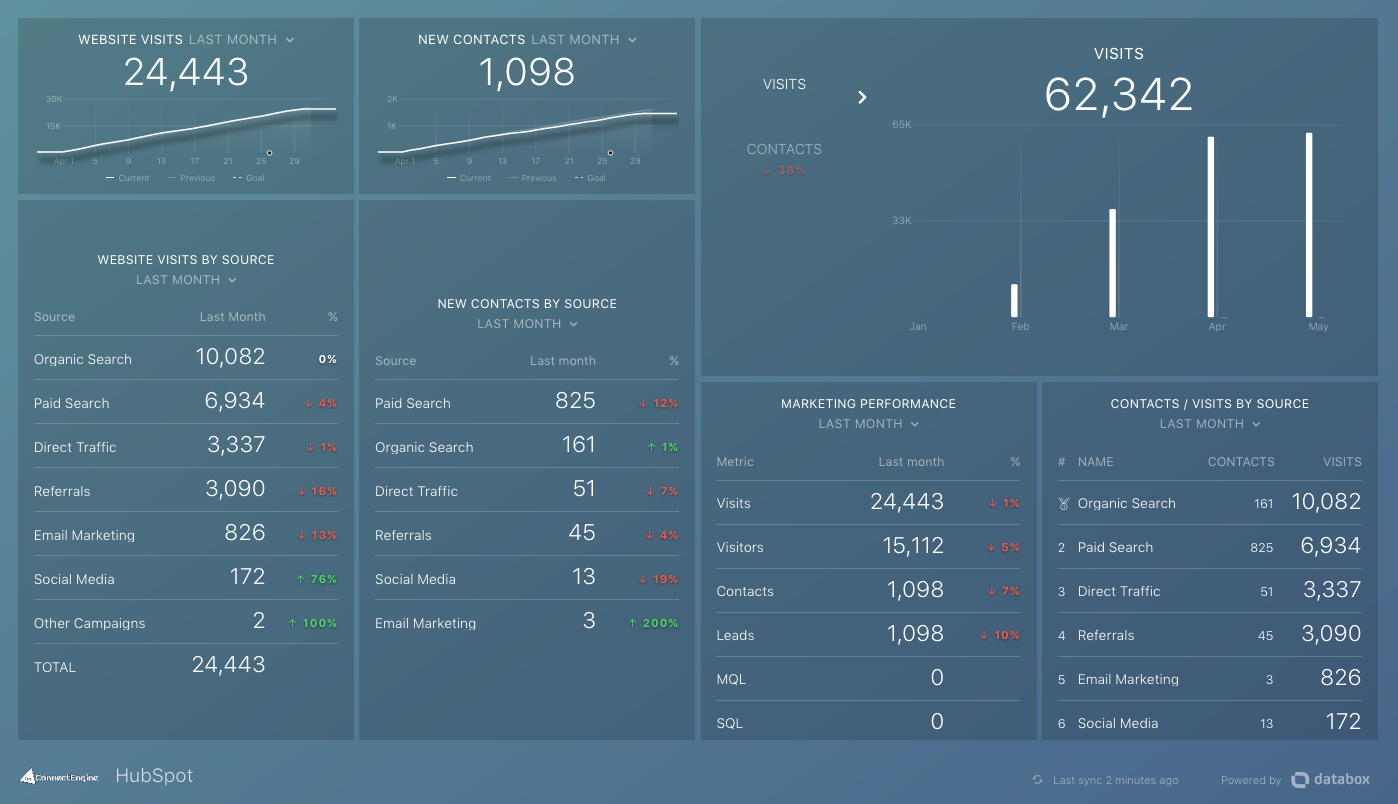 Shot 4: HubSpot Sales Feature of the Week
New dashboard reports available:
I think I've seen these in HubSpot Marketing Free for a while now…
Wondering: Do HubSpot test things in HubSpot Marketing Free before they roll out in the paid versions?
Shot 5: Opinion of the Week
Challenging assumptions
I've always disabled Google Display Network ads appearing on parked domains. However, someone actually tested it and found they can be very effective in some circumstances:
http://searchengineland.com/study-q1-google-display-network-placements-272791
The takeaway: always challenge your own assumptions and learnings - they may have changed, or perhaps you never actually tested them yourself in the first place.
Shot 6: Creative Business Idea of the week
Share My Workshop - sharemyworkshop.com
It's like airbnb but for automotive workshops
How would you test the idea?
Google search for others already doing the idea or discussing it
Build a simple landing page explaining the idea with a quick survey form
Drive traffic to the site via an existing audience you have access to (the power of cross promotion)
Drive traffic from relevant forums/groups
Purchase banner ads on auto sites
Search on Facebook groups
Spend some money on Google Display Network via targeted placements to drive people to the survey site (need to ensure the landing page has enough content that it isn't disapproved)
Use Facebook ads to test driving traffic to the landing page
Hand out flyers at an automotive event
Test by sharing a single workshop via a Gumtree or Craigslist ad - to gather feedback
Shot 7: Tool of the Week
Databox - go try it out
Shot 8: Resource of the Week
Adding Schema markup to sites by using Google Tag Manager:
http://searchengineland.com/add-schema-markup-site-using-google-tag-manager-272516
http://schema.org/Organization
Great site tool:
https://www.schemaapp.com/tools/jsonld-schema-generator/Organization/
https://search.google.com/structured-data/testing-tool/u/0/
Btw Moby mentions this in episode 61 of InboundBuzz:
https://www.redpandas.com.au/ep61/
Shot 9: Quote of the Week
"There are no secrets to success. It is the result of preparation, hard work, and learning from failure."
Shot 10: Bonus Links of the Week
Other stuff we've been reading and recommend, but had to cut from the show:
http://searchengineland.com/googles-project-owl-attack-fake-news-273700
http://marketingland.com/linkedins-new-matched-audiences-feature-just-blew-facebook-custom-audiences-water-b2b-212213
Tool to investigate:
Some of Craig's reading:
https://getpocket.com/@craigbailey
Please rate and leave us some feedback as this helps us.