Welcome to Episode 95 of HubShots!
Welcome to HubShots, the podcast for marketing managers who use HubSpot hosted by Ian Jacob from Search & Be Found and Craig Bailey from XEN Systems.
Listen here:
https://soundcloud.com/hubshots/095-traffic-plus-no-conversion-equals-no-business
Join our WhatsApp group here: https://hubshots.com/whatsapp/
Join the Facebook group here: https://www.facebook.com/groups/1608138752821574/
Recorded: Wednesday 19 July 2017 | Published: Friday 28 July 2017
Shot 1: Inbound Thought of the Week
Grow With HubSpot Sydney (slides)
July 2017 - the biggest Grow with HubSpot event they've ever held globally, with more than 1000 people attending (ie a ton more probably registered).
Highlight for Craig was Brent and Varun's session on matching context with content. Tips for landing pages, emails and conversion paths. Check out their slide deck from the main page.
Remember this point from James' presentation:

Tip: Twitter Cards came up in a few of the presentations. http://www.socialmediaexaminer.com/how-to-use-twitter-cards-for-business/
Shot 2: HubSpot Marketing Feature of the Week
New reports: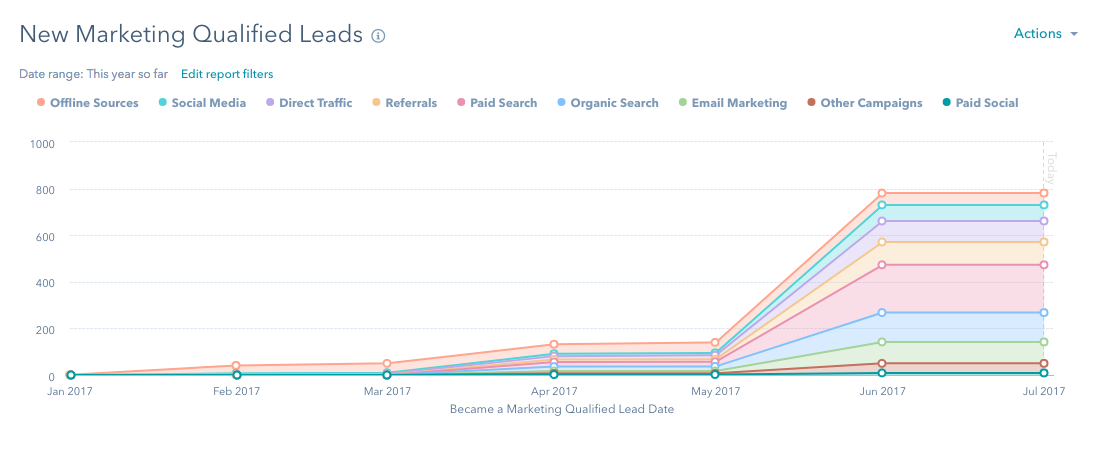 By the way - love the new Contact (and much more) search box - shows email address as well - it's the little things!
Not so good: they are removing LinkedIn Ads support :-(
Shot 3: Marketing Tip of the Week
Facebook - build audiences based on people who have engaged with your Instagram business profile
https://www.jonloomer.com/2017/07/10/facebook-ads-audiences-instagram/
Emails that drive purchase:
https://www.marketingprofs.com/charts/2017/32317/what-influences-consumers-to-purchase-from-marketing-emails
"Some 92% of consumers say sales/discounts are an important factor that they take into account when deciding whether to purchase from a marketing email; brand reputation ranks second (90% cite it as an important factor), followed by ease of transaction (88%), and easy online/mobile purchasing (74%)."
Shot 4: HubSpot Sales Feature of the Week
Set Properties for Moving Between Deal Stages
You can set some fields to be shown/required when moving a deal between stages.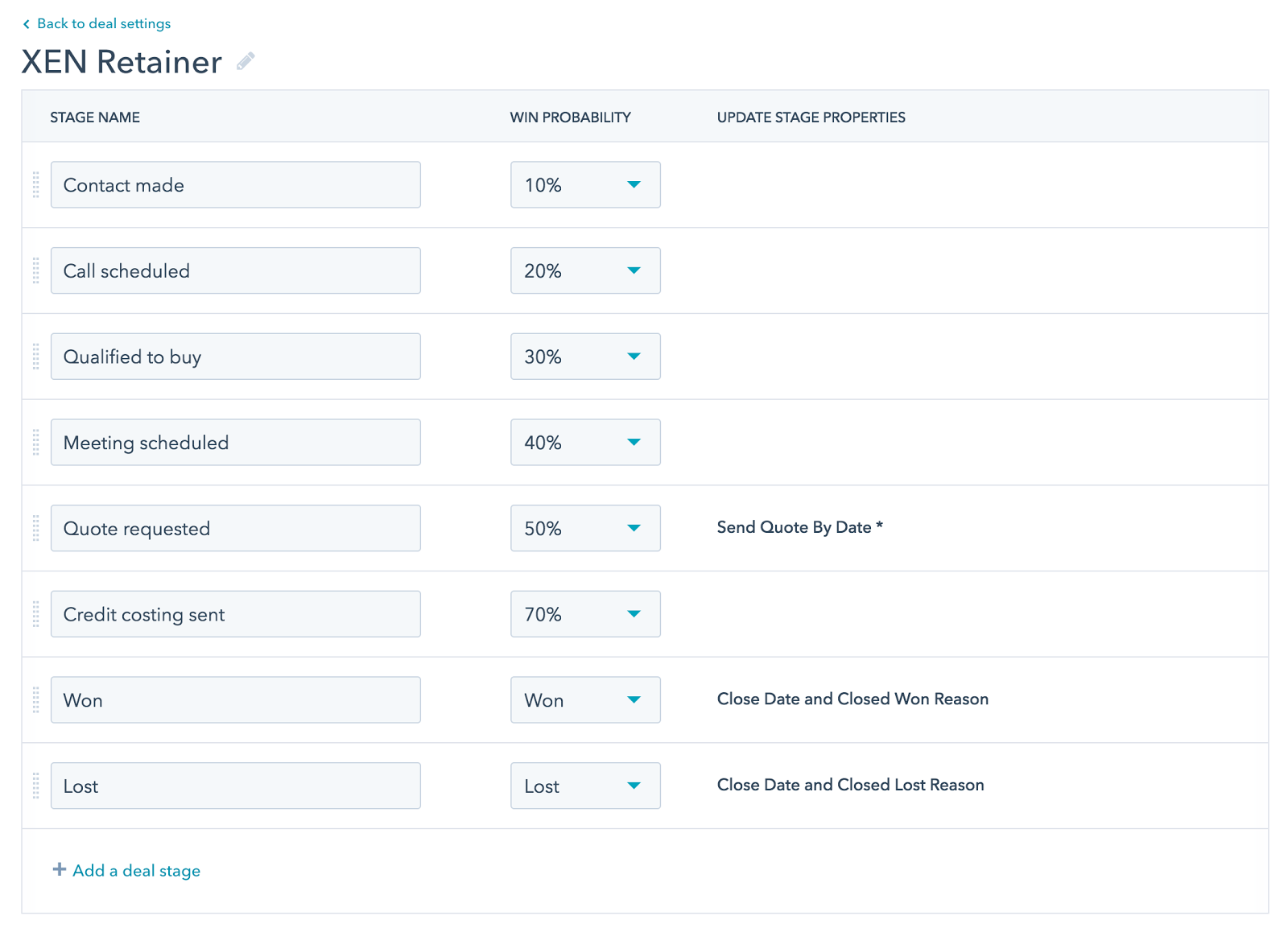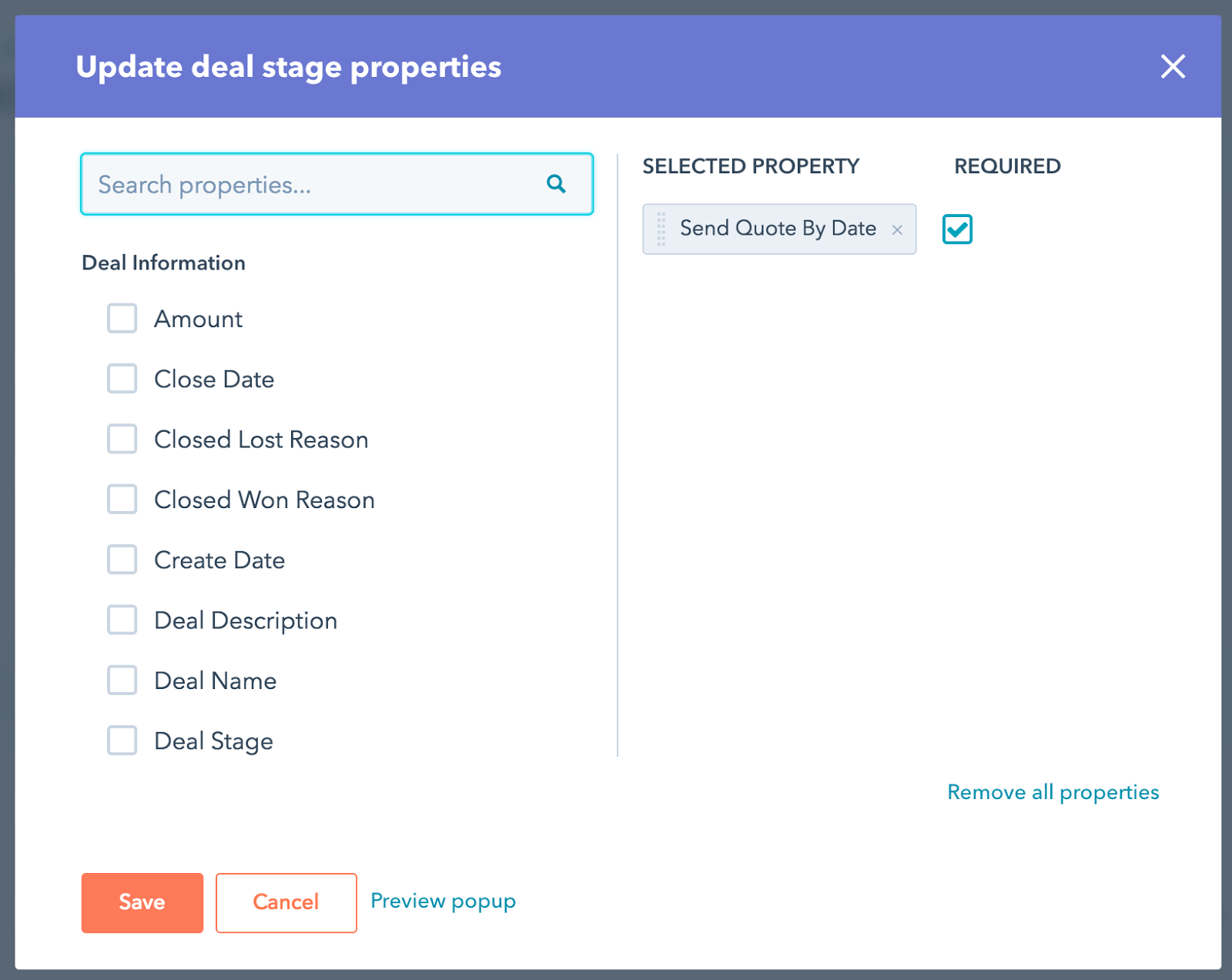 Shot 5: Opinion of the Week
Buying HubSpot, but not taking the time to use it properly.
Makes the purchase an expensive mistake, rather than an implemented investment.
We've both seen cases where a customer buys HubSpot but doesn't actually do anything eg doesn't even set up a campaign.
Shot 6: Creative Top 10 of the Week
10 Creative ideas for: driving free traffic from Google to an accounting website
Make sure your Google My Business listing is up to date - you can add events now
Keyword research to find the keywords to use in your page titles and write content around
Understand page titles & meta descriptions - these are what Google uses as hints for ranking you
Make sure you write your Meta descriptions as if they were Calls to Action
Structure your pages with headings, bullet points and simple paragraphs
Include images with ALT tags so that Google Image Search can identify them
Video/text how to guides to be downloaded and viewed
Make sure you include locations, often on the Home page as well as the Contact page
Start a blog, can be simple as doing what is coming up, like new tax rulings
Listen to what questions people ask, and write blog posts answering those questions
Make sure your site is responsive - it must work on mobile
Ensure it is fast - Google is favouring faster sites
Ask sites you sponsor to add links back to your site (eg if you sponsor a local sporting club)
Add Google analytics code to your website so you can see what pages visitors are engaging with, this will give you insights into additional content you can write
Check & update professional directory listings you belong to (like CA & CPA) to point to your profile and website
Shot 7: Resource of the Week
The biggest trends and changes in AdWords so far in 2017
http://searchengineland.com/biggest-things-happen-ppc-far-2017-278309
Lots of mentions of AI and Machine Learning
But also around using AMP (Accelerated Mobile Pages) Landing pages and pointing your mobile ads at them. The increased speed of the AMP landing pages results in better quality scores, lower click prices, and then better engagement.
Shot 8: Quote of the Week
"If your software solves a problem people don't care about, "adding A.I." to it is unlikely to help."
Dharmesh Shah
https://www.linkedin.com/feed/update/urn:li:activity:6290321776618545152/

Shot 9: Podcast of the Week
Inbound After Hours
https://www.digital22.com/insights/inbound-after-hours
Shot 10: Bonus Links of the Week
Other stuff we've been reading and recommend, but had to cut from the show:
http://www.seerinteractive.com/blog/how-to-alter-your-campaign-values-using-google-tag-manager/
http://marketingland.com/facebook-messenger-ads-beta-expands-globally-219292
https://techcrunch.com/2017/07/11/facebooks-messenger-ads-are-bad-and-must-be-destroyed/
http://searchengineland.com/google-begins-rolling-messaging-feature-within-google-business-278790/
Tool to investigate:
Some of Craig's reading:
https://getpocket.com/@craigbailey
Please rate and leave us some feedback as this helps us.