Welcome to Episode 96 of HubShots!
Welcome to HubShots, the podcast for marketing managers who use HubSpot hosted by Ian Jacob from Search & Be Found and Craig Bailey from XEN Systems.
In this episode Ian and Craig talk about switching to https://, analyse what makes a post go viral and think up some creative ideas to drive traffic to accounting practice site.
Listen to episode 96 here: https://soundcloud.com/hubshots/096-using-search-hubspot-deal-stage-funnels-and-why-you-should-be-using-https
Join our WhatsApp group here: https://hubshots.com/whatsapp/
Join the Facebook group here: https://www.facebook.com/groups/1608138752821574/
Recorded: Wednesday 19 July 2017 | Published: Friday 04 August 2017
Shot 1: Inbound Thought of the Week
Make sure you've switched over to https://
https://www.troyhunt.com/life-is-about-to-get-harder-for-websites-without-https/
Not sure how to do this? Talk to us!
Shot 2: HubSpot Marketing Feature of the Week
Using the search bar in the header of HubSpot to quickly find contacts, campaigns, content, email companies.

Shot 3: Marketing Tip of the Week
Analysing what makes a post go viral:
http://buzzsumo.com/blog/went-viral-lessons-promoting-content-influencers-ads-pr/
Cornerstone content + Direct email outreach + paid ads + influencer outreach + other media pickup
Note: they didn't tag their email!
Shot 4: HubSpot Sales Feature of the Week
New reports available eg the Deal Stage Funnel: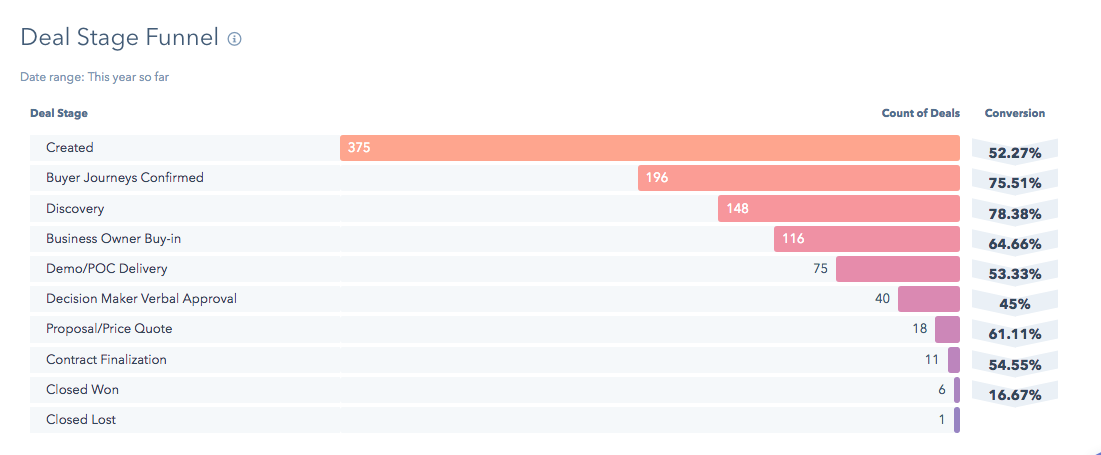 Shot 5: Opinion of the Week

This is a shift in how people may believe it works where you try to drive people back to your website. Hence we see people that live on Facebook for example want to do everything there, like learn about product, start a sales conversation about finance etc.
Shot 6: Creative Top 10 of the Week
10 creative ideas for: Using Paid Channels to drive traffic to your accounting web site
Add Facebook pixel to remarket and build and audience through Facebook
Share all content and updates on Facebook, Instagram, Twitter & LinkedIn
Publish Articles on LinkedIn and promote them
Add Google remarketing code to your website so you have an option to remarket to people who have visited your site
Use your existing client database to find similar audiences in Facebook and Google.
Promote content to your specific audience on Facebook.
Use video to get in front of relevant audiences on YouTube.
Run Google search ads to target prospective customers.
Run Google display ads to get in front of relevant and in-market audiences.
Buy ad space on other relevant sites where your audience would be, like a local business chamber, small business sites etc.
Shot 7: Podcast of the Week
Noah Kagan - The Next Elon Musk — Meet John Arrow
http://okdork.com/future-predictions-john-arrow/
Shot 8: Resource of the Week
Icons, icons and more icons!
https://thenounproject.com/about/
Shot 9: Quote of the Week
"People shop and learn in a whole new way compared to just a few years ago, so marketers need to adapt or risk extinction."
Shot 10: Bonus Links of the Week
Other stuff we've been reading and recommend, but had to cut from the show:
https://moz.com/blog/seo-strategy-when-business-needs-change
https://kaiserthesage.com/outreach-templates/
Tool to investigate:
Some of Craig's reading:
https://getpocket.com/@craigbailey
Please rate and leave us some feedback as this helps us.